Cards turn sloppy, LA gets to Wainwright, NLCS tone changes
Forget trying to figure out this NLCS. Adam Wainwright joins Zack Greinke and Clayton Kershaw as victim of bad luck and silent sticks, and the Dodgers narrow the gap with a 3-0 victory.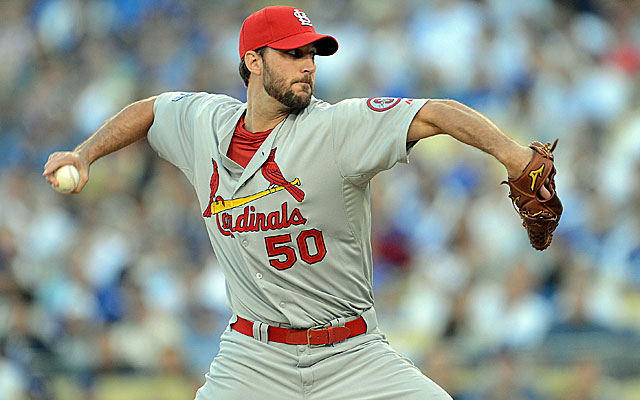 LOS ANGELES -- Take your predictions and toss them into the wind. Gather together your best analysis and run it through the wood chipper.
The Dodgers are not dead, but the pundits and "experts" are. What we've got so far in this NL Championship Series is Zack Greinke, Clayton Kershaw and Adam Wainwright combining to go 0 for 3. What's next, hot dogs and apple pie are deemed as carcinogens? Broccoli at Halloween?
We should have learned after watching the Cardinals take down Greinke and Kershaw in St. Louis, but oh, no. Conventional wisdom had the Cardinals in great shape to win Game 3, too, because of Wainwright.
Yeah, well, conventional wisdom didn't take into account Hyung-Jin Ryu's grace, Cardinal sins and Yasiel Puig's re-awakening. Especially the Cardinal sins part as the Dodgers climbed right back into this series with a 3-0 statement in Game 3.
"It's the great thing about the game of baseball," Adrian Gonzalez said as the Dodgers were exhaling a sigh of relief. "That you can talk about this is what should happen, but it never does play out that way.
"That's why, to me, predictions are just opinions. You've got to play it out on the field."
And you know what they say about opinions. They're like mistakes. Everybody lives with them.
Wainwright did what he could, but Mark Ellis' pop fly to start the fourth landed with a plop onto the outfield grass between center fielder Jon Jay and right fielder Carlos Beltran. By inning's end, the Dodgers had scored their first runs in 23 innings.
"It's a ball I've got to catch," Jay said. "I'm the center fielder. It's my ball.
"I've just got to catch that ball."
Oh, the irony. The other night in St. Louis, Jay deferred to Beltran, correctly, because Beltran has a howitzer for an arm and that was exactly what was needed to nail a tagging runner from third base at the plate to preserve a Game 1 victory in St. Louis. The runner? Mark Ellis. Over ... and out.
Now, Jay inexplicably tailed off of Ellis' drive at the last moment. The center fielder is the quarterback. As Jay noted, he's in charge. It's his call. Beltran waited. The ball fell.
Now, Ellis wound up on second. And two batters later, Gonzalez drilled a one-out, run-scoring double. And two batters after that, Puig belatedly entered this NLCS with an RBI triple.
Still, all of Puig's huffing and all of his puffing might not have taken down the Cardinals but for another colossal mistake the very next inning.
Two on, nobody out, short fly to left field, and Daniel Descalso, who had just entered as a pinch-runner when David Freese strained his calf ... took off from second base like an Olympic sprinter. Carl Crawford is known for a lot of things -- speedy, offensive threat, capable leadoff man, nice guy -- but his arm is not one of them.
No matter. Descalso was so far into no-man's land that even Crawford was able to double him off of second. In fact, Crawford probably could have trotted in and tagged second himself instead of throwing to the bag.
Explanation? Descalso said he thought Ryu had "jammed" Jay more, and that Jay's soft fly to left was going to be a blooper that dropped in for a hit. Descalso was so sure of himself that he never even bothered to look at third-base coach Jose Oquendo.
"It's a terrible feeling, anytime it happens," Descalso said. "I just misread it."
The air already leaking dangerously from their season, the Dodgers were on high alert for every single moment like that they could find.
Pitching coach Rick Honeycutt challenged Ryu hard before this start about pitching the game of his life. Ryu has a tendency to ease into his starts, having surrendered first-inning runs in 19 of 31 starts this season. Faced with the threat of getting blown out in this NLCS, the Dodgers couldn't afford any mistakes of their own. And that included digging a first-inning hole.
What Ryu authored, he couldn't have done it any better with a thesaurus, a dictionary and an ink-quill pen. He had far better command of his curveball than in Game 3 of the Division Series against Atlanta (four earned runs, six hits in just three innings), and it made all the difference.
"When his first pitch of the game clocked in at 93, I knew it was going to be a good night," catcher A.J. Ellis said.
Others had the same feeling when Puig walloped a sinker that Wainwright left up just a wee bit much. Puig had looked at a called third strike in the second inning, bringing his NLCS totals to that point to 0 for 11 with seven strikeouts.
But back home, this was a different Puig. A calmer dude. Hanley Ramirez and Adrian Gonzalez were among those who talked with him between Games 2 and 3. Gonzalez asked him, what was it like at the plate when you were first called up in June? Well, Puig told him, I was just trying to stick in the majors. Exactly, Gonzalez told him. That's the approach you need to go back to. Forget all of the expectations. Do not try and live up to the hype. Go back to being the Yasiel Puig of June.
That guy re-emerged when he sent that sinker screaming toward the right-field fence to drive Gonzalez home with the second run. All of him. He thrust his arms in the air, preened as if he had homered (which he surely thought he did), flipped his bat … and then started running hard when the ball bounced off of the wall. Still made it to third standing up -- and wildly pumping his fist.
The Cardinals appreciated neither that, nor Gonzalez's exuberance when he doubled in Ellis with the first run of the inning. Wainwright later accused Gonzalez of performing some "Mickey Mouse" antics at second base -- body language, and shouting. When that was relayed to him, Gonzalez grinned broadly and said, "We are in LA, so the Mickey Mouse stuff does go."
Though the Cardinals mostly shrugged off the Dodgers' Showtime, it certainly bears watching. Because they absolutely noticed.
"Is that anything new?" Wainwright asked of Puig. "On the tape, you can see he pimps all the time."
Last thing the Cardinals need to do, though, is allow these Dodgers emotional outbursts to ruffle their feathers, because this series is way too close. The way these pitchers are working and these offenses are not, there is a razor-thin margin for error. As it is, the Cardinals are hitting only .134 in this series. They are slugging .175.
The nine combined runs in the first three games is the least amount in LCS history, according to the Elias Sports Bureau. And this is the first time in LCS history -- starting in 1969 -- that neither team has homered through the first three games.
No, what's surprising given these numbers is that Puig and Gonzalez didn't moonwalk across center field when they drove their runs home.
"We knew coming into LA that it would be tough because their backs are against the wall, and they would want to show the crowd they can win," Wainwright said. "I hate to lose. Don't get me wrong. I hate to lose."
With pitching like this, each run is a precious gem, and each mistake is magnified by the power of 100. St. Louis' led directly to Wainwright's downfall. Just as the Dodgers' led to Greinke's downfall ... and to Kershaw's.
"It's pretty amazing," A.J. Ellis said. "It also tells you how great the pitching is in baseball right now. Joe Kelly, Michael Wacha and Hyung-Jin Ryu winning these games, you've seen it in all the series.
"There are a lot of really good, exciting young arms out there."
Said Cardinals manager Mike Matheny: "It wasn't very characteristic of how we've played all season. ... We're a better club than this."
Generally speaking, yes. But because of those mistakes, the odds of this series returning to St. Louis this weekend increased astronomically.
With it, so did memories of the Cardinals blowing a 3-1 NLCS lead only one year ago to the Giants. Matheny's club is still a long way from that, and you'd much rather be in the Cardinals' position, up 2-1 rather than down 2-1.
But if the Dodgers pull out a victory in Game 4, those shadows from last autumn might start creeping across these Cardinals' minds. And the thing is, the Cards have weak-link Lance Lynn lined up to start Game 4.
Then again, you know how thoughts like that have gone so far in this NLCS. ...
Marcell Ozuna figures to be the next Marlins star on the move

Several relievers have signed in the last two days

Several teams are interested in the switch-hitting first baseman
Neshek and the Phillies are closing on a two-year contract

And the team that first drafted Cole is interested

This scout was SUPER into Jeter