Cards wanted Wacha in October (so they didn't Strasburg him)
The Cardinals managed Michael Wacha's season with the idea that they wanted him ready in August, September and even October. And now they've benefitted from it.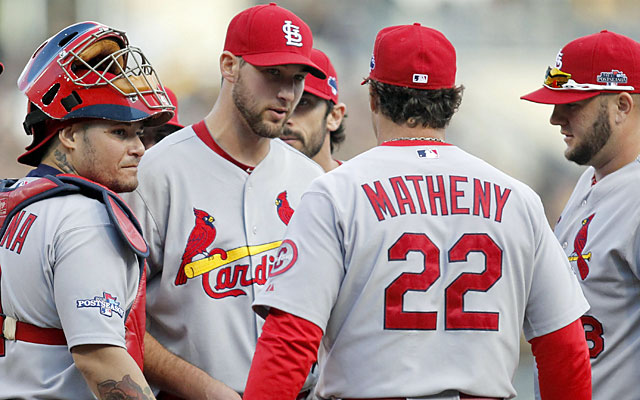 PITTSBURGH -- John Mozeliak never mentioned Stephen Strasburg.
He didn't need to.
I knew what he was talking about, and so do you. When he said that the Cardinals worked the 2013 program for Michael Wacha and their other young pitchers to make sure they would be ready for September and October, the Cardinals general manager was saying that the Cards didn't want a Strasburg situation.
They weren't going to let it happen. They weren't going into the most important games with their best pitchers sidelined.
"I wanted [Wacha] to gain experience," Mozeliak said Monday, after Wacha saved the Cardinals season and set up Game 5 against the Pirates. "I didn't want a workload that would preclude him from being used at the major-league level in August, September and hopefully October."
The Cardinals didn't know they would need to rely on Wacha now, but they always saw it as a possibility. So they kept him in the minor leagues as long as they could. They gave him as long of an All-Star break as they could.
And when the regular season was over, Wacha's innings total sat at 149 2/3, major leagues and minor leagues combined. There was no need to even discuss a shutdown.
He was there for Game 4, just as the Pirates have Gerrit Cole available for Game 5.
Should the Nationals have handled the Strasburg situation differently?
Mozeliak didn't say that. He didn't need to.
Sale becomes the first AL pitcher to reach 300 strikeouts since 1999

Steve Balboni's long-standing record of 36 has finally fallen

Several players called for the netting to be extended down the base lines following Wednesday's...
Maria made landfall as a Category 4 on Wednesday

The players are trying to do their job and don't want to see anyone hurt

The child is receiving medical attention at an area hospital, the Yankees said in a statem...