Cards' World Series Holliday within reach after decisive Game 4 win
On the 25th anniversary of Kirk Gibson's epic moment in Dodger Stadium, only the echoes remained. St. Louis, behind Matt Holliday's two-run homer to kick-start things, made sure the Dodgers could find no magic. ...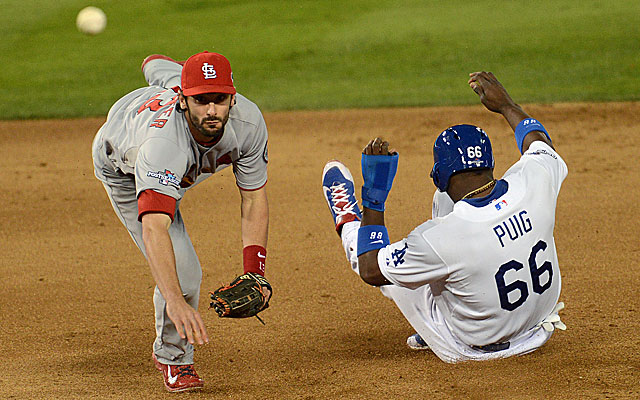 LOS ANGELES – On the 25th anniversary of one of the most unbelievable moments in baseball history, the Dodgers … watched Matt Holliday slug the dramatic home run.
On a day on which gimpy Kirk Gibson's spine-tingling entrance into Game 1 of the 1988 World Series was the backdrop around here, the Dodgers … helped aching shortstop Hanley Ramirez off the field after six innings when his cracked rib would no longer allow him to function.
Leave it to the wily Cardinals to conjure up more Tom Niedenfuer than Gibby on a warm Hollywood Tuesday night and stuff the Dodgers 4-2 in Game 4. And now where do you think this NL Championship Series is headed?
Do you really think the Cardinals will not punch their World Series ticket now?
OK, so technically there remains time for Yasiel Puig to moonwalk the Dodgers back into this thing. But this is where history – and not the Gibson/Dennis Eckersley kind – is about to override everything else.
One year ago, you know, the Cardinals were up 3-1 over San Francisco in the NLCS.
"Were we?" St. Louis third baseman David Freese feigned in mock horror. "Unbelievable."
Yeah, and you don't have to remind one person in this clubhouse what happened next. The ones who were here last October spent the winter haunted by it. They watched the Giants pull off the improbable, winning three consecutive games. The Giants mowed right through Lance Lynn, Chris Carpenter and Kyle Lohse, shocking the feathers right off of the Cardinals.
"It's tough, when you're that close to the World Series and lose," said Rafael Furcal, who played on the '11 Cards world championship team and was there for last October's crusher before an elbow injury knocked him out for all of 2013. "You remember it for awhile.
"I still remember how we lost."
Do you really believe that this group of Redbirds would be bird-brained enough to allow that to happen a second-consecutive year?
Oh, they did not want any part of this discussion Tuesday night, of course.
"We were up 3-1 last year and we weren't able to finish it off," infielder Daniel Descalso said. "This isn't over by any means.
"Just because we're up 3-1 doesn't mean anything. No one is going to roll over so you can move on."
"I think we're all determined as a team," outfielder Carlos Beltran said. "What happened to us last year is in the past."
Yes. New year and all of that Same Auld Lang Syne stuff. Still. Only the unintelligent among us don't learn from history. And this Cardinals organization is nothing if not whip smart.
You bet these Cardinals will draw from and apply last year's gut-wrenching ouster and apply lessons to Game 5 here Wednesday … and, if necessary, to Games 6 and 7 in St. Louis Friday and Saturday.
"I would think so," said Yadier Molina, the thinking man's catcher. "I would think it would help.
"Last year, it was tough to swallow. We were up 3-1 and we didn't make it. This year, we have the experiences that we went through last year.
"Hopefully, this year we can close the deal."
Closing will one hellacious challenge on what will be a very hot Wednesday afternoon against Zack Greinke.
But then, the Cardinals were challenged pretty good on Tuesday and emerged grinning like a couple who just scarfed down a piece of anniversary cake.
Following one of the sloppiest games you'll see a St. Louis team play on the big stage, Matt Holliday gave them just the lift they needed by smashing a third inning Ricky Nolasco pitch practically to Grauman's Chinese Theater. It was a 426-foot, two-run blast that provided the Cardinals an early lead, and it was the first home run in four games in this NLCS. No LCS – AL or NL – had ever gone its first three games without a home run.
By the time it landed, somewhere near a pickup truck on a pedestal behind the Dodger bullpen – oh, those in-stadium product placements – it could have counted for three home runs.
"Is that truck OK?" Freese quipped.
Holliday was 0 for 14 in this NLCS at the time. Which was instantaneously forgotten in the, oh, two seconds or so it took for his ball to go screaming from the yard.
"Huge," Freese said. "That's two series in a row he's helped us out with a home run. The one in the Pittsburgh series [sixth inning, Game 4, to deliver a 2-1 win] and then he did the same thing tonight.
"Funny thing is, this time of year, you could be hitless and then get the biggest hit in a series."
Said Holliday: "As far as being 0 for 14, I don't look at it like that. If you're constantly as a hitter looking at the results, it's frustrating. It's a terribly frustrating skill."
So, as he says, he tries to look at the process more than the results.
Excellent advice, by the way, that his teammates appear to be following, too.
The Dodgers have far more hits than the Cardinals in this series, 31-19. They're out-hitting the Cards by 75 points, .223-.148. They're out-slugging the Cards .309-.234 (granted, not that .309 is anything to brag about to the wives and girlfriends, but still).
Yet it is Los Angeles that is one game from elimination.
Those low hitting totals should indicate that the Dodgers could climb back into this thing more quickly than Puig can round the bases. But if they're going to do so, they'd better do so quick. Time is running out.
Hanley Ramirez's Gibson/Willis Reed moment evaporated in Game 4 when he whiffed three times and his cracked rib forced him to leave after six innings. Both Lance Lynn's plan and execution against him were perfect, Lynn feeding Ramirez steady pitches on the outer half of the plate (or just off the plate outside) that Ramriez's rib would not allow him to reach. His last at-bat, he looked at three called strikes.
Nolaso pitched like a guy whose turn was justifiably skipped in the Atlanta series. Nick Punto replaced Ramirez and was picked off of second in an egregious and inexcusable mental error that pretty much choked off the Dodgers' last gasp.
That came in the bottom of the seventh, just after little Shane Robinson's pinch-hit homer in the top of the inning increased the Cards' lead to 4-2. Talk about breathing room … and then, exhaling.
"You start screaming," Freese said of the dugout demeanor when the Cards watched their 5-9 teammate's drive soaring over Carl Crawford's head in left field. "And then you try and blow it out."
In a moment that will give the Cardinals ammunition to tease the little guy for years, the ball clanked off of the top of the railing, just barely bouncing over the fence for a homer.
"I hit 'em that way, sometimes," Robinson explained, to uproarious laughter.
So here we are again, Cardinals up 3-1 in an NLCS, this time in the land of scripts and starlets. And do you really think the Cardinals are going to allow themselves to be written out early for a second consecutive year?
"Every game is a must-win," Molina vowed. "Hopefully, we can do it tomorrow."
The Nats will host the All-Star Game in 2018

The Orioles are looking to trade Machado heading into his walk year

The Cardinals have been linked for a while to the Baltimore star
Gallardo spent the first eight years of his career in Milwaukee

MLB revenues are at a record high right now, but teams aren't spending it on players

Chicago added Tyler Chatwood earlier this offseason but might not be done adding to the ro...