Career-year Coco Crisp leading Athletics offense in ALDS
The Athletics have scored 12 runs in the last two ALDS games thanks in large part to Coco Crisp, who has enjoyed a career-year at age 33.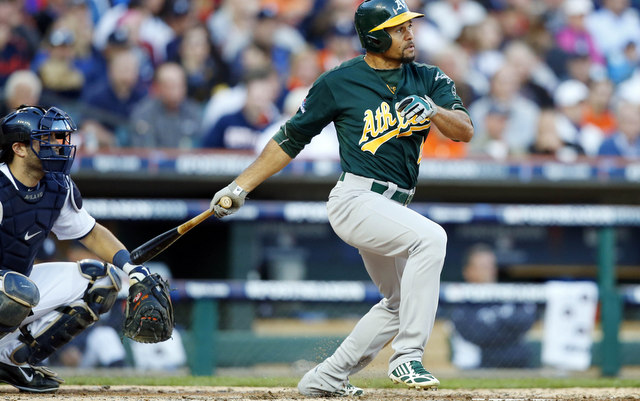 More ALDS: Game 4 recap | Game 4 quick hits | Who has the edge?
There's no way around it: Game 4 was a brutal loss for the Athletics. They had a three-run lead in the fifth inning and a one-run lead in the seventh with a chance to close out the series, but instead the Tigers rallied for an 8-6 win. The two teams will play a winner-take-all Game 5 on Thursday in Oakland.
Considering the nature of the loss -- soul-crushing, basically -- it's easy to overlook the fact that the Athletics scored six runs for the second straight game. That's six runs in back-to-back games against a pretty great pitching staff. Obviously they lost one of those games, but the ample offense is a silver lining.
The A's have scored so many runs these last two games thanks in large part to leadoff man Coco Crisp. The 33-year-old had a career-year in many ways in 2013, whether it power production (career-high 22 homers), patience (career-high 61 walks) or overall offensive output (career-high 119 OPS+). That has carried over into the ALDS.
Crisp paced the Oakland attack with four hits in Game 4, including a first inning leadoff triple that led to the first run of the game. He also singled in the fifth before coming around to score on Jed Lowrie's homer. Crisp singled in a run in the seventh then scored another run in the ninth. He either scored or drove in four of the team's six runs.
In Game 3, Coco went 3-for-4 with a pair of doubles, including one to leadoff the game. He singled and scored in the third then plated a run with a sacrifice fly in the fourth. Crisp either scored or drove in six of the club's 12 runs these last two games. He's not just setting the table, he's cashing any runners in scoring position checks that come his way as well.
Crisp has gone 7-for-14 (.500) with three walks (.556 OBP) in the four games despite not picking up a hit until Game 3. He's been the best player on the field for either team in the ALDS and, really, he's just continuing the success he had in the regular season. It's not often a guy enjoys the finest season of a 12-year career at age 33, but Coco has been the exception.
Gardenhire is familiar with the American League Central

"Homer at the Bat" is being memorialized by its own show in a unique way this weekend

It's Clayton Kershaw against Jose Quintana at Wrigley Field in Chicago
Five months is mid-to-late March, so this could impact the 2018 season

Cubs manager Maddon becomes the first manager ever ejected twice in one postseason series

Closer Wade Davis pitched two innings in Game 4 to help force a Game 5