Carlos Beltran day to day with severe rib bruise following Game 1
After making a spectacular catch and crashing into the outfield wall, Carlos Beltran is day to day with a severe rib bruise on the right side.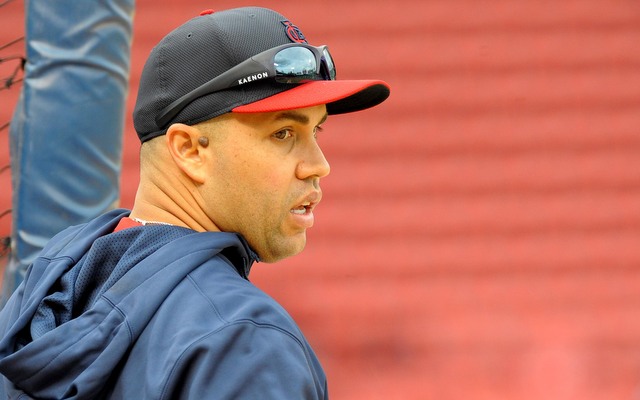 World Series Game 1: Follow live | Umpires overturned blown call
UPDATE: Beltran has a severe rib bruise and is day to day, manager Mike Matheny confirmed after Game 1. X-rays came back negative. "Going to see how he feels tomorrow, and it will probably be a game time decision," said Matheny. Obviously losing Beltran for even one game would be a huge blow to the Cardinals.
* * *
BOSTON - Cardinals slugger Carlos Beltran has been replaced in right field with Shane Robinson in Game 1 of the World Series. Robinson started the game in center, but moved to right -- with Jon Jay taking over in center -- to begin the bottom of the third inning for the Cardinals.
Beltran made an unbelievable catch in the bottom of the second, robbing David Ortiz of a grand slam, but he crashed into the wall -- around his ribcage area. Sure enough, it has been announced that Beltran left due to a right rib contusion.
The Cardinals have now announced that Beltran has gone to the hospital. So there's a chance this is a bad injury.
Losing Beltran is obviously a huge blow to the Cardinals. He's a noted postseason force and  has been one of their best hitters all season. Needing a big comeback to win Game 1, yes, it hurts. If he's out for any upcoming games, though, it's a possibly devastating injury for the Cardinals.
Get 15 percent off any order of more than $75 at CBS Sports Shop

Get your sports fans something that they'll wear all year

No, you're not imagining things. This MLB offseason has been very slow compared to the last...
Francesa will retire from radio next month, so he'll have plenty of free time next summer

The Twins need help in the rotation, and they may look to the trade market to find arms

Here are the bullet-points of what went down Tuesday regarding MLB and the Braves' punishm...