Carlos Gomez and the team friendliest contract of 2013
Following his breakout season, the four-year extension the Brewers gave Carlos Gomez in March looks like a masterstroke.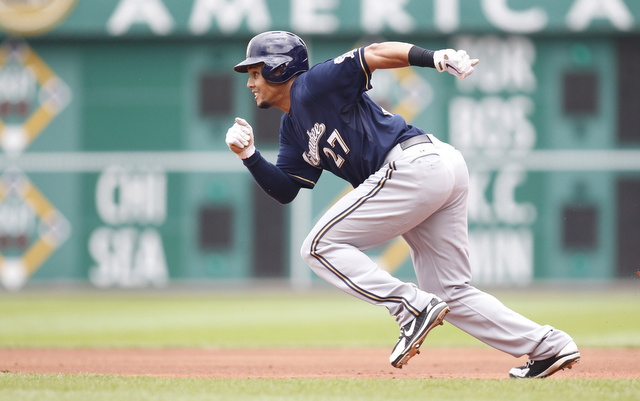 MORE: FA tracker: position players | FA tracker: pitchers
By my unofficial count, there were 81 multiyear contracts signed during the 2013 calendar year (with 11 days to go). Those contracts range from Jose Molina's two-year, $4.5 million deal with the Rays to Robinson Cano's ten-year, $240 million pact with the Mariners. Teams are flush with cash these days and they haven't been shy about spending it.
Even though it will take years before we can fully evaluate those 81 contracts, there is one thing we can definitively say right now: no team got a better bargain than the Brewers when they inked center fielder Carlos Gomez to what was essentially a four-year extension worth $28.3 million back in March. It's a steal.
That four-year deal bought out Gomez's final season of arbitration eligibility and three years of free agency. He was scheduled to hit the open market alongside Jacoby Ellsbury, Shin-Soo Choo, Carlos Beltran and plenty of other players this winter. Let's quickly compare Gomez to free agency's big three outfielders:
Outfielder Comparison
 
Gomez
Beltran
Ellsbury
Choo
Age
28
36
30
31
2013 WAR
8.4
2.4
5.8
4.2
2012-2013 WAR
10.8
6.3
6.8
7.7
2011-2013 WAR
13.0
10.7
14.8
9.3
Contract Years
3*
3
7
?
Contract Dollars
$24M*
$45M
$153M
?
* That's what's left on Gomez's deal following the 2013 season.
Choo has not signed yet but he recently rejected a seven-year, $140 million contract offer from the Yankees, so it's safe to say he will wind up with a huge contract.
Anyway, as you can see from the table, Gomez is not only the youngest player of the foursome, he was also the best player both this past season and over the last two seasons. He was better than Beltran and Choo over the last three seasons as well.
Gomez is a player who, early in his career, had star-caliber tools but performed inconsistently. He's not the first guy who has gone through that and he certainly will not be the last. Not everyone bursts onto the scene like Mike Trout. Those tools are turning into serious baseball production now that Gomez has experience and reached what should be the prime years of his career. We're talking about a Gold Glove caliber center fielder with 20+ home run power and 40+ stolen base ability. Those guys are rare and Gomez would have been compensated handsomely had he not signed his extension and instead hit free agency as scheduled this winter.
How much did the Brewers save this winter? There's no way of knowing. Gomez's recent production is comparable to Ellsbury's but he doesn't have the same "proven big market/postseason performer" appeal, so maybe he wouldn't have landed the same kind of contract. I do think Gomez would have eclipsed the five-year, $75.25 million deal the Braves gave B.J. Upton last winter, rather easily too. If that's the case, the Brewers saved themselves $50+ million. Maybe Matt Holliday's seven-year, $120 million deal with the Cardinals would be a more appropriate comparison. In that case, Milwaukee saved over $90 million.
We could sit here and play the "what if" game for days. We'll never know exactly how much the Brewers saved by signing Gomez to that extension in spring training rather than waiting until after the season, but the answer is clearly "a boatload." It's not just about saving money either, it's also about keeping him with the team. There's a good chance the Brewers wouldn't have been able to afford Gomez had a bidding war developed in free agency.
There were an awful lot of contracts handed out over the last 12 months and while things can obviously change in the coming years, none looks as team-friendly as Gomez's four-year extension right now. The Brewers managed to lock down the prime years of star-caliber producer on a seven-figure annual salary just seven months before he was due to become a free agent. It was a stellar, stellar move by GM Doug Melvin & Co.
Plus the A's have hope and all the rest of the day's action

Matt Chapman and Matt Olson give the A's hope

Despite an awful month, the Dodgers are again NL West champions
The record of 38 previously belonged to Hall of Famer Frank Robinson

The report also says that Jeter had outgoing president David Samson do the firing

This wasn't a traditional hidden ball trick, but the Blue Jays pulled it off