Carlos Marmol red hot since All-Star break, which bodes well for offseason trade value
Carlos Marmol has been lights out since the All-Star break, pushing his trade value higher and higher.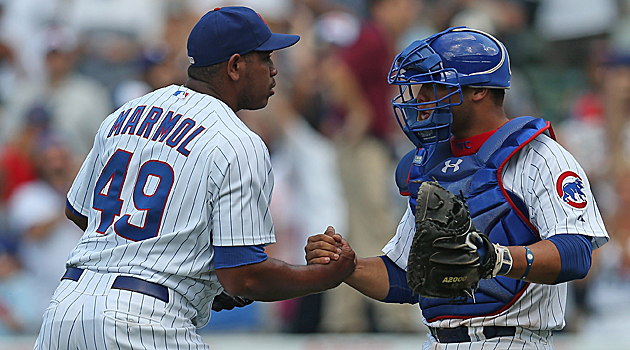 Is Marmol back? His second half numbers suggest he is. (Getty Images)
In the lone Friday afternoon game on this the last day of August, the Cubs beat the Giants, 6-4. Embattled Cubs closer Carlos Marmol came on for the ninth and took care of business with a spotless inning. There was a time that the latter part of that sentence would have sounded outlandish, but not anymore.
In fact, Marmol has been an absolute lock-down closer since the All-Star break. He's successfully closed all nine of his save chances. He has a 1.08 ERA and 20 strikeouts in 16 2/3 innings.
On top of that, his stuff has returned to the form it was when he was a dominant closer. His average fastball velocity -- according to BrooksBaseball.net -- was nearly 95 miles per hour in August. He's also regained confidence in his slider, throwing it more than 75 percent of the time with two strikes this month -- and that slider has been as sharp this past month as it has been since 2010.
More from Eye on Baseball
Most importantly, Marmol's control is at least serviceable. He's never going to have Dan Quisenberry-like control, but earlier this season it actually looked like Marmol had no idea where the ball was going. Since the All-Star break, he's walked seven hitters, hit none and thrown zero wild pitches.
It's easy to ignore Marmol's performance in the second half. After all, the Cubs are going nowhere this season. They'd be a last-place team if not for the presence of the hapless Astros in the NL Central.
So, if the Cubs are so irrelevant this season, why talk about Marmol's second half?
The answer is pretty simple. Marmol is 29 years old and still in his prime. He's throwing as well as he has since being one of baseball's better closers. We can't write off this stretch as a fluke because he's done it before for extended stretches. He's owed $9.8 million next season and then he's a free agent. Each offseason, several contending teams look for short-term bullpen help and the Cubs are -- and still will be next season -- in full-on rebuild mode. So ... do the math. Trade, anyone?
Marmol's stock couldn't be much higher, but he needs to keep it up for another month if the Cubs want to sell high. This is a definite storyline to look for this coming offseason, should Marmol continue to deal at such a high rate.
For more baseball news, rumors and analysis, follow @EyeOnBaseball on Twitter, subscribe to the RSS feed and "like" us on Facebook.
Does the Jackson signing mean the Giants are out on Lorenzo Cain?

Acuna edged out Shohei Ohtani and Vladimir Guerrero Jr.

There's no reason to run over the cases for and against Bonds, so let's have fun instead
The coveted right-hander would certainly be a fit in Milwaukee

We rate the best mustaches from random baseball cards because, why not?

Colon wants to break a Dennis Martinez record