Carlos Peguero's wife charged with stealing from Felix Hernandez's wife
Carlos Peguero's wife has been charged with wire-fraud, and the Seattle Times reports that it's for using Felix Hernandez's wife's debit card to purchase $180,000 worth of online merchandise.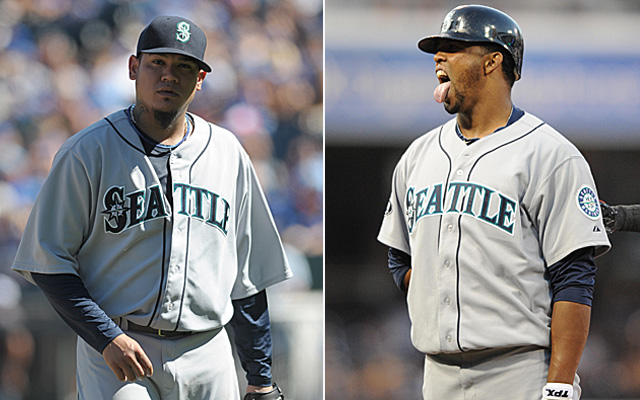 The wife of Mariners outfielder Carlos Peguero has been charged with wire fraud for allegedly using the debit card of Felix Hernandez's wife for upwards of $180,000 in online purchases, according to the Seattle Times.
From the report:
Maria Jacqueline Peguero is charged in U.S. District Court in Tacoma with three counts of wire fraud, which carries a possible penalty of up to 20 years in prison.

Maria Peguero has pleaded not guilty to the charges and is free on bond and under the supervision of federal community Pre-Trial Services, according to the court docket.

The charges were filed by the U.S. Secret Service on Oct. 1 and allege that Maria Peguero used a debit card belonging to Sandra Hernandez to have nearly $180,000 in merchandise from Saks Fifth Avenue delivered to her Fife apartment between June 26, 2012 and Oct. 9, 2012.
The report also notes that over 60 transactions were alleged to be made. It has since been confirmed by the Associated Press.
Seriously, how in the world does anyone think over 60 transactions for $180,000 on someone else's card won't get noticed? Felix Hernandez has made over $60 million in his career to date, but that's still a rather ridiculous amount of transactions. 
Then again, this isn't Maria Peguero's first run-in with the law. In 2010, she was arrested for shoplifting from a TJ Maxx.
Carlos Peguero, 26, was signed by the Mariners out of the Dominican Republic in 2005. He's only appeared in 65 games for the big-league Mariners in the past three seasons. His wife, Maria, is the daughter of former major-league pitcher, Pedro Borbon.