Carlos Rodon, No. 3 pick, is close to a deal with White Sox
Chicago is thought to be close to finalizing a contract with left-hander Carlos Rodon.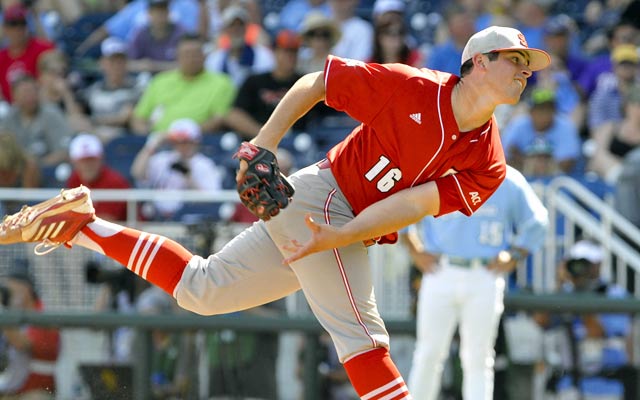 Carlos Rodon, the No. 3 pick in the MLB first-year player draft, is close to a deal with the White Sox, sources confirm.
Rodon, a lefthander from N.C. State, is said to be in agreement on a deal for more than $6.45M with only a physical to be taken. Jeff Gravley of WRAL-TV in Raleigh, N.C., first reported Rodon was on his way to Chicago for his physical.
Rodon was seen by many as the top pitcher and player in the draft, but he slipped to No. 3 when the Astros and Marlins bypassed him and selected high school pitchers Brady Aiken and Tyler Kolek, respectively, instead with picks No. 1 and 2. The White Sox were said by sources to be thrilled that Rodon fell into their lap at No. 3. Rodon, an N.C. State junior, is the closest to the big leagues of any of the top players.
The recommended slot for the No. 3 pick is $5.7 million, so Rodon will top that figure by more than $700,000. Even though he slipped to the third pick, he might get the highest bonus of the draft.
Rodon's signing, once done, will leave only Aiken, the No. 1 pick, and Oregon State outfielder Michael Conforto, the No. 10 pick by the Mets, as the only unsigned players from the top 10. Conforto and the Mets are said to have made progress on language issues of their own, while the Aiken negotiations have gotten interesting.
Aiken had a reported agreement at $6.5 million, $1.4 million below the recommended slot of $7.9M, when a press conference that had been expected was not called following a physical examination, and it was reported in this space that Houston found an issue with the lefty's elbow ligament. That finding caused Houston to look for a discount in the deal, believed to be for $1.5M to about $5M.
Kolek, a righty from Texas, signed with Miami for $6 million.
L.A. manager Dave Roberts indicated that Puig's benching was related to more than one inci...

Manager Torey Lovullo said so on Monday
Let's see how SportsLine forecasts the race for MLB's 10 playoff spots

Monday kicks off the final week of MLB action. Let's take a look at everything that went d...

No other rookie in baseball history has hit more home runs than Judge has this year