Carlos Zambrano still holding out hope for return to majors
Carlos Zambrano was ineffective two years ago for the Marlins and couldn't make it to the majors for the Phillies this past season, but he's not giving up.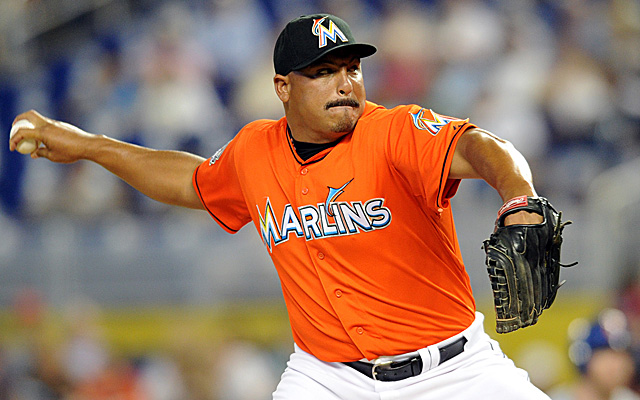 If nothing else, one has to admire the persistence of former All-Star pitcher Carlos Zambrano.
"He is most definitely interested in continuing his career," agent Barry Praver told CSNChicago.com at the general manager meetings in Orlando.
Praver also told the Chicago outlet that Zambrano longs to be reunited with Cubs fans, even if it's only at a convention or some other event in Wrigley Field.
That feeling may not be mutual. Though Zambrano was a three-time All-Star for the Cubs and a member of the rotation for three different playoff teams in his 11-year stint, he wore out his welcome the last few years, with the final straw coming Aug. 12, 2011.
On that date, Zambrano was ejected after allowing five home runs and then throwing at Chipper Jones in frustration. He then cleaned out his locker, walked out on his team and said he was pondering retirement. He later changed his mind but the Cubs wouldn't allow him back.
The following offseason, the Cubs traded Zambrano to the Marlins, eating $15.5 million of his owed $18 million for the season in a blatant "we don't want you here" salary dump.
Zambrano went 7-10 with a 4.49 ERA, 1.50 WHIP and 95 strikeouts against 75 walks for Miami in 2012.
Last season, he signed a minor-league deal with the Phillies. He made seven minor-league starts before being released by the Phillies. He was good in three starts for High-A and Double-A, but in four Triple-A starts, he posted a 3.32 ERA and 1.53 WHIP.
His agent noted a shoulder injury, but walks were again a problem, just as they have been this season in winter ball, as Zambrano -- apparently now healthy -- has walked 15 in 19 2/3 innings in Venezuela.
The best guess is we'll never see Zambrano in the majors again, but you never know. He's still only 32 years old. And he's certainly persistent.