Cashman: A-Rod 'above average;' better news, Al-batross of deal was frontloaded
Alex Rodriguez homered Sunday. But in the end, he still wound up being booed by Yankees fans.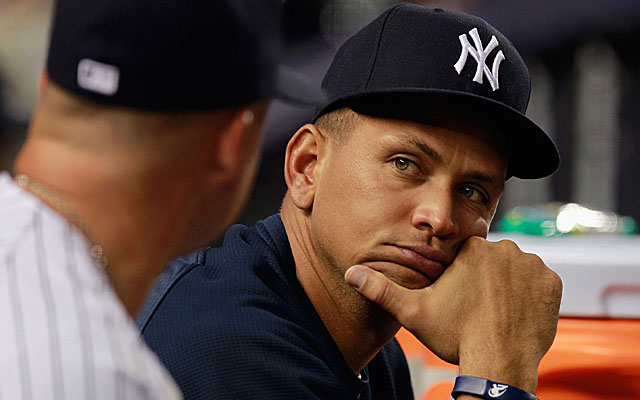 Alex Rodriguez's contract with the Yankees runs through 2017 with at least $128 million remaining.
(Getty Images)
NEW YORK -- Alex Rodriguez is having a rough couple weeks. His "great friend'' Reggie Jackson called into question the validity of his stats, he went 49 at-bats without a home run and he's still being booed by the home folks.
Even on a day like Sunday, when he hit a true Yankee Stadium home run, a drive into the first few rows in right-centerfield off Angels ace Jered Weaver, it ended badly. A-Rod popped out to halt a three-run, ninth-inning rally with the bases loaded against Angels reliever Kevin Jepsen, the final out of the Angels 10-8 victory over the Yankees.
More boos.
But the news isn't all bad. Yankees GM Brian Cashman is in Rodriguez's corner, though the praise coming from Cashman could be described as fairly feint.
"I don't look at A-Rod and his contract. I look at him as a player who's above average at his position,'' Cashman said.
Above average. That's a fair assessment at this point. Rodriguez is hitting .270 with 14 home runs and 40 RBI. That isn't particularly good. But it is, as Cashman said, above average.
Rodriguez's home run tied the score in the Yankees' 10-8 defeat. The Yankees PR staff announced Rodriguez's six career home runs are the most anyone has hit against Weaver, a reminder of the greatness that once was.
That's not good enough for the Yankee Stadium fans, who may be looking at the contract, and not even the fine print. There's still $128 million left on the deal that's over 5 1/2 years. But there is good news: since it was frontloaded it will only be half an Al batross instead of a full Al batross (his close friends call him Al, by the way).
Rodriguez's salary goes from $29 million this year to $28 million next year to $25 million in 2014 (when the Yankees say they will be under the $189-million luxury-tax threshold; "that's a fact,'' Cashman asserted).
Of course, there's also, potentially, $30 million in home run milestones to go, bringing the grand total to $158 million.
While some of his detractors were here Sunday, Reggie still has to stay a way. The Hall of Famer was "put on ice'' for suggesting that Rodriguez, and even the beloved Andy Pettitte (but especially A-Rod), have careers that have a taint to them due to the use of performance enhancers. Reggie will very likely be back at some point (his apology was issued by the Yankees) but there's no word of when.
As for the fans, they don't worry about Reggie's remarks. But they do worry about A-Rod. And that never-ending contract, of course.
Cozart's coming off a big season as the Reds' shortstop

The veteran slugger spent the last eight seasons with Cleveland

The Padres may be poised for an active winter
Yes, Bryce Harper is going to make a lot of money next winter

Outfield prospect Clint Frazier might be part of the talks

Boston wants to add two big bats to their lineup, not just one