Cashman: No plans to talk to other teams about trades for A-Rod
Cashman, probably understanding there's no market for A-Rod, says, "He's our third baseman.'' But while they don't expect to talk to other teams, word is they did question Rodriguez about "flirtgate.'' (He denied it was him.)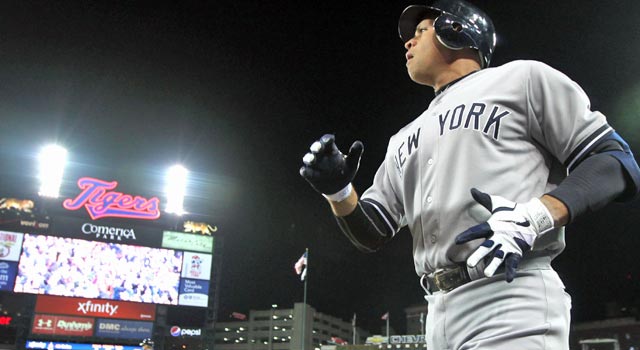 Brian Cashman says A-Rod is 'our third baseman' and denies there are plans to trade him.
(US Presswire)
Yankees general manager Brian Cashman said by phone he isn't going to shop Alex Rodriguez.
"He's our third baseman,'' Cashman said. "I'm going to focus on other areas.''
Pressed a bit further, Cashman reiterated that he has no plans or expectations to talk about trades for A-Rod. "No, I'm not,'' he said, flatly.
There was a Keith Olbermann report of a preliminary discussion between the Yankees and Marlins, but that appears to be limited at this point to one humorous conversation between Marlins owner Jeffrey Loria and Yankees president Randy Levine back in April, in which Loria kidded about A-Rod being "Mr. Miami'' and how he should be a Marlin, and Levine jokingly responded by saying, "You can have him.''
More on A-Rod
Columns

---

Subsequently, sources close to both the Marlins and Dodgers, the other most logical suitor, have suggested to CBSSports.com they have no interest at the present time in Rodriguez. And one A.L. scout said, "I can't believe anyone would be interested.''
Cashman's stance shouldn't necessarily be taken to mean the Yankees are thrilled with what went on with A-Rod in the postseason, from the 3-for-25 performance to flirtgate. They simply don't see a market, or a possibility.
"He's got a full no-trade, and his contract is what it is,'' Cashman said.
The deal, which was done above Cashman, guarantees A-Rod $114 million over the next five seasons, plus another potential $30 million in milestone home run money. Beyond that, A-Rod has had physical issues the past two years, and by the end of the year, couldn't hit right-handed pitching. He was benched in the last two games of the ALCS after being pinch-hit for earlier, and he finished the postseason 0 for 18 with 12 strikeouts vs. righties.
Cashman wouldn't say whether Yankees brass questioned him about whether he did indeed send a baseball to two young ladies in the expensive seats in hope of getting dates, as the New York Post reported, but other sources say the Yankees did indeed ask Rodriguez about it, and he denied it. Rodriguez allegedly told the Yankees it "wasn't him.''
It isn't known whether the Yankees bought A-Rod's denial, but there are still concerns about whether baseball has Rodriguez's full attention. They'd questioned Rodriguez a year ago about whether he was in business with his new agent Dan Lozano after a Deadspin report surfaced, and A-Rod denied that he was -- although it is known he has at least funnelled three young players close to him -- Manny Machado, Danny Valencia and Yonder Alonso -- to Lozano.
Cashman was asked about their concern about A-Rod's focus, and he wouldn't talk specically about Rodriguez. "We want all our players focused and committed at all times,'' Cashman said.
There's now a crowded outfield in San Diego

The former Braves star served as a race official for the Daytona 500

He'd be a good fit in the Bronx, but can they make it work and still stay under the luxury...
The slugger had shoulder surgery in November

Tebow reported to spring training with Mets position players on Sunday

Santa Clara senior Jake Brodt did the honors Saturday