Champ BoSox still have work to do
The reigning World Series champs have been pretty quiet this offseason. Is that going to change?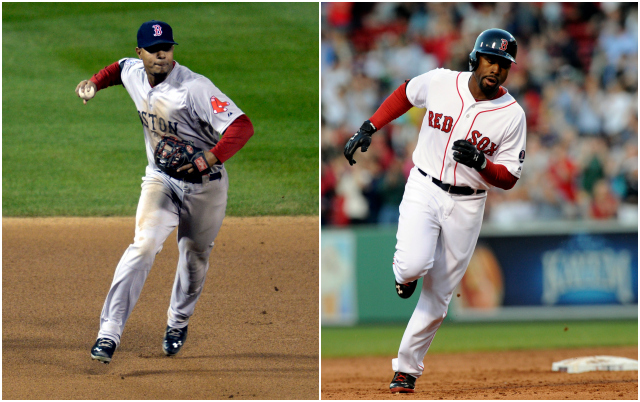 MORE: FA tracker: position players | FA tracker: pitchers
To be sure, there's plenty of time left and talent available, both on the free agent market and the trading block. With that said, the champion Red Sox have been something of a dominating absence this offseason. They've re-signed Mike Napoli, locked up A.J. Pierzynski to replace the Marlins-bound Jarrod Saltalamacchia, and added Edward Mujica and Burke Badenhop to the bullpen. Conspicuous holes, however, remain. To wit, they of course lost Jacoby Ellsbury to the Yankees, and Stephen Drew may yet sign elsewhere. 
Moving forward, the Sox have other concerns -- rotation depth, whether Will Middlebrooks is ready to hold down third base , for instance -- but right now the uncertainties at shortstop and center field stand out. 
Last season, Ellsbury and Drew, per WAR, were worth a combined 9.2 wins, which constitutes a substantial loss of value going into 2014 (assuming Drew signs elsewhere, of course). Absent other moves, the Red Sox would almost certainly open the season with highly regarded pups Xander Bogaerts at short and Jackie Bradley Jr. in center. 
Now let's look to the ZiPS and Steamer 2014 projections available at FanGraphs to see what kind of value these two rookies figure to provide next season ... 
Xander Bogaerts and Jackie Bradley Jr., 2014 forecasts
Projection system/Player
Bogaerts
Bradley
ZiPS (AVG/OBP/SLG, WAR)
.267/.331/.429, 2.8
.245/.322/.375, 1.5
Steamer (AVG/OBP/SLG, WAR)
.261/.325/.413, 2.8
.256/.336/402, 2.1
The long-term outlook for these two players -- especially Bogaerts -- is highly promising, but the Red Sox, insofar as defending the belt and title is concerned, will need them to adapt to the highest level very quickly. As the forecasts above suggest, they figure to amount to a fairly significant drop-off relative to what Ellsbury and Drew provided in 2013.
Peering a bit more closely, Bogaerts, so long as expectations are met, will come playably close to Drew's value last season (3.4 WAR for Drew in 2013). Since there's no guarantee that Drew can repeat one of his best campaigns, letting him walk in favor of the 21-year-old, cost-controlled Bogaerts is eminently defensible and probably even optimal. 
The problem is the likely Ellsbury-to-Bradley deficit. It bears repeating that Bradley has a strong future potential, but there's sure to be a growth curve, and Ellsbury, what with his standout base-running and defense and solid production at the plate, sets a high bar. In division as exacting as the AL East -- and in which the rival Yankees will now benefit from Ellsbury's bestowals -- a potential four-win decline in center may be too much for Boston to abide. 
The Sox do have outfield depth, but it's more "mix-and-match" depth. That is, Shane Victorino can man center, but his glove these days (he's 33) is such that he's better suited to Fenway's still-spacious right field, where he's excellent, rather than center, where he'd be merely average. With that said, you don't have to make up the wins that went away with Ellsbury at one position.
That's why the Sox would do well to gauge the market for Shin-Soo Choo. Install Choo in left, platoon him on occasion with Jonny Gomes and then have Daniel Nava -- who's better from the left side -- spell Victorino on occasion when a right-hander's starting for the opposition. As well, a regular Choo-Bradley-Victorino defensive alignment would be one of baseball's best, in terms of keeping hits to the outfield from falling in. The pressure would also be off Bradley to become a proxy Ellsbury at age 23. 
The larger point is that the Sox, because the latitude for decline is so thin in the AL East, can't simply assume that turning shortstop and center over to two prospects will yield enough right away, at least not without improving the margins elsewhere. That's why a high-OBP, power-to-the-gaps guy like Choo makes a lot of sense for Boston, which of course has plenty of money lying around.
The champs still have work to do this winter, and GM Ben Cherington certainly knows that. Will the next big move be his? It probably should be. 
Our Latest Stories
The Nats will host the All-Star Game in 2018

The Orioles are looking to trade Machado heading into his walk year

The Cardinals have been linked for a while to the Baltimore star
Gallardo spent the first eight years of his career in Milwaukee

MLB revenues are at a record high right now, but teams aren't spending it on players

Chicago added Tyler Chatwood earlier this offseason but might not be done adding to the ro...