Chapman has mild concussion, will have surgery to repair bone today
Reds LHP Aroldis Chapman has a mild concussion after being hit by a line drive on Thursday. He will have surgery to repair a bone in his face.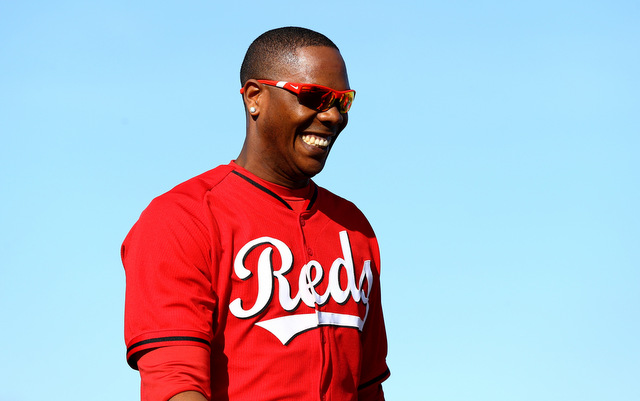 MORE: Spring Training | Scoreboard | Team previews
Reds left-hander Aroldis Chapman has avoided a serious brain injury after being hit by a line drive on Thursday. Team doctor Timothy Kremchek said Chapman has a mild concussion and will have surgery to repair bone in his face on Thursday, during which a plate and screws will be inserted around his eye. His eye iself is fine and he has no other brain problems.
Kremcheck called the Chapman a "very lucky guy" and he could resume throwing off flat ground in 2-3 weeks and off a mound in 6-8 weeks, though that does not mean he will be pitching in games right away. Both he and the team are very optimistic considering the circumstances. Chapman will remain in the hospital a few days but could be released as soon as Saturday.
On Wednesday night, Chapman was struck by a line drive off the bat of Royals catcher Salvador Perez. It appeared to hit him right in the face, just above his left eye. Here's the video, but you are forewarned, it is tough to watch:
The pitch was clocked at 99 mph and the line drive at 110 mph, reportedly. Brandon McCarthy was hit in the head by a line drive two years ago, suffering a skull fracture and an epidural hemorrhage that required emergency surgery. Chapman is very lucky indeed. This could have been way, way worse.
The 6-8 week timetable indicates Chapman could return to the Reds as soon as mid-to-late May, but obviously there will be no rush. Right-hander Jonathan Broxton is likely to take over as closer in the meantime.
The lefty starter is coming off a terrible season

After acquiring Ian Kinsler and Zack Cozart in recent days, the Angels are trending upward

Cozart's coming off a big season as the Reds' shortstop
The veteran slugger spent the last eight seasons with Cleveland

The Padres may be poised for an active winter

Yes, Bryce Harper is going to make a lot of money next winter