Chipper on Strasburg: In October, 'he wins every start'
The Nationals can come up with a strong playoff rotation, even without Stephen Strasburg, who will be shut down by then. But Chipper Jones says Strasburg's absence will make a big difference. Jones said that because Strasburg's repertoire of pitches is so dominating and unique, "he wins every start" in the postseason.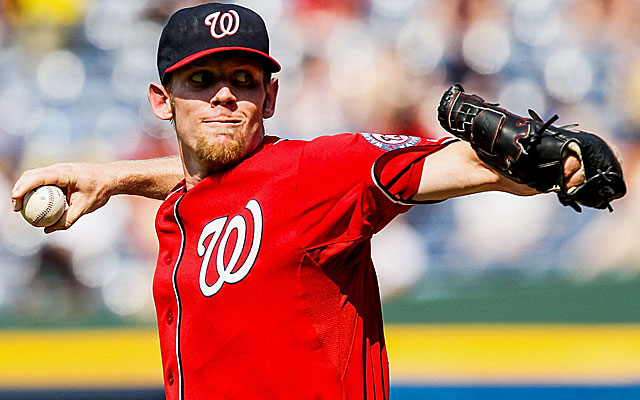 Chipper Jones says it would be a huge advantage for the Nats to pitch Stephen Strasburg in the postseason.
(US Presswire)
WASHINGTON -- The Nationals rotation features the guy leading the National League in ERA. It's not Stephen Strasburg.

The Nationals have the guy who is tied for the National League lead in wins. Again, not Stephen Strasburg.

So how much of an issue is it really that if (or should that be when?) the Nationals get to the playoffs, Strasburg won't be in their rotation?

Big issue, Chipper Jones says.

"Having that big right arm going in the first game of every series is big," said Jones, whose Braves face Strasburg Tuesday night. "Strasburg does things no one else can. Speaking strictly on repertoire, he has three pitches no one else in the game has.

"That's what wins in the postseason. He wins every start. He starts Game 1 and one other game, and you're checking those off [as wins]."

Jones said he respects the Nationals' decision to shut Strasburg down before the playoffs. But it's clear from listening to Jones that he doesn't really agree with it, and that he doesn't believe Strasburg agrees with it, either.

"He wants to pitch," Jones said. "I know he wants to pitch. Everybody knows he wants to pitch. He wants that pot of gold at the end of the rainbow.

"They were careful with him before, and what happened? He still blew out. . . . What's 20 or 30 more innings going to do?"

At this point, though, the should-they-or-shouldn't-they debate is old, and pointless. Whether they should or shouldn't, they're going to, and the more significant question is how much it will hurt the Nationals' chance of advancing to the World Series and possibly winning it.

The Nationals argue that a rotation of Gonzalez, Zimmermann, Edwin Jackson and Ross Detwiler will be formidable.

"We feel they stack up with any of the rotations that will be in the playoffs," general manager Mike Rizzo said Monday. "Go by the numbers. They stack up. You're taking one of the top five or six starters in baseball out [Strasburg], but they stack up well."

Jones' contention is that Strasburg isn't just one of the top five or six starters. His contention is that Strasburg is unique, because of the combination of pitches he throws.

"I likened him to a combination of Justin Verlander and Kerry Wood in his prime, but he's better than that," Jones said. "It's the 90-91 [mph] split/change. It's a devastating pitch, and no one else has that.

"From a standpoint of repertoire, he stands alone."

That's a problem for the Braves on Tuesday night. It's an issue for the Braves and the rest of the National League East for years to come.

It's not, for this year anyway, an issue for Nationals opponents in October.

At least one of those potential opponents thinks it could make a difference.


This would undoubtedly be the worst trade in Miami Marlins history

The Pirates recently shipped Gerrit Cole and Andrew McCutchen to Houston and San Francisco,...

Surely, Martinez and his agent are holding out for more
The reliever had a very good 2017 season with the NL Central champs

We don't need to discuss Chipper's Hall of Fame case, so let's have fun instead

Dioner Navarro still hopes to return someday