ChiSox are open for business; all but Sale, Konerko are available
CBSSports.com Baseball Insider Jon Heyman reports the White Sox's Alex Rios, Alexei Ramirez, John Danks, Jesse Crain and Jake Peavy are names in the trade mix.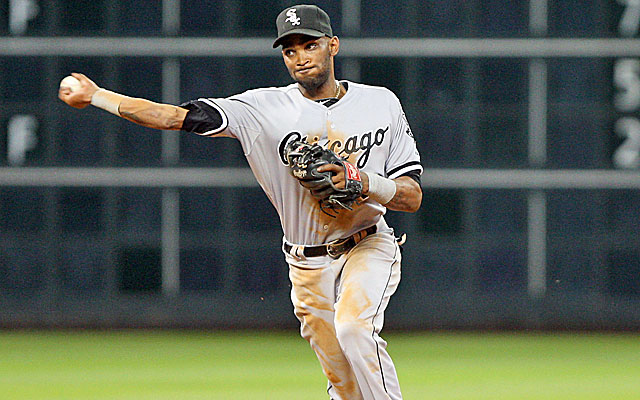 The Chicago White Sox are open for business and have made everyone but star left-hander Chris Sale and beloved veteran first baseman Paul Konerko available, rival executives say.
They add that the Sox are already exchanging names on some potential deals.
The White Sox's sale (not Sale) is quite intriguing, say rivals, as it could include center fielder Alex Rios, shortstop Alexei Ramirez and even starting pitcher John Danks, who signed a $65 million, five-year contract just last year. All of those names are on the table.
Rivals say the White Sox are taking a very reasonable approach in terms of where they stand this year, adding that they have some obvious assets to peddle. One NL executive said both Rios and Ramirez should have decent value. Although Ramirez has only one home run this year, that executive pointed out, "He's hitting .280, has 18 stolen bases and plays good defense.''
The Rangers, Yankees, Giants and Royals are among teams that could fit for Rios, and so could the Phillies if they decide to buy or trade and not to sell. The Dodgers could make sense for Ramirez, and one competing executive said a team like the Mets could consider him as a long-term option if they were so inclined.
The White Sox are well stocked with relievers on reasonable, expiring contracts, with Jesse Crain, who's 2-2 with a 0.52 ERA and 46 strikeouts in 34 2/3 innings, leading the way. In a soft market for closers, the Sox might try to sell him as a potential ninth-inning man, though Crain only has four career saves, with no more than one in any single year. Crain has about $2.25 million left on his salary this year, aiding his value, while Matt Lindstrom has about $1.5 million left and Matt Thornton $3.5 million.
Jake Peavy could be the best available starting pitcher on the trade market. But being that he still has three weeks or so before he's expected back off the disabled list with a broken rib, it's a bit of a dicey situation -- though it shouldn't be forgotten that Peavy was on the DL with an ankle injury when the Sox originally acquired him in 2009.
Peavy is in the first year of a two-year, $29 million deal. "It's going to be tough because the White Sox are going to want a lot for him, and clubs are unsure if he's healthy,'' one rival exec said.
Danks hasn't performed to past levels yet, as he's returning after arm surgery and is 1-5 with a 4.68 ERA.
Jeff Keppinger, having a rough offensive year in the first year of a three-year, $12 million deal, is another name that has come up. Adam Dunn, in the third year of his $56 million, four-year deal, might be hard to move, one exec suggested.
But Rios could be a star on the market, with 11 home runs, 13 stolen bases, 35 RBI, a .276 batting average and the ability to play all three outfield positions. He has about $20 million to go through next year, a bargain considering his production the past couple of years.   
CBS Sports HQ Daily Newsletter
Get the best highlights and stories - yeah, just the good stuff handpicked by our team to start your day.
Please check the opt-in box to acknowledge that you would like to subscribe.
Thanks for signing up!
Keep an eye on your inbox for the latest sports news.
Sorry!
There was an error processing your subscription.
Breaking down the best among rookies thus far in 2018

Things got spicy once again between the Giants and the Dodgers outfielder

Keep it right here for all of Tuesday's MLB action
On what should have been ball four, Zobrist was rung up

Let's give it up for Cain, a long underappreciated player who deserves some credit for his...

The Indians have a huge lead in the AL Central, but definitely need Bauer for the postseas...