ChiSox slugger Dunn clears waivers (thanks to $15M salary), but he's hot
Adam Dunn went unclaimed due to his salary, but he could help a couple teams.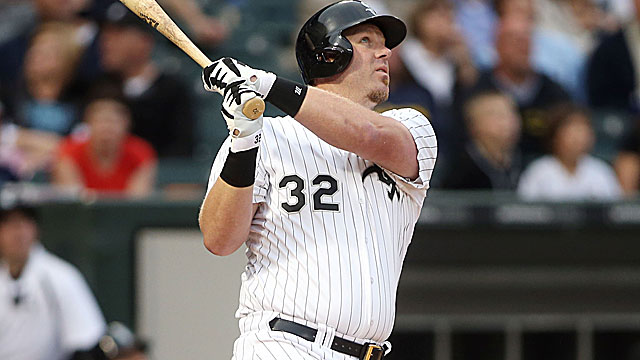 Chicago White Sox slugger Adam Dunn has cleared waivers and is eligible to be traded to any team, sources said Friday.
It's no surprise that Dunn would go unclaimed since he has close to $20 million to go on his contract through the end of next year, but he's hitting very well lately and potentially could help someone if Chicago finds a trade partner.
Dunn's overall numbers (26 home runs, 69 RBI, .227 average, .797 OPS) are decent but he has been hitting better in recent days, with a .297 batting average since the break and .391 (9 for 23) in August.
The Rangers and Orioles are two teams that might consider at least looking at DH, though the White Sox would presumably have to pay down significant dollars. Texas also has a greater need for a right-handed bat, not a lefty like Dunn.
The Rangers were the team that claimed Dunn's teammate Alex Rios as they look to shore up right field following the Biogenesis suspension for star Nelson Cruz. The chances for a deal there weren't being portrayed as necessarily likely. Rios would be a good fit in Texas, though, and the Rangers showed they are willing to take his contract, which pays him $12 million this year, $12.5 million next year and has a buyout and an escalator in the event of a trade.
Get 15 percent off any order of more than $75 at CBS Sports Shop

Get your sports fans something that they'll wear all year

No, you're not imagining things. This MLB offseason has been very slow compared to the last...
Francesa will retire from radio next month, so he'll have plenty of free time next summer

The Twins need help in the rotation, and they may look to the trade market to find arms

Here are the bullet-points of what went down Tuesday regarding MLB and the Braves' punishm...