Chris Davis has real shot at MLB's legit single-season HR mark
The Orioles slugger broke through last year when he finally cracked a starting lineup full time, and he has a chance to break something much bigger this year.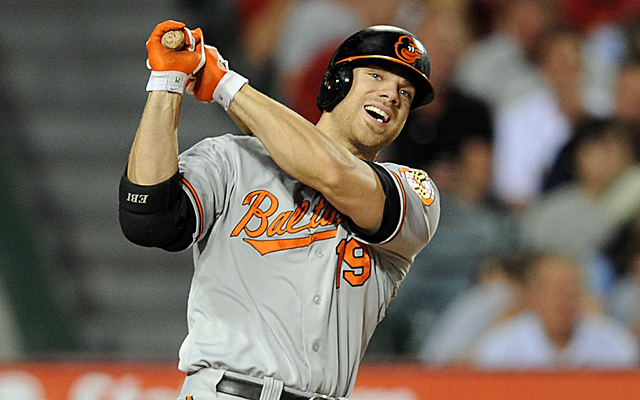 NEW YORK -- Going by the two main cumulative power stats, Orioles slugger Chris Davis already has done exactly what he did last year. No joke, his current marks of 33 home runs and 85 RBI are precisely what he produced last year -- over a full season.
Let's just say Davis is a rare player already guaranteed to outdo what he did in 2012, which was considered a breakthrough season for him.
At this point, Davis' real competition isn't himself, but Yankees single-season legend Roger Maris, who Davis and most straight thinkers consider the legitimate single-season home-run record holder for his hallowed 61 home runs in 1961. At this point, it's obvious that all those 60-something homer hitters and those two 70-homer hitters had a little help to unseat Maris, who is being re-seated at No. 1 by right-thinkers.
Davis, on pace to hit precisely a record-tying 61 home runs going into Sunday's game at Yankee Stadium (or 60.75 to the last decimal point), has a legit shot to get the legit record. And yes, despite all the Internet yahoos, it must be considered legit. There are some very good reasons why he's breaking out yet again, and they have nothing to do with steroids.
When I noted to him that he doesn't look like Mark McGwire or some of the bigger home-run hitters, Davis responded, "There's a reason I don't look like Mark McGwire."
There will always be whispers when someone is attempting to do something no one's done before in the power department. And that isn't right. Davis is tested regularly, as are all major leaguers, and there isn't one sign of anything untoward. It isn't right that he has to hear the misguided speculators, who haven't a shred of evidence.
"It's frustrating at times for a guy like me because I do take a lot of heat for the mistakes that guys have made in the past," Davis told Newsday the other day.
Davis certainly doesn't look the part. He is as strong as a farmer, and that comes from working out, he said.
"It's been something that's been important to me for a long time," he said. "I want to play this game as long as I can."
Even if his major-league career began with fits and starts, Davis always has been a terrific hitter. He's a guy who hit 24 home runs in 210 at-bats his last season at Triple-A for the Rangers, and a guy who never batted below .327 in four years at that level.
Ultimately, he was probably leveled by the pressure in Texas -- always on the cusp of a demotion to Triple-A because they had two additional big corner infield prospects at the time, Justin Smoak and Mitch Moreland, with Moreland being their eventual choice. Davis, who came to Baltimore with pitcher Tommy Hunter for reliever Koji Uehara in a trade made by then-GM Andy MacPhail, finally earned a full-time opportunity last year, and he provided a sample of what he could do. He thinks seeing the same pitchers another full year gives him an edge, and so far that seems to be the case.
Another plus: Davis finally was given a position he could call his own -- he came up as a third baseman and shuttled between right field and DH last season. Now, he is at first base, and he's set. It's one fewer thing to worry about.
"Last year was tough at times moving around, having to deal with DHing and learning the outfield, as well," Davis said.
His long hits have been carrying, and he may take this chase a lot further than one might think. Brady Anderson, who once popped 50 home runs when few expected it in 1996 as an Oriole, said he couldn't believe it when Davis' fly ball Saturday not only wasn't caught in front of the warning track in center field but carried over Yankees center fielder Brett Gardner and ultimately the center-field wall for home run No. 33.
Davis, too, was shocked by that one. He has had a few like that.
He's going to need more.
At this point, nobody in his clubhouse is doubting he's going make a run at Maris.
"He's set himself up to eclipse 50. So who knows?" Adam Jones said in response to the Maris question. "I'll let you know after the season."
Who knows?
And here's a second question: Why not?
Why not? Davis already has seven home runs against left-handed pitchers, tying his career best (also set last year). The weather's also not nearly as hot and sticky as it typically is in Baltimore by now, which could set him up for a big finish.
"He's got a good chance," said Anderson, now an Orioles vice president. "The key is, you can't really have an off month. He has to average 10 homers a month. Five isn't going to do it."
Anderson recalled, almost like it was yesterday, that by month he hit 11, nine, seven, six, eight and nine. He had 30 at the break, a bit behind Davis' pace.
Only 10 times since Maris has a player had as many as 33 home runs before the All-Star break, with seven of those times coming in what could be called the steroid era of 1990-2001 (MLB adopted a steroid rules in 2002). Of the three players who hit 33 before the break outside the steroid era, none got close to Maris.
Frank Howard had 34 at the break in 1969 and finished with 48. Also in 1969, Reggie Jackson had 37 at the break and finished with 47. And McGwire had 33 at the break in 1987 and ended with 49.
So all slowed considerably, and none even reached 50.
Davis, like Jackson and McGwire, is rather young at 27. But he also has the advantage of playing in a hitter's park while both those players played at the rather large Oakland Coliseum.
And, so far, there is no sign of a slowdown.
If anything, Davis is getting hotter. He had nine in April, 10 in May, 12 in June. He has two so far in July.
Davis won't be distracted. Good for him that he has volunteered to do the All-Star game Home Run Derby (it wouldn't be worthwhile having one without him). "If I'm asked, I'm obviously going to do it," he said.
He won't let contract talks -- if there are any -- get to him either. He's going into his second year of arbitration eligibility, so the big bucks are coming. Davis doesn't seem like an extravagant man, and he's concentrating on the task at hand. "There's a reason we have agents," he said. "That's between Scott Boras and the team.
"Obviously, I'm happy here. I like the direction we're headed," Davis added.
Though it will be interesting to see whether the Orioles, who have stayed out of the mega-contract business ever since erring big-time with outsider and well-known malcontent Albert Belle, will pay the going rate for positional mega stars like Davis and younger Manny Machado, who's 21.
But back to the question at hand: Davis also is making much better contact than the other sluggers who challenged Maris. He carried a .324 batting average into Sunday's game here. He also is leading the majors with a .721 slugging percentage, 1.120 OPS, 197 OPS-plus and 227 total bases.
The big number is 61, of course, and he knows it. Davis agrees that that's the legit number, first saying so on ESPN Radio. While he has said he enjoyed watching the 1998 Home Run Derby, he understands what was going on at the time.
He understands what's going on now, too. So he was far from surprised by the Maris question.
"I think we still have a lot of baseball games left to play," Davis said. "Obviously, it's a record that means a lot to power hitters in baseball. But right now I think it's more important that we get as many wins as possible. We're still trying to establish ourselves as a contender."
Maybe to him the wins are more important. But if he keeps this up, baseball will be focused on him alone, and rightfully so. It'd be nice to have a home-run chase without a taint.