Chris Denorfia traded to the Mariners
Outfielder Chris Denorfia has been traded to the Seattle Mariners from the San Diego Padres for pitcher Stephen Kohlscheen and outfielder Abraham Almonte.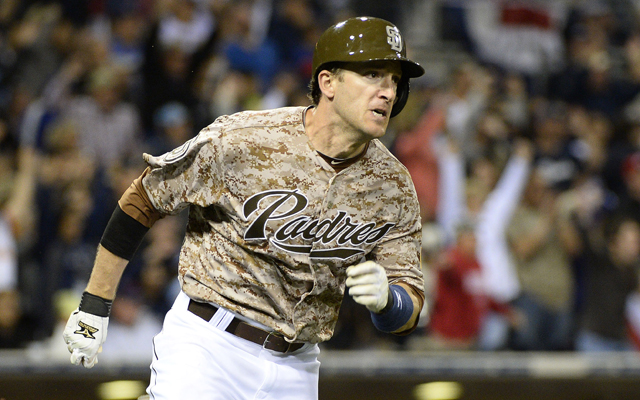 Chris Denorfia is going to the Mariners in a trade with the Padres, the clubs announced Thursday.
Seattle and Atlanta had been cited as possible landing spots for the versatile backup outfielder who hits lefthanded pitching well.
The Mariners have needed to add another righthanded bat, so Denorfia fits the bill there.
Denorfia, 34, is batting .242/.293/.319 for San Diego this season. For his career, he owns an OPS+ of 106 and a line of .301/.367/.443 against left-handed pitching.
The return for the Padres is right-handed pitcher Stephen Kohlscheen and outfielder Abraham Almonte.
Almonte, 25, hit .198/.248/.292 with five doubles, one homer and three steals in 27 games for the Mariners this season. In 72 games for Triple-A Tacoma, Almonte is hitting .267/.333/.390.
Kohlscheen, a 6-foot-6, 25-year-old righty, has a 2.70 ERA, 1.11 WHIP and 55 strikeouts in 56 2/3 innings in 38 relief appearances across Double-A (23 games) and Triple-A (15 games) this season.
Denorfia can handle all three outfield positions, though he's best suited on the corners. He's a platoon option with lefties Endy Chavez and/or James Jones.
Get 15 percent off any order of more than $75 at CBS Sports Shop

Get your sports fans something that they'll wear all year

No, you're not imagining things. This MLB offseason has been very slow compared to the last...
Francesa will retire from radio next month, so he'll have plenty of free time next summer

The Twins need help in the rotation, and they may look to the trade market to find arms

Here are the bullet-points of what went down Tuesday regarding MLB and the Braves' punishm...