Chris Young opts out of minor league contract with Nationals
Right-hander Chris Young has opted out of his minor league contract with the Nationals.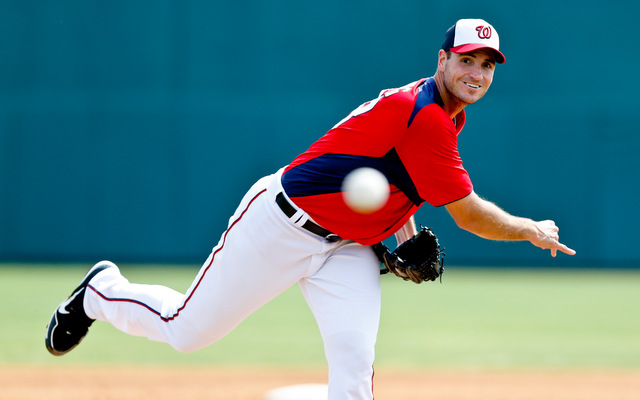 Veteran right-hander Chris Young has exercised the opt-out clause in his minor league contract with the Nationals, reports Amanda Comak of the Washington Times. The Nats have 24 hours to add him to their roster if they keep him, but that is unlikely to happen.
The 33-year-old Young allowed one unearned run in four innings on Monday night. He allowed just four unearned runs in 16 innings before opting out. Young has had a pair of shoulder surgeries (2009 and 2011) and his fastball is in the low-to-mid-80s, but he remains successful because he generates a lot of easy-to-catch fly balls thanks to his 6-foot-10 frame.
Young will look for a big league job elsewhere since the Nationals have a full rotation: Stephen Strasburg, Gio Gonzalez, Jordan Zimmermann, Dan Haren and Ross Detwiler. His former employers -- Rangers, Padres, Mets -- could all have some interest, as could a number of other clubs.