Christmas gift ideas for baseball's 30 teams: American League edition
'Tis the season for gift giving. In the spirit of Christmas and the holiday season, here are some gift ideas for the 15 AL teams.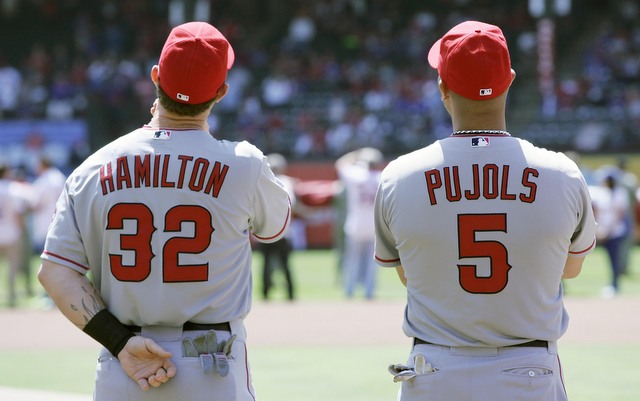 Related: Christmas gifts for the 15 National League teams
When I was a kid, Christmas was by far my favorite holiday because of the presents. Who doesn't love getting presents? Presents are awesome. The older you get, the more fun it is to give presents, so we're going to figure out what each of baseball's 30 clubs want this year. 'Tis the season for gift giving, after all.
In the spirit of Christmas and the holiday season in general, here are gift ideas for the 15 American League clubs.
Angels: Vintage Albert Pujols and Josh Hamilton
The Halos spent an awful lot of money to add Pujols and Hamilton in recent years and so far the return has been underwhelming. GM Jerry Dipoto made some nice pitching pickups recently and the club has the best all-around player in the world in Mike Trout, so getting those two big ticket guys back to say, 2010 form would be a huge boon for their 2014 chances.
Astros: Just a little more patience, please
The Astros have been unspeakably bad these last three years -- at least 106 losses each year from 2011-13 -- and fan interest is waning. Television ratings have dropped to embarrassing levels, so much so that they drew a 0.0 Nielsen rating one day in September. GM Jeff Luhnow is conducting one of the largest rebuilding efforts in baseball history and the Houston nine is heading in the right direction. They just need fans to be a little more patient.
Athletics: A new ballpark
Too easy, right? The A's have seemingly everything you could want -- strong rotation, starting lineup, strong bullpen, strong farm system -- except a facility befitting of a Major League franchise. The Giants relenting on the territorial rights issue and allowing the Athletics to move down the road to San Jose would be an all-time great holiday gift.
Blue Jays: Big moves turning into big win totals
Under GM Alex Anthopoulos, the Jays have made a ton of noteworthy trades that have yet to move them up the standings. Last winter's Jose Reyes and R.A. Dickey deals were flops but both guys are still around for 2014. Having everything come together as hoped would be a swell stocking stuffer even if it would be a year too late.
Indians: Young pitchers solidify the rotation
The Tribe have lost Scott Kazmir to free agency and figure to lose Ubaldo Jimenez as well, but they have three interesting 20-somethings in Zach McAllister, Corey Kluber and especially Danny Salazar. All three have shown promise but the team wants them to start delivering on that promise on a consistent basis.
Mariners: Some new owner's manuals
The Mariners just want the gifts they already have to start working properly. Justin Smoak, Dustin Ackley and Jesus Montero have been colossal disappointments. Seattle spent a ton of money on Robinson Cano this winter and they're reportedly in the market for a slugging outfielder. With Cano, Felix Hernandez and Hisashi Iwakuma providing elite production, it's time for the young talent to do something.
Orioles: A Scott Boras discount for Matt Wieters and Chris Davis
A bonafide ace for the rotation would be a fine gift, but being able to lock up two cornerstones to affordable long-term contracts would be even better. Both Wieters and Davis can be free agents following the 2015 season and both are in line for massive deals thanks to Boras. Keeping those two around would extend the team's window of contention quite a bit.
Rangers: Reverse the trend
Here's how the last few years for the Rangers have gone: blew the World Series after being one strike away (2011), blew the AL West title on the final day of the season (2012), blew a postseason spot in a Game 163 tiebreaker (2013). Texas would surely like things to start moving in the opposite direction, because these last few years have ended pretty painfully.
Rays: A new ballpark
Yeah, another new ballpark. The Rays don't even need to relocate to a new city, just give 'em a new ballpark that is actually in Tampa on the other side of the bay, one that is easier to access and a bit more welcoming than Tropicana Field. The Rays have been one of baseball's best teams for the better part of a decade now. A suitable building is a long overdue gift.
Red Sox: Xander Bogaerts living up to the hype
What do you give the team that has almost everything, including a World Series hangover? How about an elite prospect reaching his superstar ceiling. There's an obvious opportunity for playing time either at shortstop or third base next season and Bogaerts capitalizing would make the BoSox even more of a juggernaut.
Royals: For 2013 to be the start of something big
This past season was the Royals' best in nearly two decades, but they've been fooled before. The club won 83 games in 2003 and looked like they might be heading in the right direction, but instead they took another step backwards. The pitching and young talent is in place, now it's time to take another step forward and become a serious threat in the AL Central.
Tigers: A bullpen worthy of a World Series contender
The Tigers were one or two very good relievers away from returning to the World Series in 2013, or at least it appeared that way. They've got the rotation, they've got the lineup, now they need the relievers to close things out. Joe Nathan, Ian Krol and Joba Chamberlain joined the club in recent weeks and incumbents like Bruce Rondon and Al Alburquerque have the stuff to be impact relievers. A deep bullpen is the missing piece.
Twins: For the money to be well spent
The Twinkies dropped over $80 million on three pitchers this winter (Ricky Nolasco, Phil Hughes, Mike Pelfrey) and they're reportedly looking to add one more. They had the worst pitching staff in the league last year and that money better solve the problem. Minnesota still has a ways to go before becoming a factor in the AL Central again, but having those arms be worth the investment would be a great start.
White Sox: Let the youth be served
Since cloning Chris Sale isn't an option, I'll go with all those kids going out and making GM Rick Hahn look smart. He's added Avisail Garcia, Matt Davidson and Adam Eaton in the last sixth months and they're the key to getting the ChiSox back on track after a dreadful summer.
Yankees: A healthy and effective Michael Pineda
For a team that's already handed out more than $300 million in contract this offseason, the Yankees sure do have a lot of needs still. A healthy Derek Jeter and Mark Teixeira, a rebound from CC Sabathia, consistency from Ivan Nova, on and on it goes. I'll go with a healthy and effective Pineda for their Christmas gift, however. That would improve their rotation quite a bit and finally given them a return on a trade that, frankly, has been a disaster for both clubs.
Does the Jackson signing mean the Giants are out on Lorenzo Cain?

Acuna edged out Shohei Ohtani and Vladimir Guerrero Jr.

There's no reason to run over the cases for and against Bonds, so let's have fun instead
The coveted right-hander would certainly be a fit in Milwaukee

We rate the best mustaches from random baseball cards because, why not?

Colon wants to break a Dennis Martinez record