Christmas gift ideas for baseball's 30 teams: National League edition
Our holiday gift giving continues with the National League. Here's a little something for the 15 Senior Circuit clubs.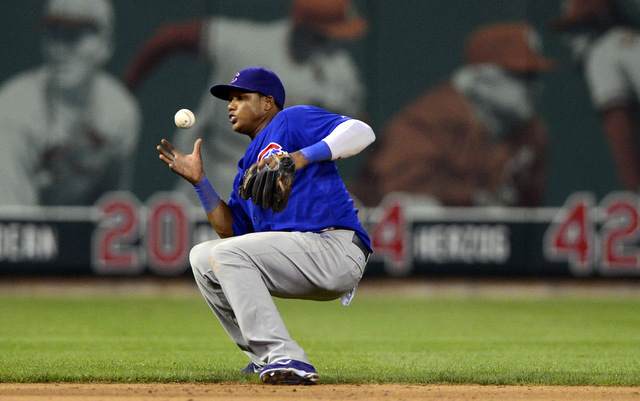 Related: Christmas gifts for the 15 American League teams
When I was a kid, Christmas was by far my favorite holiday because of the presents. Who doesn't love getting presents? Presents are awesome. The older you get, the more fun it is to give presents, so we're going to figure out what each of baseball's 30 clubs want this year. 'Tis the season for gift giving, after all.
In the spirit of Christmas and the holiday season in general, here are gift ideas for the 15 National League clubs.
Braves: A playoff series win
The last time the Braves won a postseason series, Mike Remlinger came out of the bullpen to retire Jose Vizcaino in the series clincher. That was the 2001 NLDS. Atlanta has since lost eight straight postseason series when you include the 2012 NL wild-card game. They've got a very good team, now they just have to get over that hump.
Brewers: A first baseman
Yeah, it has only been two years without Prince Fielder, but first base has the look of being a long-standing problem in Milwaukee. Can't you see yourself reading something like "the Brewers still haven't found a replacement for Prince" in this space in like, 10 years? Seems plausible. Hunter Morris, Ike Davis, Juan Francisco, Mitch Moreland ... doesn't matter who. Just give this team a long-term first base solution.
Cardinals: Cash
The Cardinals are that person who already has everything. You know what I mean. New iPad? Got it. Xbox One? Got it. One of the best rosters in MLB and a deep farm system? Got that too. They're impossible to shop for. I don't know what to give them so they're getting an envelope filled with cash. Let them buy whatever they want.
Cubs: Starlin Castro to remember he's Starlin Castro
As appropriate as it would be, breaking the curse is too big a gift. We can't hand them everything. Instead, we'll give them the gift of Starlin Castro. That is, the Starlin Castro who took the league by storm from 2010-12, not the replacement level imposter who showed up in 2013.
Diamondbacks: A walk that matches the talk
The D-Backs have been a bit mouthy these last few months. GM Kevin Towers and members of the ownership group have talked about playing the game the right way and being tough-minded while manager Kirk Gibson has taken some public shots at the Dodgers. That's all well and good, but now they have to walk the walk. Going 81-81 in back-to-back years impresses no one.
The Dodgers can buy whatever they want, so we're stuck coming up with a personalized gift they can't get anywhere else. A healthy Kemp fits the bill. The last 18 months or so have been a physical nightmare for the former NL MVP runner-up, with shoulder and ankle surgeries around the hamstring strains. The Dodgers are a powerhouse as it is. Getting a healthy Kemp could put them over the top.
Giants: To forget all about 2013
This past season was a Murphy's Law season for San Francisco -- if it could go wrong, it did go wrong. They've got a great team (on paper), one that could contend in 2014, so let's just leave the past in the past and forget about it. Wiping 2013 from memory sounds good to me.
Marlins: A new owner
This one is too easy. Jeffrey Loria is the worst owner in sports and the Marlins faithful, the few of you left out there, deserve better. An owner who doesn't repeatedly tear things down and break promises would be the gift of a baseball lifetime.
Mets: A healthy Matt Harvey
Everyone lost a little something when Harvey blew out his elbow and needed Tommy John surgery a few months ago. He'll miss the entire 2014 season just as the team finally looks like it's heading in the right direction, with money to spend and young pitching coming in waves. A healthy Harvey would have done wonders for their immediate future, but instead everything has been pushed back a year.
Nationals: Managerial genius from Matt Williams
This was tougher than I expected. We all know what the Nationals want, right? To return to their 2012 form and again be one of the best teams in baseball. They have the pitching and the lineup, at least on paper, plus the Stephen Strasburg-Bryce Harper tandem is as good as it gets. So what gift do we give them that helps get them back to contention? Rookie skipper Matt Williams emerging as the next Joe Maddon or Bob Melvin. Yeah, this is definitely the "ugly tie" gift of the baseball holiday season. Total dud.
Padres: A discount on Chase Headley
The Padres are clearly on the rise. They've got a ton of young arms coming off injury to aid Ian Kennedy and Andrew Cashner, plus their lineup is much improved thanks to Jedd Gyorko and Will Venable's breakout. The problem is that the team's franchise player is one year away from free agency and a huge contract. Getting Headley locked up long-term at a discount would make all Padres' fans happy.
Phillies: Some bang for the buck
The Phillies have had one of the highest payrolls in baseball for a few years running now, but their win total has sunk from 102 in 2011 to 81 in 2012 to 73 in 2013. Ryan Howard, Jimmy Rollins and even Cole Hamels did not live up their giant salaries in 2013, but if they perform at a level commensurate with their salary, the Fightin's will be in great shape for next year.
Pirates: Sustainability
Topping last year's awesome gift -- the team's first winning record and postseason berth in 20 years -- will be tough, but it's doable. The Pirates don't want to be the team that contends seemingly out of nowhere one year only to disappoint and fall back into obscurity the next. Pittsburgh has a strong young core but sustaining excellence is much tougher than getting there in the first place.
Reds: A center fielder and leadoff hitter
I guess that's two things, but it's kind of a package deal. Billy Hamilton will get the first crack at the job next season but he's going to be a huge step down from Shin-Soo Choo. Mike Trout would be ideal, but that's not happening. Maybe Brett Gardner or Alejandro De Aza instead?
Rockies: A plan
Are the Rockies rebuilding or going for it? I can't tell and I don't know if anyone else can either. They're walking the line of mediocrity while Troy Tulowitzki and Carlos Gonzalez are in the primes of their careers. They need some direction since they seem to be caught in between.
There's no reason to run over the cases for and against Bonds, so let's have fun instead

The coveted right-hander would certainly be a fit in Milwaukee

We rate the best mustaches from random baseball cards because, why not?
Colon wants to break a Dennis Martinez record

The Twins have been rumored to be interested in Darvish all winter

Rolen is one of the best third basemen of all time, but you wouldn't know it based on this...