Cinderella Red Sox, Yankees too good to be true?
The Red Sox scuffled to just 69 wins last year, and the Yankees endured more aches and pains this spring than an out-of-shape weekend warrior. So, guess who's atop the AL East? Somebody better call rewrite on all those Boston-New York obituaries. ...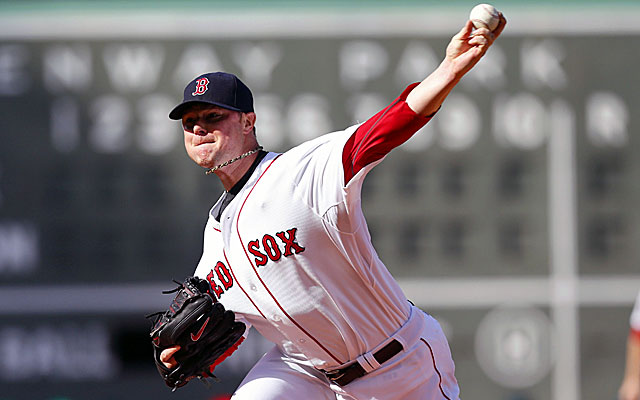 Because who doesn't love an underdog, I've cleared my calendar and chucked every other column possibility early this week to make time for two clubs that entered this season as afterthoughts.
I've fallen hard for these two lovable mutts, and unless your heart is stone cold, I trust you have, too.
These scrappy overachievers have it all: Heart. Bite. Shiny coats and winning personalities.
They're practically begging you to take them into your homes.
No, nobody could have seen this coming, not from the Boston Red Sox and New York Yankees in 2013. Surely, not this winter or spring.
Yet here are the Red Sox with the best record in the majors (21-11, .656), off to the eighth-best start in club history.
And here are the Yankees, nipping at their heels, tied with Baltimore for second place, just two games back.
Why, it's just like old times in the AL East.
"I never thought I'd see this from those guys," one scout says of the current collection of stitches and Band-Aids that comprises the current "Yankees," and no kidding.
As things currently stand with Team Grey's Anatomy, Robinson Cano has played in more games as a Yankee (1,244) than the other 12 position players on the roster combined (1,103).
As things currently stand with the Red Sox, they've been in first place or tied for first in all 37 days this season. It is the longest continuous stretch that a Red Sox team ever has owned first place to start a season, blowing past the previous mark of 25 days in 1918.
Not bad for an encore to last summer's St. (Bobby) Valentine's Day Massacre, when the Sox went 69-93, their worst record since 1965.
Remember way back to the very beginning of the Tampa Bay juggernaut, when the Rays rose from the AL East ashes to the mountaintop in 2008? It's sort of like that. The Sox have been such a mess. And the Yankees haven't won a World Series since waaay back in 2009.
Everybody wants to know how much of Boston's hot start can be credited to new manager John Farrell. Answer: A lot, but surely not all of it.
Everything starts on the mound. And if Clay Buchholz (6-0, 1.60) and Jon Lester (4-0, 3.30) weren't dipping back into the glory days of their past, it would be 2012 all over again and we'd be discussing when the Sox would be Federal Expressing Jacoby Ellsbury out of town, and whether it would be on the same truck that hauled away Josh Beckett and Carl Crawford .
Oh, and Buchholz cheating? Come on. That shiny white stuff on his forearm in Toronto the other day clearly was nothing more than a good, old-fashioned gob of whup ass. Same stuff Jim Lonborg and Luis Tiant once used, I believe.
And how about gimpy David Ortiz returning to the lineup and hitting in every one of his 14 games, extending his hitting streak to 26 overall?
That does two things.
It fuels Boston's best-in-baseball start.
It provides a glimmer of hope in New York that there can be life after injury, too, for Derek Jeter and Curtis Granderson and Alex Rodriguez . And Phil Hughes and Joba Chamberlain and Ivan Nova . And Francisco Cervelli and Kevin Youkilis and Michael Pineda . And Brian Cashman.
How are the Yankees doing it? I have absolutely no idea. Neither does anybody else.
"They were the worst in baseball with a runner on third base and less than two out last year, and they're getting 'em in this year in those situations," one veteran scout was explaining the other day. "It's because Teixeira and Granderson and those guys always are swinging for the fences. I think with them out, the guys they have now just try to get the runs in."
Good theory. GREAT theory.
Until I checked with baseball's official mathematicians, the Elias Sports Bureau.
Last year's Yankees ranked 19th in the majors with a runner on third and less than two out, batting .297 in those situations.
This year's winners, the ones who are exceeding expectations and defying belief … rank 29th in the majors (.186) with a runner on third and less than two out.
Seriously. The Yankees who started 1-4 were the Yankees whom everybody but the Yankees thought they were. Since, they've gone 17-8.
Lyle Overbay already has five homers. Lyle Freakin' Overbay! He hit two in all of 2012. Travis Hafner (sixth in the AL with a .582 slugging percentage) and Vernon Wells are two more reclamation projects making good. And talk about successful returns: At 42, the amazing Mariano Rivera looks like he can pitch another 20 years. Please, Mariano?
When the Yankees swept the Blue Jays in four games the final weekend of April, they trailed in the seventh inning twice and were tied in the seventh in one other game. The window for the Jays -- and Rays and Orioles -- to take advantage of the crippled Yankees is closing fast.
"Cano is having better at-bats this year than he's had in the past two or three years," one scout says, and the All-Star second baseman is second in the AL in total bases (74), just one behind Detroit Tigers hitting machine Miguel Cabrera .
The Yanks still rank third in the AL in homers even with replacement parts, though their 133 runs scored ranks eighth in the AL -- as does their middling +10 run differential.
The Red Sox rank third in the majors with a +38 run differential. Mike Napoli is tied with Detroit's Prince Fielder for second in the majors with 32 RBI and is tied for fifth in the AL with 69 total bases.
The Sox are running with abandon, first in the AL with 26 thefts (Ellsbury leads with 12, Dustin Pedroia is tied for fourth with seven). They didn't steal their 26th base last summer until June 15.
But, hey, the Sox again have places to go.
And a Yankees team that hoped it could run in place until the Big Boys return from the hospital has moved from the treadmill to the free range with whopping success.
Until the Red Sox were swept in Texas over the weekend, they were one of only four clubs that had not lost three consecutive games in 2013. Among the three remaining: The Yankees.
Look at these two, the most captivating underdogs since Florida Gulf Coast. Dunk City? More like Doink City.
Who would have believed it?
The ballparks in Cincinnati, San Diego and Seattle will have expanded netting in place by Opening...

Thursday brings us plenty of stretch-drive MLB action, so keep it right here

Mondesi spent six years as the mayor of San Cristobal in the Dominican Republic after reti...
The veteran skipper has been Mets manager since the start of the 2011 season

The Baltimore third baseman is eligible for free agency following the 2018 season

The clubs breaks ground on Globe Life Field next week