Citi Field goes crazy as red-hot Harvey easily out-duels Strasburg
Dwight Gooden was in the house, and the comparisons with Harvey are gaining steam after the second-year player goes to 4-0 with a 0.93 ERA.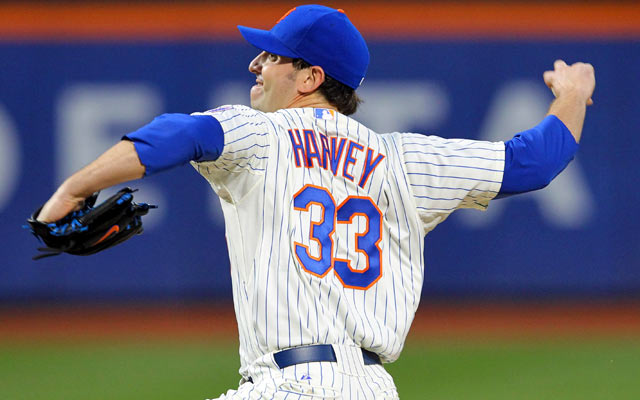 NEW YORK --- The Citi Field crowd, which hasn't exactly had a lot to cheer about since the place opened four seasons ago, got pretty worked up, even by New York standards.
"Har-vey's Bet-ter,'' they chanted.
The Mets almost surely will not have as many great moments as the Nats this year, but this definitely was one. The Mets' sensational young right-hander Matt Harvey was the decisive winner in the young pitching matchup of year – at least to this point – easily outperforming Washington's own wunderkind Stephen Strasburg in a 7-1 Mets victory where the decibel level rivaled that of the airplanes overhead.
More on Nationals-Mets
Related links
Harvey, truth be told, has been better than everyone so far this year, not just Strasburg, who's lost three straight. Harvey's outpitched everyone if you go by strikeout rate, hits, WHIP and a lot of other stats, too.
The word is out. This guy has a chance to be something special.
Mets fans, even Mets people, are too excited to contain themselves. Restraint isn't something they are offering up, not with Harvey now 4-0 (he's MLB's first four-game winner) with a 0.93 ERA.
"This kid is at the beginning of a very long and successful career,'' Mets manager Terry Collins declared.
Dr. K -- Dwight Gooden himself -- was in the house, ostensibly to see how the Mets' new phenom measured up. Through the first 13 starts of their careers, in fact, they are eerily similar, with Gooden holding a slight lead in K's per nine (10.5 to 10.2) and Harvey in ERA (2.22 to 2.61).
The only difference is Gooden, biologically speaking, was still a kid at his start, not old enough to drink even. Harvey, a University of North Carolina product, is a man at 24. As a pitcher this year, he's been a man among boys, becoming the first pitcher in the modern era to win his first three starts while striking out 25 and allowing no more than six hits, according to Elias.
He was also aiming to become only the third pitcher to go at least seven innings with no more than three hits in five straight starts, following Johan Santana in 2004 and Nolan Ryan in 1976-77. Both those pitchers wore the Mets uniform, though not at the time of those hot streaks. Harvey couldn't do it, though, allowing four hits in seven frames.
If Harvey is overamped about his hot start, he isn't letting on. "In my mind, it's a long season,'' he said.
Even so, Mets fans are really enjoying Harvey's early heroics at a time they could use a pick-me-up. The team's streak of losing seasons ever since they moved to Citi Field could last one more. But Harvey seems destined to make this summer a lot more fun than the last few.
Harvey couldn't help but notice when Gooden's image appeared on the Jumbotron. He steeled himself, and set his eyes on catcher John Buck's target, but he couldn't help think about his youth in Mystic, Conn., two hours north, if only for a second or two.
"I grew up watching him pitch,'' Harvey said of Gooden. "When I was younger, I wanted to be that guy.''
He is, for now.
Harvey's seven strikeouts give him 102 in his first 14 games. The only Mets to have more were Nolan Ryan (103), and yes, Gooden, (107).
The goal Friday night, as far as anyone here was concerned was not to be Gooden but to beat Strasburg, and Harvey accomplished this with relative ease thanks to two-homer nights by both Ike Davis and Lucas Duda, though the second for both came after Strasburg exited.
Strasburg was still touched for an uncharacteristic four runs in six innings, though only two were earned, as he struck out six -- one fewer than Harvey. There's no question Harvey entered the evening wanting to top Strasburg. He attributed his super-fast pitches in the first inning to being "pumped up" early. He hit 99 on the gun, just a bit higher than Strasburg's 98.
"Not good enough,'' Strasburg said of his own performance to the Washington writers. "I know it's going to get better.''
As the pro-Mets crowd might say, "Har-vey's Bet-ter.
"It's nice to hear,'' Harvey said. 'But I've got a long way to go.''
The ultra-fast pitches early were a learning experience. The veteran Buck, who also happens to be red-hot, helped settle him down -- though he attributed his tiring in the seventh to the way he began.
He never really controlled the slider on this night. But the fastball was moving, and it was overwhelming. Through five innings, the Nats' only hit was a well-placed fly down the right-field line by Strasburg himself.
The crowd was into it, as Harvey rolled along. He said he had never heard Citi louder.
Harvey read on the internet how Gooden once dominated on Friday nights.
"That fired me up,'' he said.
 The comparative chant was nice, he said, though he seems to be the one person who isn't getting carried away. Not yet.
"I've got a long way to go,'' he repeated.
Using a brilliant repertoire of running fastballs that reached 98-99 mph, a slider, curve and changeup, he dominated Nats hitters for six innings, then escaped a bases-loaded, no-out jam in the seventh to preserve a 4-1 lead.
"That was a big challenge,'' Harvey said of the seventh. " At any point I felt like it could unravel.''
Only an inning earlier, when Citi whipping boy Davis and Duda homered off Strasburg to make it 4-zip, the crowd engineered the comparative chant. Words weren't needed to say who was better, at least on this day, when Harvey was close to brilliant against a Nats lineup that's still strong even with Ryan Zimmerman, Danny Espinosa and Wilson Ramos out.
Coming up Harvey didn't have the hype of Strasburg, a No. 1 overall pick and receiver of the biggest bonus ever ($15 million), but at the moment anyway, there are those who would take him over Strasburg. – and not just those in an all-Mets crowd. Harvey hasn't been known to throw as many 100-mph pitches as Strasburg, but he beat him at the radar gun on this night, average 96-97 mph to 95-96 for Strasburg.
The fastball was key, though Harvey mixed his assortment of off-speed stuff, showing why none other than David Price nominated him as the favorite pitcher he doesn't know. Many more will start to get to know Harvey, as the hope for him to become the next great Mets pitcher is starting to border on reality.
If this is a star-crossed franchise, one thing they've done well is develop and procure pitchers. There have been plenty.
 Tom Seaver is, of course, the Franchise. But Gooden was damn good, especially in the beginning.
Many others had their moments, such as David Cone, Ron Darling, Sid Fernandez, Bobby Ojeda, Jerry Koosman, Frank Viola and Al Leiter.
And as Collins suggested, considering Harvey's repertoire and determination, he should have plenty more great moments ahead of him. This was a pretty good one, though.
If the slow-play for Martinez, Hosmer, and Arrieta sounds familiar, it should

The Nats will host the All-Star Game in 2018

The Orioles are looking to trade Machado heading into his walk year
The Cardinals have been linked for a while to the Baltimore star

Gallardo spent the first eight years of his career in Milwaukee

MLB revenues are at a record high right now, but teams aren't spending it on players