Clay Buchholz, Grady Sizemore potential luxuries for Red Sox
The Red Sox can't bank on health from Buchholz and Sizemore, but a pleasant surprise on that front isn't impossible.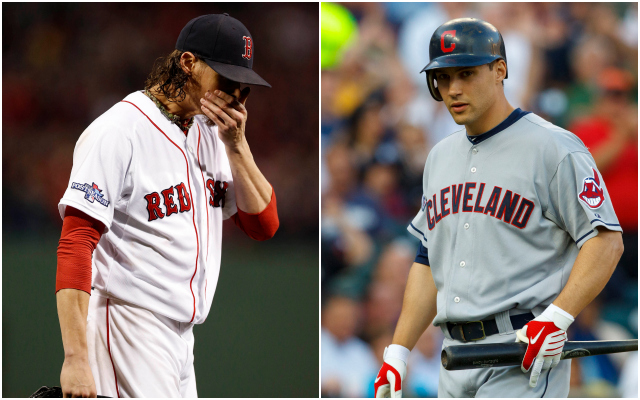 MORE: Red Sox, Cardinals wise to retain rotation depth
The reigning champion Red Sox have had a fairly quiet offseason, particularly by the standards of deep-pocketed contenders. They lost Jacoby Ellsbury to the Yankees and Jarrod Saltalamacchia to the Marlins, and Stephen Drew may yet sign elsewhere. The addition of A.J. Pierzynski should shore up catcher, and youngsters Jackie Bradley Jr. and Xander Bogaerts seem ready for regular duty at the highest level. Still, the AL East is a remorseless division, and the Sox could use some surprise contributions in order to stay on top. Said surprise contributions could come from Clay Buchholz and Grady Sizemore. 
To be sure, nothing is to be assumed with regard to the health of this duo. Buchholz last season was limited to 108 1/3 innings because of shoulder issues, and he has been on the DL five times in his career and in each of the past four seasons. As for Sizemore, he rather famously has played just 104 games since the start of the 2010 season. There's no denying the strength of those trends. Still, while health is a skill, it's a skill that can reassert itself unexpectedly.
To cite but one recent example, Athletics shortstop Jed Lowrie coming into 2013 had been on the DL in each of the previous four seasons and had never played more than 97 games in a season. Last year, he played in 154 games and came to the plate 662 times. It happens, you see. 
Insofar as Buchholz is concerned, there's hope in his altered offseason routine. WEEI's Rob Bradford writes that Buchholz, contrary to years past, didn't throw any bullpen sessions before his arrival at spring training. He did so on the advice of the venerable Dr. James Andrews, who prescribed "deep" rest for Buchholz's troublesome shoulder. Buchholz tells Bradford that when he first picked up a ball in December, he felt no pain. Therein lies the hope.
As for performance, Buchholz last season, en route to posting a sparkling ERA of 1.74 across 16 starts, allowed just four home runs in 108 1/3 innings. That's almost certainly the residue of good fortune, and in 2014 his home runs/fly ball rate will likely regress toward career norms. In other words, another sub-2.00 ERA probably isn't in the offing.
With that said, the RotoChamp composite projections tab Buchholz for a 3.73 ERA across 164 innings. That has value in the DH league and against an unbalanced, AL East schedule. The innings total, of course, is what the Sox are hoping will be higher. If Buchholz's new offseason approach pays off, then it may well be. The good news is that Red Sox have plenty of rotation depth, both on the 25-man and in the upper levels of the minor-league system. Buchholz, though, has rate-basis upside that can't be dismissed. 
As for Sizemore, he was outstanding from 2005-08 -- .281/.372/.496 (128 OPS+) with 27 homers, 41 doubles and 29 steals per 162 games played. All of that, of course, is in addition to his expertly manning center field. Sizemore, though, is now 31 and has been waylaid by manifold injuries. For instance, in recent years he has undergone surgery on his left elbow, lower back and both knees (twice on his right knee). Obviously, there's no waving away all of that. 
However, Sizemore hasn't played a game since 2011, and accordingly he's sounding like a player who's refreshed and sufficiently healed (from NESN):
"I'm happy to be healthy," Sizemore said. "I'm good to go. There'll be some things that I'll be working on this spring trying to get back to 100 percent. I'm in good shape but not necessarily baseball shape, but I'm moving around good. I look forward to getting out there."
Sizemore is guaranteed just $750,000 this upcoming season, but he has the opportunity to make up to $6 million. The many-tentacled Red Sox front office is known for due diligence, and Sizemore is indeed expected to compete with Bradley for the starting job in center. The left-handed-batting Sizemore is also willing and able to be deployed at all three outfield positions. On that point, it's worth remembering that the Boston outfield mix includes one right-handed hitter (Jonny Gomes) and a switch-hitter who's more effective from the right side (Shane Victorino). In other words, there will be opportunity for Sizemore, even if Bradley claims the center field job coming out of camp. 
Even if healthy, how will Sizemore fare? He's coming off a long layoff, and, as mentioned, he's 31. That's not old, however, and he doesn't have all that many "baseball miles" on him. Let's also remember that he brings with him a career OPS+ of 120. The skills are surely diminished by time and health, but they exist -- the power-speed players tend to age well. It's a low-downside, high-upside play by Boston, and to what extent Sizemore, the one-time phenom, contributes will be one of the more interesting subplots of the season. 
If you like, call Buchholz and Sizemore lottery plays. Doing so probably underestimates their odds of contributing heavily in 2014, but the implicit reward in the word "lottery" probably pegs their potential value to the defending champs. This being Boston, they're not desperate for outputs from Buchholz and Sizemore, but they can certainly make room for them. 
Gonzalez was reportedly killed in a car crash in Cuba

Our Black Friday FA shopping guide includes a starting pitcher, slugger, super sub, and re...

Get 15 percent off any order of more than $75 at CBS Sports Shop
Need a gift for someone who loves baseball? We're here to help as the holidays approach

Several prominent Japanese-born Mariners and ex-Mariners have said they will help as well

Get your sports fans something that they'll wear all year