Clay Buchholz lacking usual fastball velocity early in Game 4
Early in World Series Game 4, Clay Buchholz is showing little life on his pitches. That's not surprised after a week's worth of injury talk.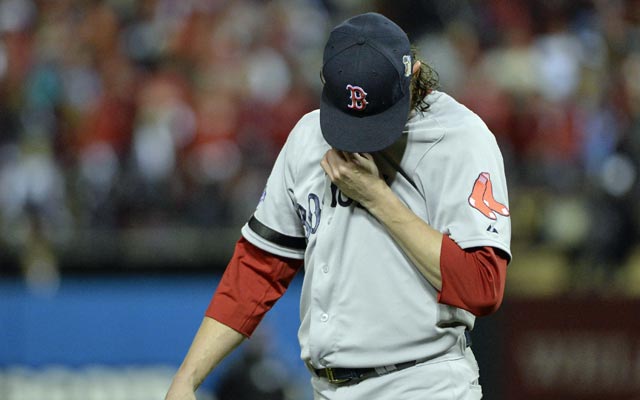 Coming into his Game 4 start, Clay Buchholz and the Red Sox did not hide the fact that the right-hander was less than 100 percent physically. He's been battling something that has been described as fatigue and shoulder soreness, which are pretty vague terms.
Needless to say, all eyes were on Buchholz at the outset of Game 4, and what he showed in the first inning was not encouraging:
• One pitch at 90 mph, one pitch at 89 mph, the rest at 88 or below. Buchholz averaged 91.9 mph with his fastball during the regular season.
• Buchholz tends to go fastball heavy the first time through the order before breaking out his offspeed stuff later in the game, but he threw all six of his pitches (four-seamer, two-seamer, cutter, splitter, curve, changeup) in the first inning. He held nothing back.
• Thirteen total pitches and zero swings and misses. Nothing particularly close to a batter looking fooled, even.

PitchFX classified some of Buchholz's fastballs as changeups, giving you an idea of how little he has on the ball right now. I suppose the good news is that he retired all three men he faced with none of the three balls being particularly hard hit. Given what he showed in the first inning, I'm guessing the hard hit balls will show up eventually.
The club is expected to part ways with Collins after the season

Here is a preview of what's on the line Tuesday

Jerry Dipoto will have his hands full
Otani is said to be coming over this offseason, though nothing has been made official yet

What do the Mets need to do to get back to the postseason next year? Well, a lot

This is a two-man race coming down the stretch. Who should win?