Clayton Kershaw among best of all-time through age 25
Clayton Kershaw's resume through age 25 ranks as one of the best in baseball history. Take a look.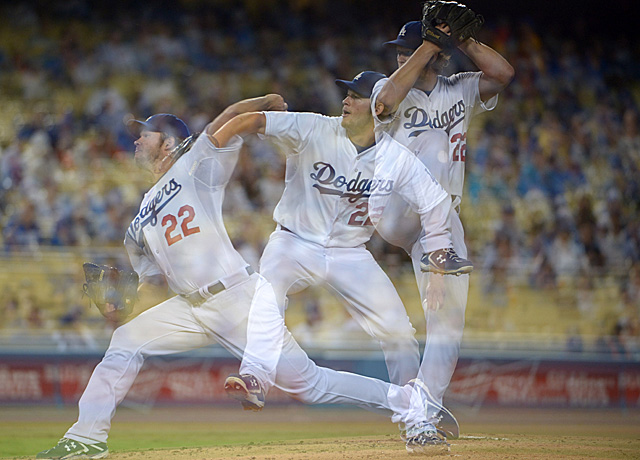 Perry: AL Cy vote separation between Scherzer, Sale shows voters still care about W-L
Clayton Kershaw won his second Cy Young award with ease, it was announced Wednesday night, which came as no surprise at all. He led the majors in ERA, WHIP and ERA+ while also leading the NL in strikeouts and pitching for the NL West champion. Any argument against him would have to be invented due to some not-so-hidden agenda.
Looking deeper than this season, though, shows us that Kershaw's career arc thus far puts him in rarified air in terms of Major League Baseball history.
Consider that Kershaw becomes only the 17th man in MLB history to win at least two Cy Young awards. He's still only 25 years old, too, meaning he joins Denny McLain, Bret Saberhagan, Roger Clemens and Tim Lincecum as the only men to ever take the honor twice before their 26th birthday.
Keep in mind, Kershaw finished second in 2012 to R.A. Dickey, despite having a better ERA, WHIP and WAR. He could have very easily won that one -- and no one has ever won three before turning 26.
Still, we can't rewrite history. He didn't win it. What we can do it point to other measures to illustrate the greatness Kershaw has exhibited at such a young age.
Kershaw has already logged 1,180 innings in six years. His career ERA is 2.60 (146 ERA+) with a 1.09 WHIP and 1,206 strikeouts. Thanks to modern technology, we can rather easily see how he compares to the rest of the pitchers in history by heading over to baseball-reference.com's play index.
I decided I didn't want to cater completely to Kershaw, but obviously this is cherry-picked a bit to include him and see where he stands. As such, I set the parameters at having an ERA of 3.00 or better, a WHIP of 1.20 or better, an ERA+ of at least 135 (to help adjust for different generations) and at least 1,000 strikeouts. And this is all measured through the player's age-25 season -- which is determined by turning 26 after June 30 of the season measured.
The return was just five players, but it was five unbelievably impressive names:
Career before age-26 season
Name
ERA
ERA+
WHIP
K
WAR*
Walter Johnson
1.62
174
0.97
1,686
71.5
Christy Mathewson
2.13
136
1.09
1,376
47.8
Tom Seaver
2.34
149
1.05
1,155
35.9
Clayton Kershaw
2.60
146
1.09
1,206
32.2
Pedro Martinez
2.98
145
1.10
1,221
30.6
That's three Hall of Famers -- in fact, three of the top 10 pitchers of all-time*** by many measures -- and a future Hall of Famer along with Kershaw. Wow.
This shouldn't be surprising to those who know baseball history, but Johnson and Mathewson logged a significant number of innings more than the rest prior to age 26, due to how the game was played back in their era. Thus, the WAR totals are inflated and it must be noted the strikeout rates of Martinez and Kershaw are much higher.
As usual, possibly the best measure to compare different generations -- from the "Dead Ball era" to the "Steroid era" and everything in between -- is ERA+, as it takes earned run average, adjusts for ballpark and measures against the average ERA of the league at the time. So, it essentially boils down to this: Kershaw has been 46 percent better than the average MLB pitcher since coming to the majors in terms of run prevention. From this group, that is in the same ballpark as Seaver and Martinez while being better than Mathewson and far worse than Johnson (who is probably the best pitcher of all-time, so there's no shame in that). 
***NOTE: Pedro Martinez also has a great case to be listed among the top 10 pitchers of all-time, due to pitching in an extreme hittters era. I note that here because he ranks second in history -- among pitchers who threw at least 1,000 innings -- with a 154 ERA+, behind only Mariano Rivera.
It's in the past three seasons when Kershaw has really come into his own, though, as he has a 166 ERA+. He's been the major-league leader in ERA in each of those three seasons, also leading the majors in WHIP twice (and leading the NL all three seasons). This season, he was the first starting pitcher to post a sub-2.00 ERA in a season since Clemens did so in 2005.
Put simply: What we're seeing is the beginning of a Hall of Fame career.
This isn't to say Kershaw will continue on this path. We definitely do not know that. What separates Hall of Famers from great players is the ability to maintain or even increase this pace. Any number of issues, most obviously including arm injuries, can derail a pitcher from this path. Pitchers begin creating a Hall of Fame resume in their 20s from time to time and many fall apart down the road. It happens. It's part of baseball.
But for now, Kershaw has an excellent foundation to his future Cooperstown resume.
Our Latest Stories
They still would much rather grab the AL East, however

Sale becomes the first AL pitcher to reach 300 strikeouts since 1999

Steve Balboni's long-standing record of 36 has finally fallen
Several players called for the netting to be extended down the base lines following Wednesday's...

Maria made landfall as a Category 4 on Wednesday

The players are trying to do their job and don't want to see anyone hurt