Clayton Kershaw's no-hitter was as close to perfect as it gets
Clayton Kershaw's no-hitter on Wednesday was nearly a perfect game. It is still one of the best pitched games in baseball history.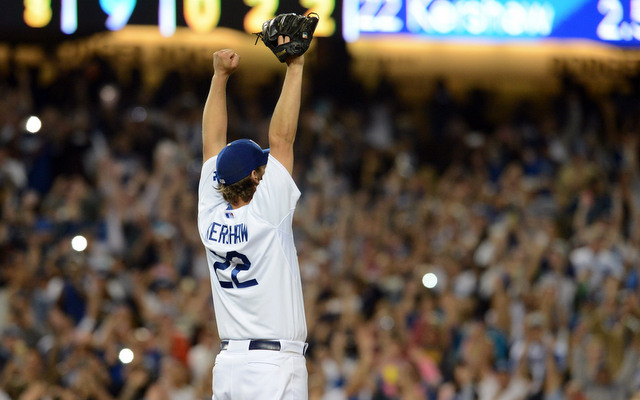 More MLB: Power Rankings | Expert Picks | Latest news & notes | Fantasy news
Dodgers ace and two-time Cy Young Award winner Clayton Kershaw made history on Wednesday night, throwing his first career no-hitter and striking out a career-high 15. The poor Rockies were on the wrong end of his dominance.
Kershaw did not allow a hit and he also did not walk or hit a batter. No, Colorado's only base-runner of the night came on this Hanley Ramirez throwing error leading off the seventh inning:
That's it. That's all that stood between Kershaw and a perfect game. But make no mistake, this was about as perfect a game as a pitcher can pitch.
In addition to the 15 strikeouts, Kershaw allowed only three balls to be hit out of the infield -- Brandon Barnes flew out to center in the first inning, Troy Tulowitzki flew out to left in the third inning, and Charlie Culberson flew out to right in the ninth inning. That's it. Every other out was recorded on the infield.
By Game Score, a metric that slaps a single number on a pitcher's performance based on hits and innings and runs and strikeouts and everything else, Kershaw's no-hitter was the second best pitched nine-inning game in baseball history and the best pitched no-hitter in history. Here are the top five games by Game Score:
Kerry Wood, 105 Game Score -- 20-strikeout game against Astros in 1998 (9 IP, 1 H, 0 R, 0 BB, 20 K)
Kershaw, 102 -- No-hitter against Rockies (9 IP, 0 H, 0 R, 0 BB, 15 K)
Matt Cain, 101 -- Perfect game against Astros in 2012 (9 IP, 0 H, 0 R, 0 BB, 14 K)
Nolan Ryan, 101 -- No-hitter against Blue Jays in 1991 (9 IP, 0 H, 0 R, 2 BB, 16 K)
Sandy Koufax, 101 -- Perfect game against Cubs in 1965 (9 IP, 0 H, 0 R, 0 ER, 0 BB, 14 K)
Kershaw did all of this despite facing the best hitting team in the league; the Rockies came into Wednesday leading baseball in batting average (.284), on-base percentage (.337) and slugging percentage (.461). Oh sure, Coors Field certainly helps them offensively, but their park adjusted 107 OPS+ is still the fourth highest in baseball.
If not for Hanley's error -- to be fair, it was a tough play because it was a slow chopper and Corey Dickerson was busting it down the line -- Kershaw would have thrown the 24th perfect game in MLB history. It's silly because Kershaw did nothing wrong, but that's life.
Error or no error, the 26-year-old southpaw was masterful on Wednesday night, breaking off nasty curveballs like this (GIF via @mikepetriello) ...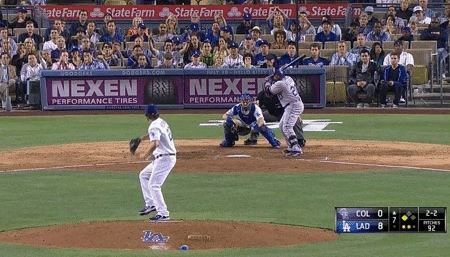 ... and overpowering arguably the best hitting team in the league. He did more than overpower. It's not like he was throwing fastballs by hitters (he did plenty of that too), but Kershaw carved them up with his arsenal of off-speed pitches and pin-point command.
Wednesday night's no-hitter was a pitching clinic and one of the most brilliant performances we'll ever see. Kershaw's career is already historic, but this game was his masterpiece, his Mona Lisa.
Oh, and by the way, Vin Scully has now called a remarkable 19 no-hitters in his career. NINETEEN! Here's his call of the final out: