'Cleveland Plain Dealer' calls for no more Chief Wahoo
The hometown paper thinks the Indians should do away with their controversial logo.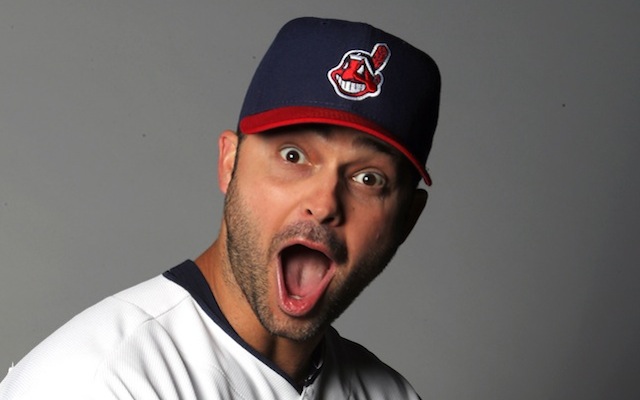 MORE: Spring Training | FA tracker: position players | FA tracker: pitchers
The Indians have rather quietly begun to move away from their "Chief Wahoo" logo in recent seasons, and that's in keeping with trends througout all of sports. However, Cleveland's daily newspaper, the Cleveland Plain Dealer, is now calling on the team to officially and thoroughly scrap any sanctioned use of Wahoo. The editorial board writes:
If Wahoo were all that harmless, the giant, neon Wahoo displayed at old Cleveland Municipal Stadium for years would have traveled across town when the team moved to Progressive Field in 1994. It didn't fit the architecture, the team said.

Now, the 35-foot sign occupies a spot in the Western Reserve Historical Society, where it belongs.

Just as that giant graphic image was retired from the line-up, smaller ones should be, too. That includes Wahoo-adorned promotions at the ballpark and small Wahoo patches worn on some of the players' hats and sleeves. A demeaning symbol is a demeaning symbol, regardless of degree.
This kind of thing -- the elimination of team symbols rendered impolitic by time, that is -- tends not to play well with rank-and-file fans, but there's no doubt the pressure is growing on this front. As long as the name "Redskins" exists, the Indians can't be classified as the "main offender" by any stretch of the imagination, but getting called out by the local rag constitutes another level scrutiny. 
As the PD notes, the Indians are already tacitly admitting there's a problem by scaling back the use of Wahoo. It just remains to be seen whether they take the final steps. 
The Yankees have come back from a 2-0 hole for the second time this postseason

McCullers was outstanding after battling back problems for most of the second half

The projections continue to favor an Astros-Dodgers World Series
The story centers around a building in Chicago, where Billy Jurges was shot by a jilted lo...

From 1 to 25, the L.A. Dodgers have the squad to overcome the pitfalls of October baseball

After Tuesday night's win over the Cubs, the Dodgers are now 6-0 in the 2017 playoffs