Cliff Lee rusty in return from DL; August trade may make most sense
Cliff Lee was very rusty in his return from the disabled list on Monday. The Phillies might be best off holding onto him at the deadline and making an August trade.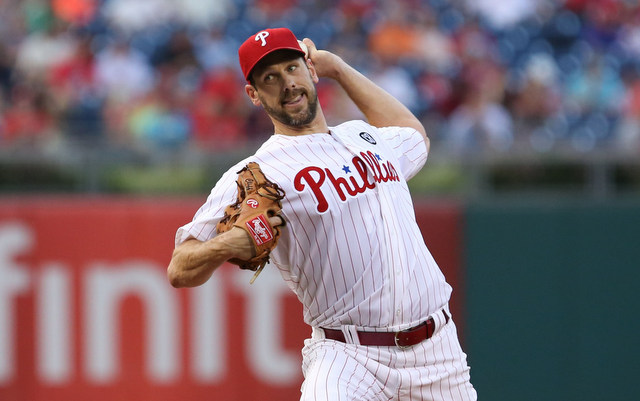 More MLB: Power Rankings | Expert Picks | Latest news & notes | Fantasy news
After approximately two months on the disabled list with a flexor pronator strain in his elbow/forearm, Phillies left-hander Cliff Lee returned to the team's rotation on Monday night. Things did not go well, either for Lee or the Phillies. They lost to the Giants by the score of 7-4 (box score).
Lee was charged six runs (all earned) on a career-high-tying 12 hits in 5 2/3 innings of work. He walked one and struck out three. Fifty-nine of his 90 pitches were strikes (66 percent) through only 13 of 28 batters faced saw a first pitch strike (46 percent). That is well below Lee's 66.8 percent first pitch strike percentage on the season.
San Francisco's first nine hits were all singles and several were soft -- ground balls with eyes or bloopers. It wasn't until about the sixth inning that they really teed off on Lee, with Adam Duvall swatting a home run to dead center and Joaquin Arias doubling to center. The PitchFX data at Brooks Baseball shows Lee's velocity had returned to its pre-injury norms: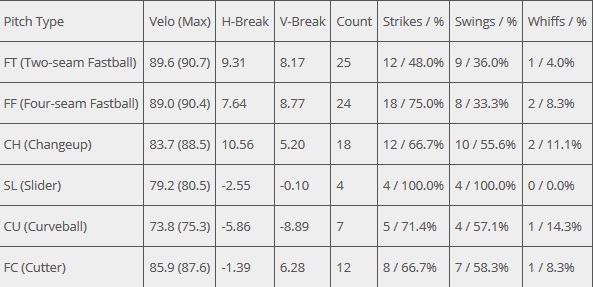 More than anything, Lee just looked rusty. His usual pinpoint location was off just enough -- he was more middle of the plate than on the corners, and when he's over the plate he's going to get hit. Lee is not a blow-you-away type like Felix Hernandez or Jose Fernandez. He needs to live on the black and Monday he did not.
Lee's minor league rehab assignment did not go particularly well; he allowed 11 runs on 13 hits in 10 2/3 Single-A innings, though you shouldn't take rehab numbers to heart. A veteran like Lee is in spring training mode during those games, working on whatever he needs to work on rather than getting outs and helping the team win. Obviously he could have used a little more rehab time based on his work Monday.
The trade deadline is next Thursday and Lee is expected to be one of the biggest names available, however, because he just came off the disabled list, he is only scheduled to make one more start between now and the deadline. (He's also scheduled to start on the 31st, coincidentally.) Lee has a long track record, sure, but teams will want to see him better than he was Monday before trading away prospects and taking on his huge salary, especially coming off the injury.
The deadline has a way of making teams desperate and if he has a strong outing during his next start on Saturday, Lee could be a goner next week. Someone might take the plunge. If his location is off again, the Phillies' best course of action may be to hold onto him into August, let him make a few more starts to showcase himself, then swing a waiver trade. That would be preferable to selling low, even slightly, on such a valuable asset.
The Cliff Lee we saw on Monday night was the not the usual Cliff Lee. He looked like a guy who had sat around for two months rehabbing an injury, then threw only 10 2/3 minor league innings before jumping back into the MLB rotation. Lee's velocity was fine and he threw all his pitches, but his trademark command was off and he got knocked around. There were no significant red flags, just rust.
With only one more start left before the trade deadline, there might not be enough time for Lee to show his true form, and that will hurt his trade value. The last thing the Phillies want to do is get less than maximum return for a difference-maker like Lee.
Another team rumored to be interested in Stanton has confirmed their interest

Chris Woodward has spent the last two seasons with the Dodgers

We heard about it being awful for years, but was it?
Then again, three trades in four days might be behind Jerry Dipoto's usual pace

Ohtani is arguably the best hitter and pitcher in Japan

The O's need rotation help, and Cobb is available for hire