Cliff Lee takes unemotional view of trade market, says 'I want to win'
The Phillies' star lefthander has a 20-team no-trade list but makes clear that his priority is winning.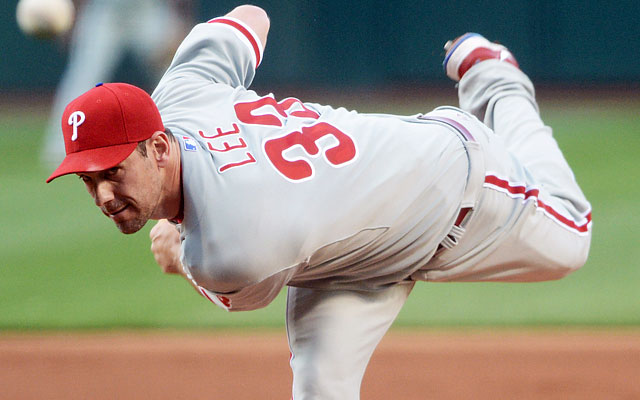 MIAMI -- Phillies star Cliff Lee said he "hopes'' the Phillies turn it around, and it wouldn't do him any good to think about the alternative.
But if the alternative does come to pass, and he does go on the trading block, it sounds like Lee can deal with it. There's a list of only nine teams to which Lee can be traded without his consent, but he's been traded before and it doesn't sound like it's something that would faze him -- or, under the right circumstances, especially bother him.
"I definitely want to win. I want to be on a winning team,'' Lee said when asked about the possibility of being traded before the Phillies were to play the Marlins on Tuesday night. "That should be what it's all about.''
For Lee, it is. He seems to take a very professional, unemotional view of things, which has served him very well in a brilliant career.
Lee didn't get into what might make him consider waiving a trade to one of the 20 teams on his no-trade list (or even whether he would waive it), but he said he views it only in terms of winning and losing. "Unless I'm playing in my hometown … and there's not a team in Little Rock (Ark.),'' Lee said.
If Lee's winning-is-all view of things surprises anyone, it shouldn't. As a friend of his said, "That's why he went to Philadelphia in the first place.'' The Phillies were viewed as a powerhouse when he signed with them for $120 million over five years.
Lee's name is sure to be speculated about as a potential trade piece if the Phillies drop out of the race. For now, though, while they're a disappointing 21-24, they remain well within striking distance.
A Phillies person suggested that they had no real interest in trading Lee, who is having a typical season, with a 4-2 record and 2.83 ERA. They don't seem especially concerned that he has a $25-million annual salary through 2015 with a makeable vesting option for $27.5 million in 2016 (or $12.5 million buyout). The Phillies' theory seems to be: They need him if they're going to be competitive.
The Dodgers claimed Lee after the July trade deadline last summer, but the trade conversation between the teams was said to be very brief. The Dodgers seemed more interested than the Phillies, to say the least.
The Dodgers were not one of the nine teams to which Lee can be traded without his consent. If the Phillies find a trade they like this time, it will be interesting to see what Lee might say.
Lee was asked whether he thinks the Phillies will turn it around. "I hope so,'' he answered. "I can't think anything else.''
As far as the possibility of being traded, the 34-year-old lefthander said, "That's completely out of my control. I'm a Phillie until they tell me otherwise … I know it's part of the business.''
Oh, does he ever. Lee's one of the best players ever to be traded three times.  
But generally, he does not have a negative view of trades. That may be colored, he suggested, by the fact that two of the three times he was traded he wound up pitching in the World Series for the acquiring team.
 "Normally, if you're traded you go from a team that's not in a good situation to a team that's winning,'' Lee said.
He was traded from Cleveland to Philadelphia, from Philadelphia to Seattle and from Seattle to Texas. He said he "didn't know what was happening'' in the surprise trade to Seattle, but he wound up in the World Series the other two times and, overall, he's very much enjoyed his career as an excellent but itinerant pitcher.
"I've enjoyed it every step of the way,'' he said.
Francisco leads the Dominican Winter League with seven home runs

Thome deserves enshrinement and here's why the case against him does not hold up

The Twins have already fortified the bullpen with Addison Reed, and now they want to address...
The Orioles likely want pitching, and the Indians have plenty of it

Halladay died in a November plane crash off the coast of Florida

The power-hitting outfielder is headed to Toronto