Cliff Lee to rejoin Phillies rotation Monday
Cliff Lee will rejoin the Phillies rotation Monday, meaning he'll get at least two starts before the last week of July -- with the non-waiver trade deadline being July 31.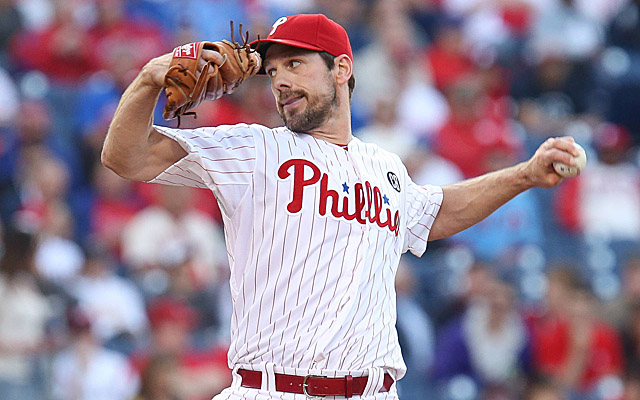 More: Philly more likely to deal Lee than Hamels
Phillies starting pitcher Cliff Lee has been scheduled to return to the mound from the disabled list Monday against San Francisco, the club told reporters Friday (csnphilly.com).
Lee, 35, hasn't started for the Phillies since May 18, as an elbow issue shelved him. He has made three rehab starts and is ready to return.
In his three rehab starts, Lee had a 5.16 ERA and 1.41 WHIP for High-A Clearwater. His last outing came Monday, when he allowed eight runs (three earned) on eight hits. He insists he's ready to go, though.
"I feel strong and I feel good and I'm ready to try to help the team win," Lee said (csnphilly.com).
The funny thing about that statement is that Lee might not be helping the Phillies try to win for long. His timing for a return means he can get two starts under his belt before the final week of trading activity in front of the July 31 non-waiver deadline.
In 10 big-league starts this year, Lee is 4-4 with a 3.18 ERA, 1.28 WHIP and 61 strikeouts against only nine walks in 68 innings. With his track record, he's easily qualified to be called a frontline pitcher for anyone who might swing a deal for him.
Lee is set to make $25 million next season before a $27.5 million vesting option in 2016, that is tied to innings pitched in 2015.
Adell shows part of the reason why Los Angeles drafted him 10th overall in 2017

And, well, they're probably right

Supposedly, MLB execs have discussed letting teams hit any three hitters they want in the...
Keep tabs on the top 50 free agents on the market right here

After the departures of Steven Souza and Corey Dickerson, the Rays add a right-handed bat

Rasmus essentially walked away from baseball during last season