College senior Jason Boulais sacrifices baseball to donate bone marrow
Pitcher from the University of South Carolina at Beaufort is sacrificing all or most of his senior season in order to donate marrow from his hips to a young boy in France.
Finding bravery and heroism among athletes isn't common. They're just playing sports, after all. Entertainers, absolutely. Good role models, possibly. Heroes? Not usually.
An exception: Jason Boulais, a senior at the University of South Carolina at Beaufort, who also pitches for the baseball team. Boulais' gotten mixed results so far this season, and his overall ERA isn't where he'd like it to be. But it's not on the field where attention for Boulais is deserved. Forget the ninth inning; Boulais aims to be an actual, red-blooded live-saver.
Before finding out for sure, Boulais said he had "a gut feeling" he would be picked to donate bone marrow. A worker from the Be the Match registry had come by campus, swabbed the inside of Boulais' cheek and added him to a database of potential donors. Boulais was finishing up his next-to-last semester at USCB and preparing for his senior season with the Sand Sharks in mid-February when he got a call from Be the Match. Only one in 540 registered U.S. residents ends up donating. Boulais was on the verge of being the one.
They needed a blood sample to be sure, but Boulais was a preliminary match for a young boy in France. Blood-test results confirmed that Boulais was not only a match, but he was the boy's best hope to live. The transplant happens this month, meaning Boulais will be sacrificing part — and perhaps the rest — of his final college baseball season. He's undergoing a surgical procedure requiring a marrow sample taken from the back of both sides of his pelvic bone. He'll need about 20 days of recovery time, and doctors tell him he'll experience back and hip pain after surgery. Hardly ideal for a college athlete in the middle of a season.
The exact date of the surgery hasn't been set yet, but the Sun Conference tournament starts May 1, with NCAA playoffs possibly following. Boulais will be lucky to pitch again in college. He might simply run out of time. On that note, Boulais didn't give it a second thought. 
Justin Jarrett of USCB athletics writes: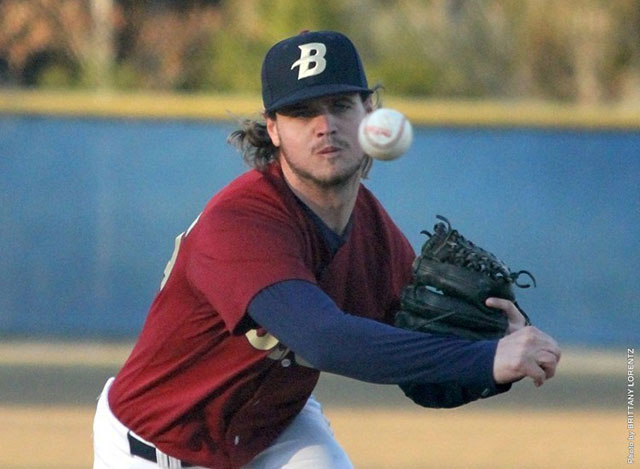 "I was happy to be able to potentially help somebody out, save someone's life," Boulais said. "It's a blessing to have something I can be proud to do. I'm going to miss a few games because of it, but for someone to be able to potentially keep living is a lot more important." 

According to Be The Match, 70 percent of patients needing bone marrow or cord blood transplants do not have a potential donor in their family, so they depend on the Be The Match Registry to find a donor. It's possible Boulais is a distant relative to the patient, who lives in France, where Boulais' family bloodlines originate.
Thankfully, coach Bryan Lewallyn has been beyond supportive. He even volunteered to drive Boulais wherever he needed to go to make his donation happen.
"A lot of times with younger guys, you don't really think outside of yourself. When you're 18, the world is only as big as your little bubble. The fact that he took it upon himself to volunteer and get tested is huge."
Having Boulais and the young French boy be related, or having Boulais come back to the team and help win a big game, would make the story even more amazing. But no amount of hyperbole could make Boulais's actions any more heroic, short of giving his own life. And he is giving part of his life, one he can't get back. And it's nothing to regret.
The Red Sox and Cardinals are expected to make trade offers next

The free agent first baseman may be a fit in St. Louis

The front office changes in Atlanta continue
The Marlins are more likely than you think on our list

Judge finished a distant second in the balloting and he paid respect to the winner

Stanton just won the 2017 NL MVP award but could wind up being dealt this offseason