Commissioner Bud Selig to retire following 2014 season
Bud Selig is planning to retire following the 2014 season.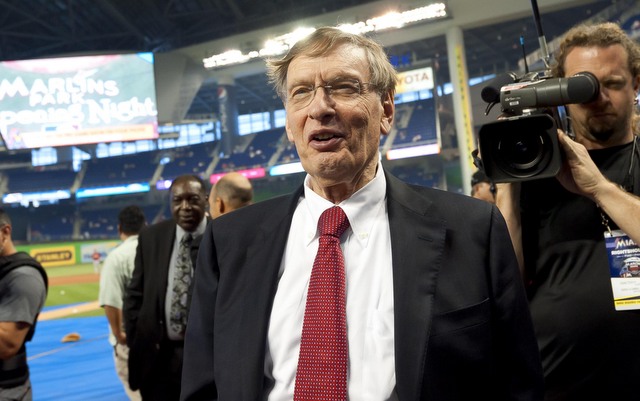 More MLB: Scoreboard | Standings | Probable Pitchers | Sortable Stats | Odds
Major League Baseball commissioner Bud Selig formally announced his retirement on Thursday afternoon. Jon Heyman of CBSSports.com first reported the news. The retirement will take effect on January 24, 2015.
"It remains my great privilege to serve the game I have loved throughout my life," said Selig in a statement. "Baseball is the greatest game ever invented, and I look forward to continuing its extraordinary growth and addressing several significant issues during the remainder of my term.
"I am grateful to the owners throughout Major League Baseball for their unwavering support and for allowing me to lead this great institution.  I thank our players, who give me unlimited enthusiasm about the future of our game.  Together we have taken this sport to new heights and have positioned our national pastime to thrive for generations to come.  Most of all, I would like to thank our fans, who are the heart and soul of our game."
Selig, 79, has insisted he will retire following the 2014 season for some time now. It's not the first time he has hinted at retirement either. In 2006, Selig announced he would retire following the 2009 season. He then signed a new three-year contract in 2008 and said he would retire following 2012. A new two-year contract followed that.
Major League Baseball has grown substantially under Selig's watch, both financially and in terms of popularity. He has overseen the implementation of the wild-card system, revenue sharing, interleague play and instant replay, for example. There is also unprecedented labor peace between the owners and players union.
Of course, Selig's tenure is not without its black marks. He represented MLB during the 1994 strike and cancelled the World Series for the first time since 1904. Selig also presided over the so-called Steroid Era, which led to the toughest PED testing system in the four major sports.
Selig became the acting commissioner after Fay Vincent was voted out in September 1992. He was permanently named commissioner in July 1998. Selig was a minority owner in the Milwaukee Braves before purchasing the bankrupt Seattle Pilots franchise in 1970, and moving them to Milwaukee to become the Brewers.
The league has 15-16 months to find a replacement for Selig, which won't be all that easy. Former Cubs, Twins and Orioles executive Andy MacPhail, MLB executives Rob Manfred and Joe Torre, Tigers GM Dave Dombrowski and Mets GM Sandy Alderson have been rumored as possible replacements over the years.
According to his statement, Selig will soon announce a "transition plan in preparation for his retirement, which will reorganize centralized Major League Baseball management."
The Rangers' lefty and wife Heidi have done a very good deed

Will J.D. Martinez be Boston's next target?

Could catcher J.T. Realmuto be the next Miami player to be traded?
If the slow-play for Martinez, Hosmer and Arrieta sounds familiar, it should

The Nats will host the All-Star Game in 2018

The Orioles are looking to trade Machado heading into his walk year