Comparing the career resumes of Tom Glavine, Mike Mussina
Both Tom Glavine and Mike Mussina are on the Hall of Fame ballot this season. If we leave win total out of it, Mussina has a better case by a decent margin.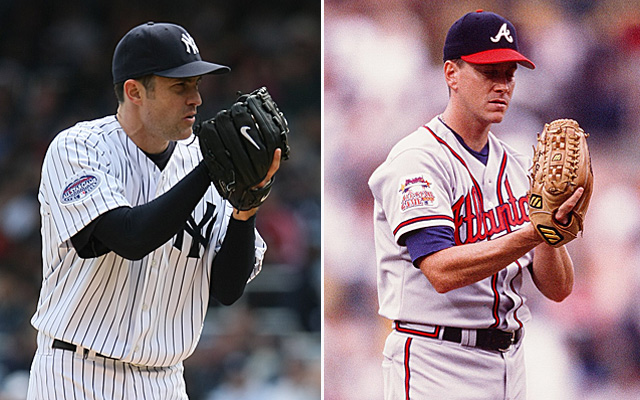 Hall of Fame cases: Cases for and against Glavine | For and against Mussina
This year's BBWAA Hall of Fame ballot offers up three starting pitchers who are first-timers on the ballot and should be Hall of Famers, in my opinion. Greg Maddux isn't even worth discussing. I often lament name-calling and note this is a subjective process, but if anyone honestly believes Maddux shouldn't be in the Hall of Fame, that person has no business discussing baseball.
On Tom Glavine and Mike Mussina, I fully expect Glavine to get in soon and Mussina to be in for a fight, possibly for many years -- and this separation is due only to the win total Glavine accrued in far more starts.
Glavine made 682 career starts compared to 536 by Mussina. Glavine ended up with 305 wins -- making the longtime-yet-arbitrary benchmark of 300 wins. Mussina ended with 270. He won 20 in his final season at age 39, while Glavine kept pitching through his age-42 season.
And get this: Glavine won 30 games in his three extra seasons. Had Mussina stuck around and done the same, he'd be at exactly 300 wins, but likely with at least slightly worse rate stats.
So does that definitely make Mussina inferior?
Let's take a look at the career rate stats. Decide for yourself who was better throughout his career.
Who was better?
 
ERA
ERA+
WHIP
K/9
BB/9
K/BB
WAR
WAR/FS*
WIN%
Pitcher A
3.68
123
1.19
7.1
2.0
3.58
82.7
4.74
.638
Pitcher B
3.54
118
1.31
5.3
3.1
1.74
74
3.72
.600
Yes, Mussina is Pitcher A. He's better everywhere except raw ERA, as Glavine was pitching in the NL his whole career while Mussina was in the more difficult AL. ERA+ accounts for that and Mussina is ahead.
Now, as I said above, had Mussina stuck around to get to 300 wins, his rate stats probably would have been worse, but if we take away Glavine's last few seasons, he's short of 300 wins and has an inferior stat line to Mussina. And if we're going to kick and scream about rate stats instead of raw victories (and if you're doing so, make sure to scream something about "nerds who never played the game"), at least note that Mussina's career winning percentage was a decent margin better than Glavine's.
This isn't to say Glavine isn't a Hall of Famer. See above. I said both of these guys should be in, so I'm not trying to argue against Glavine. I'm presenting a quick, comparative case for Mussina.
So if Glavine is a surefire Hall of Famer, shouldn't Mussina get in as well?
Our Latest Stories
In the last several years, lots of droughts have ended in MLB

The most likely scenarios are Dodgers winning in five or six games

Despite a seven-game ALCS, the Houston rotation lines up nicely for the World Series
Sabathia and the Yankees are a perfect fit for each other

Bregman threw out Greg Bird at the plate to preserve the Astros' lead

The 2017 World Series begins Oct. 24