Computer projection system PECOTA loves the Dodgers
Baseball Prospectus' well-known PECOTA computer projections show the Dodgers with the best record in all of baseball by a whopping nine games.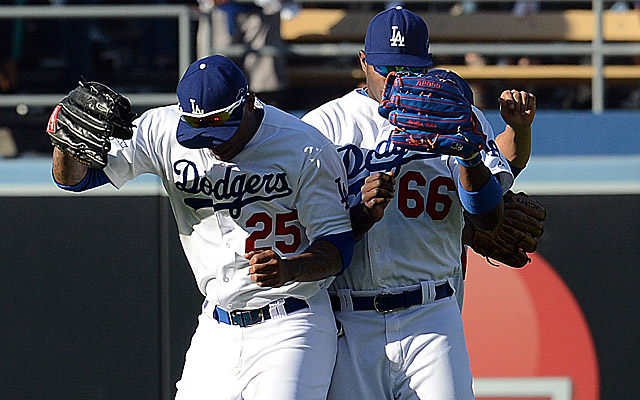 MORE: Clay Davenport's projections
We're in the home stretch of the offseason, which means the computer projections are rolling out. We won't post the majority of those, but Baseball Prospectus' system -- PECOTA -- is very well known and respected. How things stand right now in PECOTA, the Dodgers glaringly stand out in a good way.
The thing about computer projections is they're likely to be conservative. With computer simulations playing thousands of versions of the season, the win-loss totals of each team are brought closer to the middle. That explains why all but three teams are expected to win between 71 and 89 games in this projection. It's like seeing NFL projections where all the division winners are either 10-6 or 9-7.
With that in mind, boy, the computer loves the Dodgers. No other team in baseball is projected to win more than 89 games by PECOTA, but the Dodgers are projected to go 98-64 -- to reiterate, nine full games than the next best in baseball.
The system projects the Dodgers to only allow 579 runs -- easily the lowest number in the majors -- while scoring 732, good for second-most in the NL behind the Rockies.
For the full projections, hop on over to Baseball Prospectus. Keep in mind -- again, other than the Dodgers -- that these things tend to be conservative.
The playoff teams, per PECOTA:
AL East champ: Red Sox
AL Central champ: Tigers
AL West champ: Athletics
AL wild cards: Rays, Angels
NL East champ: Nationals
NL Central champ: Cardinals
NL West champ: Dodgers
NL wild cards: Giants, Braves
Where might the Orioles third baseman land?

Kinsler will slot in at second base for the Angels

The Marlins got a better return for Ozuna than Stanton or Gordon
The two teams are going about things in very different ways

The Marlins are indeed in teardown mode under new ownership

The Marlins still have more attractive pieces