Consistent presence in ALCS, Tigers still want more
Like St. Louis, the Tigers are playing in their third consecutive LCS this month. But while the Tigers are looking for their first World Series win since 1984, the Cardinals won two years ago ... and in 2006. As GM David Dombrowski says, the "ideal" team isn't out there. But these Tigers are close.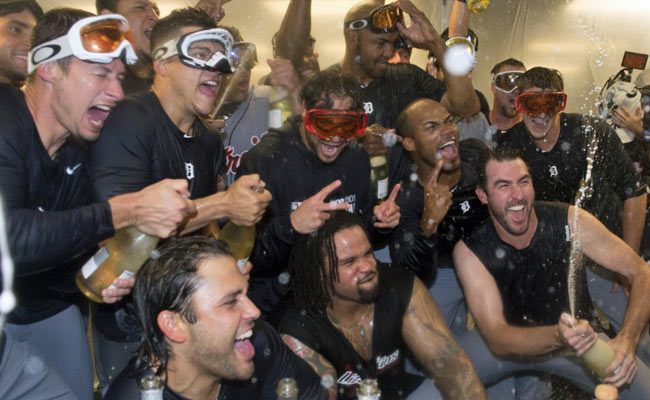 OAKLAND – Cheese and pepperoni bakes into money, and the cash is delivered to superstars. Tigers owner and Little Caesar's magnate Mike Ilitch always has gravitated toward star power, and maybe this time Miguel Cabrera, Justin Verlander, Prince Fielder and Co. can put that elusive World Series ring on his finger that Ilitch so desperately desires.
The Tigers open the American League Championship Series in Boston on Saturday night, though the club that reflects back in the mirror at them this autumn is St. Louis.
Like the Cardinals, the Tigers are steaming into their third consecutive LCS. But St. Louis has won two World Series since the Tigers last won in 1984: In 2006 (over Detroit) and 2011.
The Tigers keep swinging.
"They're not even swinging the bats the way they're capable of doing, and they beat us 3-2," Athletics manager Bob Melvin said late Thursday night. "Once they get hot again, like when we saw them earlier in the season … there are points in the season when they're as dangerous an offensive club as there is. They have quality starters and a couple of guys who can finish it off in the bullpen.
"Anytime they take the field, they're one of the better teams in baseball."
Which is why last year's World Series wipeout and the ALCS loss to the Rangers in 2011 make each postseason hole -- like when the Tigers trailed the A's 2 games to 1 in the Division Series -- seem so increasingly dire. And why the fans who continue to fill Comerica Park by the millions despite a recession-racked Midwestern economy continue to ping-pong back and forth emotionally between unconditional love and unmitigated frustration.
"There are a lot of different ways to build clubs," Tigers president, CEO and general manager David Dombrowski said after the corks had all been popped Thursday night. "I think you have to adjust.
"Everybody always thinks that this ideal club exists out there. They say, 'OK, I want this guy to play shortstop that's a great defensive shortstop that hits .300 that steals 25 bases, a first baseman that's a Gold Glover that hits .300 and hits 45 home runs, and I've got a third baseman … but they don't exist.
"So you do the best job you can at putting pieces together. We have felt very strongly, and Mike Ilitch has been an advocate of it, we have felt that we try to add stars to our club. That's how we like to build it. He is like that in hockey [as owner of the NHL's Red Wings], he's like that in baseball, and we build around those guys.
"And we have quite a few stars on the team. Back to back MVPs, and they stepped up tonight. We believe, and we build our club around it."
The Tigers rode Justin Verlander (2011 AL MVP) and Miguel Cabera (2012 MVP) out of Oakland. Now they'll see who can provide the horsepower in the city of Paul Revere's famous ride. One if by pitching, two if by defense.
"This is the reason I came here," said right fielder Torii Hunter, who signed a two-year, $26 million deal with the Tigers last winter. "I've been to the postseason several times, and you know what I've figured out? Pitching and defense wins games.
"Offensively, you face some of the best pitchers in the game and you're not going to do much. It's all about what you do as a team, and play defense, and pitch well. That's what we did in this series."
So loaded have they been over the past couple of seasons that people expected the Tigers to eat the rest of the AL Central whole. When they couldn't shake the White Sox until the last week last season, everybody wondered what was wrong. When you looked up and noticed Cleveland finished just one game behind them in the AL Central this year, the knee-jerk reaction leaned toward underachievement.
Yet, no matter how or by how much, the Tigers won. And then in the first round of the playoffs for three consecutive years, they won again. That is no small achievement.
Now, you look at this embarrassment of riches – the MVP winners, the likely Cy Young winner in 2013 (Max Scherzer), the ERA champ (Anibal Sanchez) – and you think that if they don't win it all in this current window, then when will this club EVER be able to do it?
The window is so wide open you could easily chuck a sofa, a couple of La-Z-Boys and a dinette set through it. Which many Tigers fans were inclined to do when the A's pushed them to the brink of elimination earlier this week … and when the Giants swept them last October.
"I remember there was a national writer who I respect a great deal, after we won in 2006 and we had a little bit of a veteran team, who said the Tigers will be finished because they're not going to have a good club for years because they're getting older," Dombrowski said.
"That's where I thought, really, when you look at it, your responsibility from a club perspective is to work with that. You want to be prepared, but if you say goodbye to the group if you lose … no team is ever the same the next year anymore. It's a different team.
"But you're in a situation where Miguel's 30, Verlander's 30, Prince is 29, Austin Jackson is 26, Scherzer's 29, Anibal Sanchez is 29 … so it's not like the window's closed that much. We have a chance to be pretty good for awhile.
"But there will be some players that you have to move. But we've got guys like Nick Castellanos coming, and Hernan Perez, and [Bruce] Rondon is coming. Jose Iglesias is a young guy who will be our shortstop for awhile.
"That's what your responsibility is, to try to do that. Some years, yeah, maybe you go down a little bit, you've got to fight some things. But that's what you want to do. You want to win now, and you try to win now. But you're also cognizant that you want to win in the future."
Dombrowski acquired Iglesias from the Red Sox in a July deal, chronicled by colleague Danny Knobler here, that adds another layer of depth to this ALCS between Boston and Detroit.
Looking to kick-start an offense handcuffed by Oakland's pitching, Leyland chose offense over defense in Game 5 by moving Jhonny Peralta back to shortstop, playing Don Kelly in left field and sitting Iglesias. It will be interesting to see what he does against Boston, given that the move helped further the Tigers' offensive momentum that started in Game 4.
"If you watch the Red Sox, they have a tough club," Leyland said. "[Dustin] Pedroia, [Jacoby] Ellsbury, Jonny Gomes, Big Papi [David Ortiz]. I'm not saying they're tougher than Oakland. I'm saying they are a more veteran team."
Said Hunter: "Boston didn't surprise us this year. They've got a really good ballclub over there. [Shane] Victorino, Pedroia, David Ortiz is one of the best postseason hitters in the game … they're a really talented ballclub, and we match up well."
Guaranteed, there are 20-some other teams in baseball whose employees and fan bases wish their owner wanted to win as badly – and tried to do so as aggressively – as Ilitch.
But the extra cheese of it is, it's not as simple as picking up the phone and getting delivery within 30 minutes. In these days of expanded playoffs, the degree of difficulty has never been higher, the competition never more fierce.
"We would like to get eight more wins," Dombrowski said. "But when I say that, so would Boston, so would the Cardinals and so would the Dodgers. And they're all very good teams.
"We'll see what happens."
Several relievers have signed in the last two days

Several teams are interested in the switch-hitting first baseman

Neshek and the Phillies are closing on a two-year contract
And the team that first drafted Cole is interested

This scout was SUPER into Jeter

Stanton warned Marlins fans about the lean years that are forthcoming