Contract extension-worthy players with less than two years in MLB
Here are 10 players with roughly one year of service time who could be in line for contract extensions, similar to Anthony Rizzo.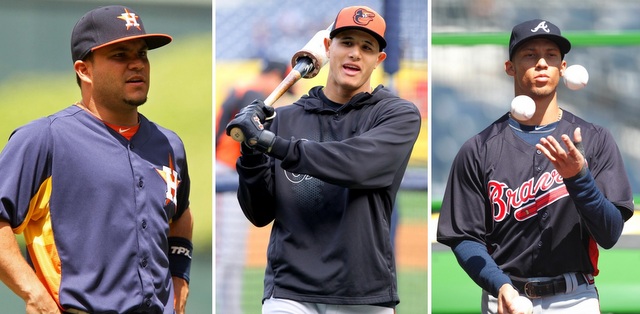 More MLB: Scoreboard | Standings | Probable Pitchers | Sortable Stats | Odds
Over the weekend, the Cubs signed Anthony Rizzo to a new seven-year contract extension that puts at least $41 million in the first baseman's pocket. The team envisions the 23-year-old developing into a middle of the lineup force -- he's hitting .277/.348/.527 with nine homers this year, so he might be one already -- so the deal gives them some cost certainty going forward.
Long-term extensions for young players is nothing new these days, but Rizzo's deal stands out because he has barely one full year of MLB service time. He wasn't particularly close to the free agency and was still a year away from being arbitration-eligible. Hammering out the contract was not a pressing matter for the Cubs, but as my blogmate Matt Snyder wrote on Monday, the team got themselves a likely bargain by being aggressive.
While Mike Trout and Bryce Harper have already played their way into $100-million-plus territory, a number of other young players have put themselves in line for modest (but still very rich) Rizzo-like extensions just a year or so into their careers. Here are 10 position players who could be in line for multiyear contracts less than two full years into their MLB careers.
It feels like the 23-year-old Altuve has been around for a few years now, but he came into this season with a little more than one year and two months worth of MLB service to his credit. He's more than the just the token "best player on a bad team," he's a career .294/.336/.397 (101 OPS+) hitter with solid defense at a up-the-middle position. Before injuring his jaw on Monday, he was hitting .333/.371/.444 (124 OPS+) in 2013. Ian Kinsler's original five-year, $22 million extension with the Rangers could be the contract comparable here.
Billed as a no-hit, all-glove shortstop while coming up through the minors, the 26-year-old Crawford has managed a .279/.352/.488 (140 OPS+) batting line this year and a .255/.315/.381 (99 OPS+) line since becoming a full-time player in 2012. Add in stellar defense and you've got an above-average player. The four-year, $10.5 million extension the Royals gave Alcides Escobar last year could serve as a reference point in contract talks.
Frazier, 27, placed third in the NL Rookie of the Year voting last year. He's hitting .236/.327/.433 (102 OPS+) this year after managing a .273/.331/.498 (119 OPS+) line a season ago. Frazier is a little older than most second-year players, at least most second-year players worthy of long-term extensions. The three-year, $14.5 million deal Mark Reynolds signed with the Diamondbacks once upon a time makes sense for a shorter-term agreement.
Since taking over as Cleveland's everyday second baseman in the second half of 2011, Kipnis has hit a solid .255/.328/.407 (106 OPS+) overall. The 26-year-old grades out well defensively as well, though his bargaining position might be as strong as position-mate Altuve's. Ben Zobrist's four-year, $18 million pact with the Rays might be the better contract comparable for the 26-year-old Kipnis.
Talk about an up-and-coming star who seemingly flies under the radar. Machado, 20, is hitting .331/.370/.521 (138 OPS+) this year, and .294/.329/.480 (117 OPS+) since coming up and taking over Baltimore's third base job late last year. He is not quite on par with Trout and Harper, at least not yet, but he isn't that far off either. If the Orioles ever move him back to shortstop (as has been rumored), Machado's value will skyrocket. The O's would be wise to lock him up right now, before he really blows up. Although they don't play the same position at this very moment, Troy Tulowitzki's original six-year, $31 million extension with the Rockies seems like a starting point for Machado. Starlin Castro's seven-year, $60 million deal with the Cubs shouldn't be out of the question.
Marte, 24, got some big league time last year but has taken off as the team's everyday left fielder in 2013, hitting .320/.389/.493 (149 OPS+) with strong defense. He's a .287/.343/.464 (125 OPS+) career hitter in the show so far. If it wasn't for Andrew McCutchen, Marte would be playing center field and his value would be even higher. The Pirates signed Jose Tabata to a six-year, $15 million extension roughly one year into this career back in 2011, but that might be a little light. Chris Young's five-year, $28 million pact with the D'Backs back in the day is probably a better fit.
Wilin Rosario, Rockies
Rosario, 24, is hitting .272/.308/.500 (103 OPS+) this year after quietly leading all NL rookies with 28 home runs last season. His career batting line away from hitter-friendly Coors Field is a still solid .263/.293/.496 (92 OPS+), especially considering that he's a catcher. The offensive bar for the position is very, very low. The Rockies could look to sign Rosario to something similar to the four-year, $11 million pact the Brewers gave Jonathan Lucroy. Carlos Santana's five-year, $21 million deal with the Rockies could also work on the high end.
The Mariners haven't had much luck with their young hitters lately, but the 25-year-old Seager is the exception to the rule. He's hitting .283/.353/.464 (132 OPS+) this year and .263/.321/.420 (111 OPS+) overall as a big leaguer. Now that he's settled in as the team's full-time third baseman, his defense has improved as well. Power pays and Seager doesn't have the same kind of pop as Reynolds, so maybe Aaron Hill's original four-year, $12 million extension with the Blue Jays can serve as decent framework even though they play different positions.
Jean Segura, Brewers
In addition to stealing first base, the 23-year-old Segura has emerged as one of the game's top young shortstops in 2013 by hitting .368/.412/.588 (167 OPS+). He leads the league in batting average, hits (50) and stolen bases (13). Add in positive contributions in the field and you've got a cornerstone player. I don't think Segura has superstar potential on par with Machado despite his performance this year, so Escobar's contract with Kansas City might be a better match than Tulowitzki's or Castro's.
Simmons, 23, might be the best defensive shortstop in the world right now. He's only hitting .243/.291/.375 (81 OPS+) this year, but his career batting line still sits at .268/.315/.397 (92 OPS+) because of his play last summer. Simmons' value is tied up in his glove; Atlanta has to consider anything he provides at the plate a bonus. Again, Escobar's deal with the Royals seems like a reasonable benchmark here.
Pitchers are a different animal than position players, mostly because of the increased injury risk. There are always a few exceptions -- Madison Bumgarner and Matt Moore, for example -- but teams will typically wait a year or two before discussing a multiyear contract with a pitcher who has a year or so of MLB time. Alex Cobb (Rays), Wade Miley (D'Backs), Shelby Miller (Cardinals), Jose Fernandez (Marlins), Jarrod Parker (Athletics) and Matt Harvey (Mets) would all be candidates for a long-term extension.
This would undoubtedly be the worst trade in Miami Marlins history

The Pirates recently shipped Gerrit Cole and Andrew McCutchen to Houston and San Francisco,...

Surely, Martinez and his agent are holding out for more
The reliever had a very good 2017 season with the NL Central champs

We don't need to discuss Chipper's Hall of Fame case, so let's have fun instead

Dioner Navarro still hopes to return someday