Contract extensions gone wrong part of problem for ex-Padres GM Byrnes
The Padres fired GM Josh Byrnes on Sunday, and one of the many reasons why are the team's failed long-term contract extensions.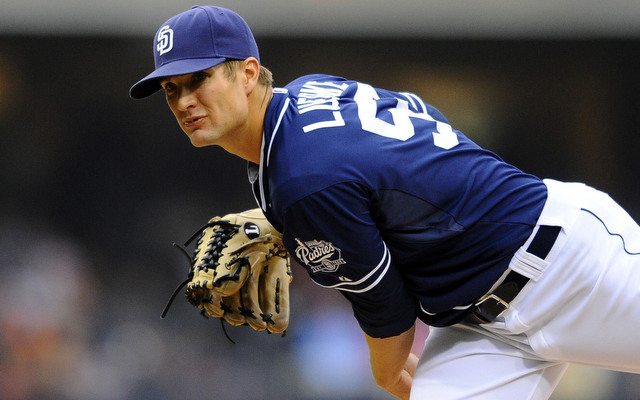 More: GM Josh Byrnes fired | Heyman: Padres fire good baseball man in Byrnes
After weeks of rumors that changes were on the horizon, the Padres fired general manager Josh Byrnes on Sunday. That's usually what happens when a team is on pace to win 68 games with one of the worst offenses in history despite a franchise-record $90.6 million payroll.
Byrnes took over as GM following the 2011 season and helped build the farm system into one of the very best in the game. A strong system is imperative for a small-payroll team trying to contend. Some of his moves at the major-league level, particularly the Mat Latos trade to the Reds, simply didn't work out and sealed his fate.
The Padres and Byrnes also serve as a reminder that long-term contract extensions for young players can go bad. Nowadays every club locks guys up early in their careers and those moves are almost always praised. The reward of cheap production outweighs the risk of paying top dollar for zero production, at least in theory.
During his tenure, Byrnes signed three young potential building-block players to long-term extensions and none of the three have worked out. That could always change in the future, though Byrnes won't be around to reap the rewards. Let's review those three deals.
March 2012: Five years, $25 million for CF Cameron Maybin
The Padres nabbed Maybin, a former top prospect, from the Marlins for two middle relievers during the 2010-11 offseason, when Byrnes was working in the front office but not as GM. The then-24-year-old Maybin hit .264/.323/.393 (103 OPS+) with nine home runs, 40 steals and excellent defense during his first year in San Diego, hence the contract extension the following spring, when Byrnes was GM.
In the two-and-a-half years since, Maybin has batted only .241/.301/.353 (85 OPS+) with 10 home runs and 32 steals in 205 games. Wrist and knee problems limited him to only 14 games a year ago. Maybin currently owns a .267/.304/.412 (105 OPS+) batting line through 44 games in 2014, so maybe he's starting to come around. But, when you give a player a five-year contract, you're expecting him to be doing more than "maybe coming around" in Year 3.
March 2012: Four years, $12 million for LHP Cory Luebke
Luebke, 29, made his MLB debut as a 25-year-old in September 2010 and won a spot in the team's bullpen on Opening Day 2011. He pitched well in a late-inning role (3.23 ERA and 43/15 K/BB in 39 innings) until moving into the rotation in late June, when he excelled. Luebke had a 3.31 ERA and a 111/29 K/BB in 17 starts and 100 2/3 innings to close out his first full big-league season.
The Padres envisioned Luebke as the cornerstone of their rotation going forward, so they locked him up on the relative cheap the following spring. Luebke made five very good starts to open the 2012 season (2.61 ERA) before blowing out his elbow and having Tommy John surgery. He has not pitched since due to setbacks and a second Tommy John procedure, and he is not expected to rejoin the team until early next year, the fourth year of his four-year deal. Five starts. That's all they've gotten out of this contract.
April 2014: Five years, $35 million for 2B Jedd Gyorko
The ink is not even dry on this deal yet. The 25-year-old Gyorko hit .249/.301/.444 (112 OPS+) with 26 doubles and 23 home runs as a rookie in 2013, impressive for a guy stuck in spacious Petco Park. That performance earned him a sixth-place finish in a stacked NL Rookie of the Year race.
Power is in short supply these days, so Byrnes and the Padres rushed to lock Gyorko up this spring. Then he hit .162/.213/.270 (38 OPS+) in his first 56 games of 2014 before landing on the disabled list with a foot problem. Gyorko was one of the two or three worst players in baseball in the weeks immediately following the extension. That stings.
• • •
Other extensions have hurt the Padres as well. Catcher Nick Hundley hasn't done much since signing his three-year, $9 million deal in March 2012, but at least some of that was dumped on the Orioles in a trade a few weeks ago. Due to injuries, veteran outfielder Carlos Quentin has played in only 166 of 314 possible games since signing his three-year, $30 million contract in July 2012.
Now, to be fair, Byrnes and the Padres have had some extensions work out well. Huston Street has been very good since signing his two-year, $14 million contract. Will Venable was so good last year (125 OPS+) that his two-year, $8.5 million pact is already a win for the team despite his poor 2014 season (62 OPS+). Chris Denorfia is one of the best platoon outfielders in the game and is working on a two-year contract worth $4.25 million.
The Maybin, Luebke and Gyorko extensions have been disastrous thus far, however. Those three were expected to be the core of the next great Padres team and they've instead combined for -0.5 WAR while earning approximately $14 million during their contracts to date. That's the stuff of worst case scenarios.
These three failed extensions aren't the only reason Byrnes is no longer the GM, but they're definitely a big part of why he was cut loose. These long terms for young players always look great the day they're signed, but young players have a way of disappointing. Sometimes these contracts go horribly wrong.
Does the Jackson signing mean the Giants are out on Lorenzo Cain?

Acuna edged out Shohei Ohtani and Vladimir Guerrero Jr.

There's no reason to run over the cases for and against Bonds, so let's have fun instead
The coveted right-hander would certainly be a fit in Milwaukee

We rate the best mustaches from random baseball cards because, why not?

Colon wants to break a Dennis Martinez record