Core Values: Baltimore Orioles
As our 'Core Values' series continues, it's now time to look toward one of baseball's feel-good stories of the 2012 season: The Baltimore Orioles, who made the playoffs for the first time since 1997.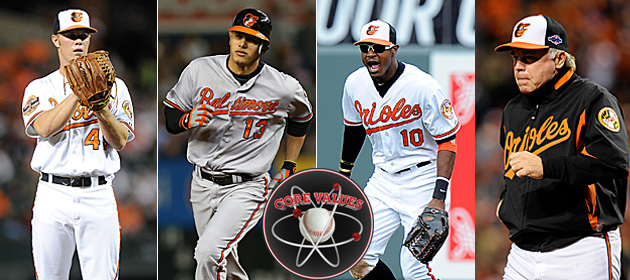 This four-man core looks pretty solid for Baltimore. (Getty Images)
As our "Core Values" series continues, it's time to look toward one of baseball's feel-good stories of the 2012 season: The Baltimore Orioles, who made the playoffs for the first time since 1997. According to run differential, the Orioles massively overachieved. Even manager Buck Showalter has said they can't sustain their success in one-run games (29-9 record) and in extra innings (16-2).
So how well are they set up to succeed in the coming years? We'll take a look.
To see what we're doing here, feel free to check out any of our previous 12 entries, which are linked up in this handy little box directly below.
Core Values series
Previous posts
Let's take a look at the Orioles.
Cornerstone player: Adam Jones
A two-time All-Star and two-time Gold Glover, Jones also has a long-term deal in place. A six-year, $85.5 million contract has him staying in Baltimore through the 2018 season. Jones is the only contract on the books for the 2016, '17 and '18 seasons for the Orioles.
The investment on the Orioles' part appears to be a good one. Jones is coming off the best year of his career. He hit .287/.334/.505 with 32 homers, 82 RBI, 103 runs, 39 doubles and 16 stolen bases. Also, and this cannot be discounted, Jones played in all 162 games. Not only is he a clubhouse leader, he's also a reliable member of the lineup and a productive player.
Face of the franchise: Buck Showalter
I thought about Jones, and I thought about All-Star catcher Matt Wieters. Ultimately, though, I feel like when people think about the Orioles, they think first about the manager and how he has molded the players -- especially his marquee players like Jones and Wieters.
Not only does Showalter instill a toughness, confidence and will to win in his players ("he makes you play like you got a pair" is how Jones once described it to me), he seems to always push the right buttons late in games. While there's no doubt there is some "luck" involved in winning all those close games, I also don't think it's a coincidence this happened to one of Showalter's clubs. This doesn't happen to a sub-par manager.
Faces of the future: Manny Machado and Dylan Bundy
We caught glimpses of these two young studs late last season, and it was only the tip of the iceberg.
Machado can play third base or shortstop. He hit .262/.294/.445 with seven homers in just 202 plate appearances as a rookie. Remember, he's only 20 years old and completely skipped Triple-A. So there's lots of room for improvement, and I have little doubt we see that come to fruition as Machado develops into a perennial All-Star for the O's.
Bundy was drafted out of high school in 2011 and didn't even make his professional debut until 2012, with Class A Delmarva. And he ended the season with the Orioles. Across three levels of the minors -- skipping Triple-A, just like Machado did -- Bundy went 9-3 with a 2.08 ERA, 0.92 WHIP and 119 strikeouts in 103 2/3 innings pitched. He turned 20 this past November and profiles as a future ace, even if he starts the 2013 season in the minors.
Grading the Orioles' core: B+
On top of the manager, center fielder and two future superstars, the Orioles have a stellar backstop in Wieters, a good defensive shortstop in J.J. Hardy, a solid right fielder in Nick Markakis and a great closer in Jim Johnson.
The O's also appear good in terms of starting pitching. On top of future star Bundy, Jason Hammel was good last year when healthy, Chris Tillman appeared to be reaching his potential last season and there's promise in prospect Kevin Gausman. Guys like Wei-Yin Chen, Miguel Gonzalez and Zach Britton will be around to round out rotations in the coming years, too.
The O's fall short of an A here due to not having great position-player depth in the system, whether at the big-league level or in the minors. The good news is they have plenty of time to build around Jones, Machado and Wieters -- as well as sporting a good pitching staff and possessing an outstanding manager.
Even if the Orioles take a step back this coming season, there is a good foundation in place for future success.
For more baseball news, rumors and analysis, follow @EyeOnBaseball on Twitter, subscribe to the RSS feed and "like" us on Facebook. Also, individually interact with us on Twitter: @MattSnyder27, @daynperry and @mikeaxisa.

Wright was arrested at his home Friday

The former Tigers teammates were voted into Cooperstown by the 16-person Modern Era Commit...

The Yankees still have room for a good-sized signing even after Saturday's trade with Miam...
St. Louis gets some much needed help for their bullpen

Keep tabs on the top 50 free agents right here

Morrow thrived with the Dodgers last season