Core Values: Los Angeles Angels of Anaheim
In order to safely get us to spring training -- and provide relief from the latest PED madness -- we continue our Core Values series. Wednesday's entry is the Los Angeles Angels of Anaheim.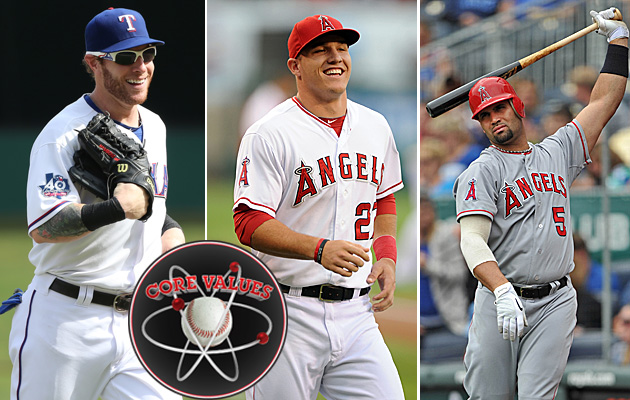 The Angels boast a star-studded 'Big Three' on offense. (US Presswire)
In order to safely get us to spring training -- and provide relief from the latest PED madness -- we continue our Core Values series. Wednesday's entry is a ballclub that won more games than the American League champion Tigers during the regular season, but still missed out on the playoffs with an 89-73 record. That would be the Los Angeles Angels of Anaheim.
The Angels were probably the biggest disappointment in baseball in 2012, considering all the circumstances. We cannot ignore, however, that they went 71-48 after May 21. Writing them off for this season wouldn't be smart.
Core Values series
Previous posts
For now, though, let's check out their core and see how they are set up to win for the next five years-plus.
For those who haven't been with us for the entirety of the series, check out one of the previous posts in the insert box at left to see what we're doing. As for the rest of us, let's dive in.
Cornerstone player: Albert Pujols
The Angels have some pretty impressive contracts on the books, and I'm not talking about the Vernon Wells albatross. How about Jered Weaver's five-year, $85 million deal? C.J. Wilson signed last offseason for $77.5 million over five years. Josh Hamilton signed with the Angels this offseason for five years and $125 million. Hell, even infielders Howie Kendrick (four years, $33.5 million) and Erick Aybar (four years, $35 million) might find themselves mentioned in this space on a handful of other teams. 
But this is L.A. (sorta). It's Arte Moreno. It's the land of billion-dollar-plus TV contracts. And it's Albert freaking Pujols. He's only one year into a whopping 10-year, $240 million contract. So he is the man the Angels are built around for just about the next decade, for better or worse.
Now, this is just about the time dissenters like to mention Pujols' down season in 2012, and it was the worst year of his career. Of course, he still hit 30 homers, drove home 105 runs, racked up 50 doubles and had a 141 OPS-plus. That's a career year for the overwhelming majority of players to ever play in the bigs. At age 33 this year, he's a bounce-back candidate.
Faces of the franchise: 'Big Three' offensive players
It's tough to exclude Weaver here, being that he's a bona fide ace. Interestingly enough, he's actually becoming one of the more underrated pitchers in baseball. It's an amazing feat, considering he's playing in Los Angeles (or, at least, on a team that has "Los Angeles" in its name) and has finished in the top five of AL Cy Young voting each of the past three seasons.
Still, despite Weaver's obvious allure, when most think of the Angels for the 2013 season, the first thought will be of the offensive star power possessed by Pujols, Hamilton and Mike Trout. The trio combined for 103 homers, 316 RBI and 317 runs last year, and that was with Trout relegated to the minors for a month and the elder two players suffering through extended slumps at different points in the season.
Face of the future: Trout
He's 21, doesn't hit free agency until 2018 and just finished second in AL MVP voting while taking home Rookie of the Year honors with ease. He hit 30 homers and stole 49 bases in just 139 games. Do we need to discuss this any further? 
Grading the Angels' core: B
The upside is huge, obviously, but there are lingering questions. Hamilton's past off-field issues will always present a question. Also, are Pujols' two consecutive decline years a concern moving forward? Can Trout live up to the lofty standard he already set?
What about Wilson's down 2012, Jason Vargas' penchant for coughing up home runs outside Safeco Field, and Tommy Hanson's shoulder?
Will the addition of closer Ryan Madson -- who is coming off Tommy John surgery -- be enough to help fix the blown-save problem?
And what about the barren farm system (which ESPN.com's Keith Law ranked dead-last in the majors earlier this week)?
The good news is that the offensive supporting cast to Pujols, Hamilton and Trout is solid, with the likes of Aybar, Kendrick and Mark Trumbo chipping in. Plus, Peter Bourjos playing defense in the same outfield as Trout is stellar.
As I said, the upside is big, with a championship or two possible in the next few years. It's just that when you look five to seven years down the road, one can envision circumstances where this ballclub has become a bit of a mess. Of course, they'll probably be able to throw money at any problems and end up fine anyway.
For more baseball news, rumors and analysis, follow @EyeOnBaseball on Twitter, subscribe to the RSS feed and "like" us on Facebook. Also, individually interact with us on Twitter: @MattSnyder27, @daynperry and @mikeaxisa.

The good news? Wichita still has a chance to win the series Tuesday night

Soon more home runs will have been hit in 2017 than in any other season in MLB history

Ferrell somehow avoided going to the ground
Plus, we saw a possible AL Wild Card Game preview in the Bronx and lots more from around M...

The Pirates disappointed in 2017. Will 2018 be any different?

Let's see how SportsLine forecasts the race for MLB's 10 playoff spots