Core Values: Miami Marlins
As our 'Core Values' series continues, it's time to check in on the polarizing franchise that puts its talents on display in South Beach. Yes, we're here to discuss the Miami Marlins.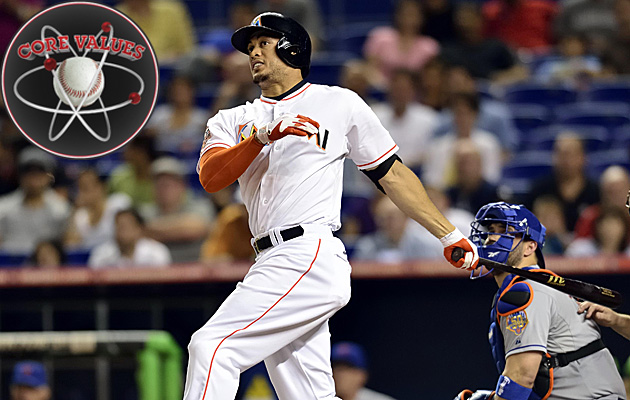 A familiar sight in Miami: Stanton with the power swing, and empty seats in the background. (US Presswire)
As our "Core Values" series continues, it's time to check in on the polarizing franchise that puts its talents on display in South Beach. Yes, we're here to discuss the Miami Marlins.
To see what we're doing here, feel free to check out any of our previous 10 entries, which are all linked up in this handy little box below and to the left.
As for why we're here in this space, let's dive into the fish tank (yeah, I know that's pretty lame. Please forgive me, as it's been a long offseason).
Core Values series
Previous posts
Cornerstone players: Now with Blue Jays
Jose Reyes, Mark Buehrle and Josh Johnson now play north of the border. What remains is a team full of players either set to be free agents after this season, arbitration-eligible players, pre-arbitration players and Jeff Mathis. The only money on the books for 2014 is $4 million of now-Diamondbacks reliever Heath Bell's salary and $1.5 million to Mathis. For 2015, there is no money on the books as things currently stand.
If you wanted to say the highest-salaried player should go here, we could list Ricky Nolasco. He's set to make $11.5 million this season before hitting free agency, but there's about a zero percent chance the Marlins retain him. He's a good bet to be dealt this season, anyway.
Face of the Franchise: Giancarlo Stanton
I guess I could have put owner Jeffrey Loria here, considering that when people think of the Marlins he's obviously part of the conscious equation. But I'd rather stay positive in this section and get to Loria later (and I will, don't worry). Stanton is one of the brightest young stars in the majors. In fact, he might be underappreciated.
Consider that Stanton clubbed 37 home runs last season despite being limited by injury to 123 games and playing his home games in a pitcher-friendly park. He led the majors with a .608 slugging percentage. This guy is the best pure power hitter in baseball. And there's more where that came from.
Face of the future: Stanton
Stanton turned 23 in November, so he's actually younger than many minor leaguers. Just because he has been around for three seasons don't discount how much more time he has to improve even further. And what he has done so far is nothing short of amazing.
Guess how many players in baseball history have ever hit at least 90 homers through their age-22 season? Just eight: Mel Ott (115), Eddie Mathews (112), Alex Rodriguez (106), Tony Conigliaro (104), Frank Robinson (98), Stanton (93), Ted Williams (91) and Bob Horner (91). Injuries have cost Stanton, too, because only Horner on that list had fewer plate appearances than Stanton's 1,498; everyone else had at least 1,874. If Stanton gathered even 300 more plate appearances, it's reasonable to think he might have challenged Ott for the top of that list.  
So we could be looking at an all-time great slugger, just as Ott, Mathews, A-Rod, Robinson and Williams would become. Fortunately for Marlins fans, Stanton doesn't become a free agent until after the 2016 season.
Marlins' core value: D
If we were going to say that the core was basically only Stanton, it would be an A. It's just that it takes a lot more than that to win, and the Marlins don't have much more concrete to count on moving forward. As things stand, Stanton's the reason the Marlins don't get an F.
It's possible that the likes of well-regarded prospects Jose Fernandez, Christian Yelich, Andrew Heaney and Jake Marisnick pan out and help take the Marlins to the next level. It's possible we'll see young big-leaguers Adeiny Hechavarria, Logan Morrison, Nate Eovaldi and Jacob Turner develop into good players on a contending team. We just don't know. It hasn't been proven.
Plus, what if all these guys become good players and penny-pinching owner Jeffrey Loria isn't getting enough of a draw at the gate? Does he deal them for minor leaguers and repeat the cycle? The purpose of our "core" series is partially to see how each ballclub will look five years from now. With the Marlins, we have no idea what's real. Stanton might even be gone by then.
If the Marlins really wanted to prove they are actually trying to win with the prospects they just traded for, they could try to lock up Stanton to a long-term deal -- much like the Brewers have done with Ryan Braun, the Pirates have done with Andrew McCutchen, the Rays have done with Evan Longoria and even the Royals have done with Salvador Perez (though Stanton would cost a ton more at this point). Until that happens, I simply refuse to believe they care much about the on-field product. And that's such a shame.
For more baseball news, rumors and analysis, follow @EyeOnBaseball on Twitter, subscribe to the RSS feed and "like" us on Facebook. Also, individually interact with us on Twitter: @MattSnyder27, @daynperry and @mikeaxisa.

We rate the best mustaches from random baseball cards because, why not?

Colon wants to break a Dennis Martinez record

The Twins have been rumored to be interested in Darvish all winter
Rolen is one of the best third basemen of all time, but you wouldn't know it based on this...

Neither Josh Donaldson nor Brian Dozier have talked about a new contract extension

Francisco leads the Dominican Winter League with seven home runs