Corey Kluber has grown into a legitimate ace
After an impressive, 85-pitch shutout, it's high time we start recognizing Indians starter Corey Kluber as a legitimate ace.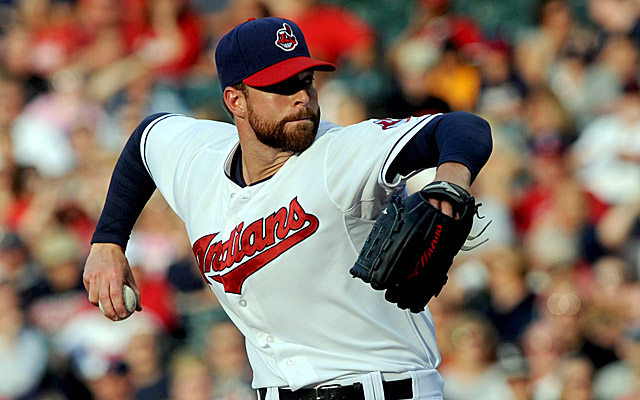 More MLB: Power Rankings | Expert Picks | Latest news & notes | Fantasy news
On the same day the Indians traded their 2013 ace, Justin Masterson, Corey Kluber was there to remind the Cleveland fans they still had a legitimate ace on the roster. He weaved through a, yes, lackluster Seattle offense, but it was the manner in which he did it in addition to his body of work this season that should be turning heads nationally.
Kluber needed only 85 pitches in the complete-game shutout, making him the fifth pitcher this season to throw a shutout with fewer than 100 pitches (Henderson Alvarez, another ace that deserves more attention, has done it twice). Kluber's outing was the most efficient of the season, though, besting Alvarez's 88-pitch gem on June 3.
Not that it was surprising, considering Kluber's recent string. Last time out he took a perfect game into the late innings and ended up taking a no decision despite allowed zero earned runs on two hits in nine innings with 10 strikeouts and no walks. His one run was unearned, thanks to an abnormally awful throw. The outing before that, Kluber struck out 10 while allowing only two earned runs in 8 2/3 innings against the Tigers.
In fact, Kluber has been one of the best pitchers in baseball after getting off to a bad start. If we lop off his first four outings of the season, he's 10-4 with a 2.13 ERA, 0.97 WHIP and 151 strikeouts in 135 innings.
But we can't do that, so let's just take his season as a whole. He's 11-6 with a 2.61 ERA, 1.08 ERA and 170 strikeouts in 158 1/3 innings. His peripherals (such as FIP, xFIP, BABIP, among others) indicate he's legit and not squeezing by with some sort of ungodly luck. He misses bats, has great control, gets ground balls, pitches around hits and doesn't allow too many homers. The only pitcher in baseball with a better WAR (Fangraphs version) is the man he just beat Wednesday, Felix Hernandez. The Indians are 14-9 when he starts; 39-45 when he doesn't. He throws well at home (2.68 ERA) and on the road (2.55 ERA). He does the job against teams below .500 (3.00 ERA in nine starts), but is even better against teams over .500 (2.38 ERA in 14 starts).
I could go on, but there's no much need to. Corey Kluber is an ace right now, no matter how you slice it.
The good news for the Indians is that even if they don't contend this year, they know they have him for a while (unlike the case with Masterson). Kluber isn't eligible to hit free agency until after the 2018 season.
Marcell Ozuna figures to be the next Marlins star on the move

Several relievers have signed in the last two days

Several teams are interested in the switch-hitting first baseman
Neshek and the Phillies are closing on a two-year contract

And the team that first drafted Cole is interested

This scout was SUPER into Jeter