Could Cal Ripken Jr. manage Nats? Well, he didn't rule it out
Randy Knorr and Matt Williams are reported by Danny Knobler to appear to be the two early favorites to become the Nats' next manager. If Ripken is really interested, that could be interesting. But so far he only suggests he's willing to listen when folks call him about jobs.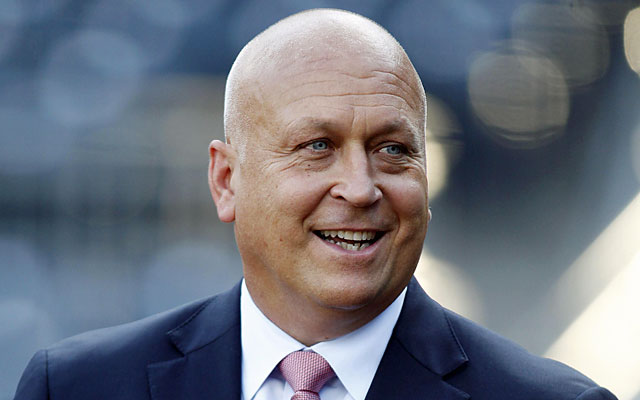 Orioles icon Cal Ripken Jr., who's been speculated publicly as a possible successor to Davey Johnson as Nationals manager, suggested in a hypothetical sense that he'd listen if approached about a managing job. But he didn't say he was definitely interested. Not quite, anyway.
As is his way, Ripken was mostly coy about the whole subject. "There's nothing new to report," Ripken, currently working TV for TBS, said at first.
But at one point, regarding the idea of managing, he did slip in a couple hints there are worse ideas.
"At some point I might like to do that," he said.
The Ripken speculation started when he didn't rule out the Nationals in an interview in August, and came up again when Nats star Jayson Werth said Ripken would be his first choice, just ahead of his second choice, Nats coach Randy Knorr. Danny Knobler has reported that the two leading candidates at present appear to be Knorr and Diamondbacks third-base coach Matt Williams.
Ripken said the speculation really took off after he told someone "I'm getting an itch" to get back in the game. But this time Ripken added, "I don't know where or how."
If Ripken were really interested, it might be tempting for the Orioles' rival to the south to take a peek. Ripken has received overtures before and always turned them down, so it's far from a given he'd seriously entertain the idea, even if he did say, "If someone was going to come to me, I'd certainly listen."
It has been suggested in baseball circles that many could see Ripken more likely becoming a team president or taking on some big front-office role. Ripken, characteristically, didn't weigh whether a front office or managing job interested him more at the moment, if in fact either particularly does. Instead he questioned the questioner about who thinks of him as a front-office type.
Eventually he said of the question of big front office job vs. managing job, "I think it's flattering to be thought of in either way."
By the end of the interview, Ripken seemed to want to make sure he wasn't too revealing. "So I gave you a lot of nothing," he said.
Our annual look back at the preseason predictions and rankings shows lots of good and bad

Keep it locked right here for everything you need to know about the world of baseball Tues...

There have been several racially charged incidents at Fenway Park this year
Washington's right fielders have sputtered offensively since Harper went down

The good news? Wichita still has a chance to win the series Tuesday night

The 2017 season is going to shatter the all-time collective home run record