Could hitting coach job be a warmup before Brett manages Royals?
Some in the game could see George Brett managing the Royals, but a couple of things have to happen first. For now, they are thrilled to have him.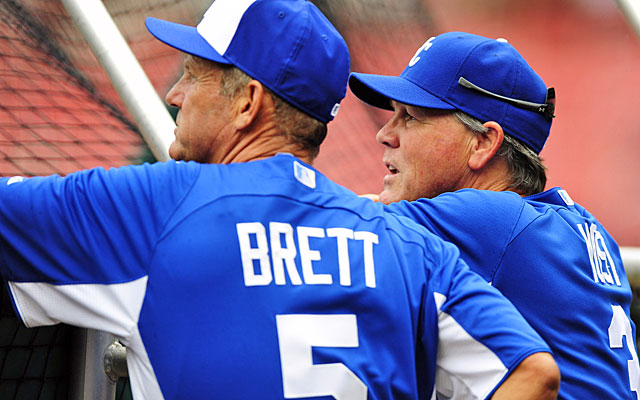 Might Hall of Famer George Brett go from interim hitting coach of the Royals to manager of the Royals?
Two people with Royals ties who talked to CBSSports.com raised the possibility of Brett moving to the manager's chair -- that is, if the team decides at some point to fire current manager Ned Yost and Brett also decides he wants to take on the added responsibility.
One called Brett's appointment to hitting coach a "trial balloon" to give folks, Brett most importantly, a closer look to see if he would have interest in the managing job. Yet another person referred to Brett's hiring as "step one."
That doesn't mean, of course, that there will ever be a step two.
According to people familiar with the situation, Royals GM Dayton Moore "isn't there yet" on firing Yost, despite the team's raised expectations and disappointing start.
Moore, by phone, put it more positively, saying, "I continue to feel very good about Ned's leadership. We're all in this together. We're all accountable together. I've admired the way Ned's stayed positive through the tough times. Ned's doing a great job of leading."
The other question, and it isn't a small one, is whether Brett would even be interested in the job of manager, which requires much more time and commitment than interim hitting coach. The Royals, and Moore in particular, had tried multiple times to get him to come aboard as hitting coach, and Moore approached him about the job as recently as last year.
Moore was thrilled to finally convince him to take the interim hitting coach job after failing previously in efforts to recruit him. One of the biggest keys to the team's success is the need to spur turnarounds from young hitters Eric Hosmer and Mike Moustakas.
"He brings a lot of enthusiasm, and he's a winner," Moore said of Brett. "We need examples of greatness around the team."
There's no evidence Moore has talked to Brett about possibly managing, and there are folks inside the organization who have deep doubts about whether he would do it, though some wonder whether Brett being a year away from becoming an empty nester could stir interest. (His third son is a senior at an area high school.)
There were strong rumors when former agent and current White Sox executive Dennis Gilbert was looking to lead a group to buy a baseball team, whether it be the Rangers or Dodgers, that Brett was going to be Gilbert's first choice to manage.
Brett has been working for the Royals in an advisory capacity for years, and is known to have a keen interest in the team. He also has the utmost respect of Royals people, not only for his stellar baseball resume but also his smarts.
The Royals, 22-29 and in last place in the AL Central, snapped an eight-game losing streak on Brett's first day on the job in St. Louis.
CBS Sports HQ Daily Newsletter
Get the best highlights and stories - yeah, just the good stuff handpicked by our team to start your day.
Please check the opt-in box to acknowledge that you would like to subscribe.
Thanks for signing up!
Keep an eye on your inbox for the latest sports news.
Sorry!
There was an error processing your subscription.
Here's how you can keep tabs on the top 50 free agents on the market

Harvey will try to revive his career in the American League

The move might help the Yanks' pursuit of Manny Machado
Smarts and luck will help as the Tigers try to build their next winning roster

Here's what buzzing around baseball on Tuesday

Amid a stretch of AL Central dominance, a surprising deal could make sense