Could Nationals unseat Dodgers, Rangers and Angels in Greinke derby?
Washington GM Mike Rizzo always loved Greinke, and now he's saved money by importing Denard Span for center field rather than go for Michael Bourn.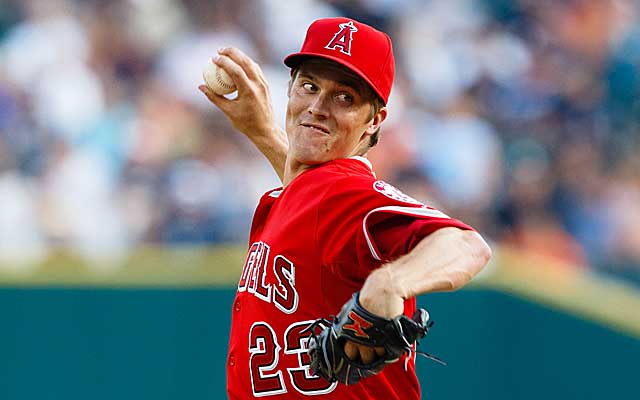 Zack Greinke might be ready to give the Nationals a hard look. (US Presswire)
The Dodgers are the assumed favorites for top free-agent pitcher Zack Greinke for obvious reasons (read as: the green stuff). But if one team is looking like perhaps the biggest threat to the Dodgers it may be the Nationals.
The Rangers, who like the Nats have tried hard for Greinke before, are a serious player, too, while the Angels are expected to remain in contact with their incumbent starter until the end. But as Danny Knobler reported on CBSSports.com, L.A. of Anaheim looks like an "unlikely'' winner, especially when it appears there are three other determined and wealthy teams with fewer financial constrictions expected to be in the bidding.
Inside baseball
Analysis

More content
The Nationals' smart move to acquire Denard Span for pitching prospect Alex Meyer solved GM Mike Rizzo's long-running center field fixation, improved them in left field with phenom Bryce Harper moving there and covered them at first base with Mike Morse ready to move there in case Adam LaRoche leaves for the Red Sox or someone else via free agency.
But the Span trade did something more, it saved the Nationals millions because it meant they weren't going to be in the market for Michael Bourn, who they also liked as a center field option. (Ultimately, Span made more sense for the Nats, too, because top center field prospect Brian Goodwin is expected to be ready in two years.
The Nats love Greinke. They tried hard to trade at least a trio of fine young players, possibly including pitcher Jordan Zimmermann, reliever Drew Storen and infielder Danny Espinosa, and to give Greinke a $100-million deal two years ago before Greinke said no. Greinke told me this summer he rejected the Nationals only because he didn't think they would win, and he appeared to have some misgivings about that call as Wasington was en route to the best record in the majors.
The Nats don't have the revenue of the Dodgers, and no one has the Dodgers' attitude about spending. They are like Steinbrenner in the '70s, where competitors are wondering whether there are any limits at all.
But the Nats should not be discounted.
The Nats do have a rich, very good octogenarian owner in Ted Lerner, so they could be a wild card. One interested party wondered whether the "Ilitch effect'' might take hold, where Lerner puts the balance sheet aside and tries to stamp his already excellent team as the clear National League favorite. A rotation that begins with Stephen Strasburg, Gio Gonzalez and Zimmermann is already formidable, and Greinke would give them the best quartet going.
One rival GM wondered whether both the Dodgers and Nationals could decide to be in "at all costs.''
The Rangers are obviously a major player as a team that signed Adrian Beltre to an $80-million deal and offered one for $120 million to Cliff Lee, but they have their limits financially. If they do sign Greinke, they will be out on their own superstar Josh Hamilton, who's in play fior them now. The Rangers tried for Greinke twice before, once when the Brewers acquired him, then again when the Brewers traded him to Anaheim.
The Angels appear to be scouring the market for mostly mid-level type starters, with the Los Angeles Times mentioning Ryan Dempster and their former pitcher Joe Saunders as possibilities, and some people familiar with their thinking suggest it's possible they instead try to make the pen the strength of their staff, after already adding Ryan Madson and looking for more.
One rival also pointed out that the Angels "need three starters,'' and while that may be an exaggeration, a depth issue after trading Ervin Santana and Dan Haren could come into play.
One friend of Greinke's rated his three big issues as 1) winning, 2) comfort, and 3) of course money (as it is with everyone). So all four of these entries should work.
"Zack could pitch anywhere,'' insisted an executive who knows him well.
In any case, Greinke is in an enviable spot with possibly three winning teams in bidding that was predicted here and now elsewhere to get to close to $150 million over six years, and the Nationals are surely attractive to Greinke for a number of reasons now. It can't hurt that his former bench coach with the Royals, Bob Schaefer, is a special assistant with the Nationals.
There's no question Nationals people love Greinke, and it's hard to imagine that their infatuation has diminished from two years ago following solid seasons in Milwaukee and Los Angeles of Anaheim.
As the Nats' Rizzo said at the GM meetings regarding Greinke, "What's not to like?"
Marcell Ozuna figures to be the next Marlins star on the move

Several relievers have signed in the last two days

Several teams are interested in the switch-hitting first baseman
Neshek and the Phillies are closing on a two-year contract

And the team that first drafted Cole is interested

This scout was SUPER into Jeter