Could Verlander convert to pen, possibly as closer, come postseason?
A lot of variables would have to play out, but rivals suggest they wouldn't be shocked if longtime ace Justin Verlander is called upon to aid Detroit's bullpen issue in October.
Tigers longtime star Justin Verlander has helped pitch Detroit into two World Series with some brilliant starts, especially against the A's, who could wind up as a playoff combatant again. But could Verlander, the former Cy Young winner and MVP, be moved to the bullpen for the playoffs this year, perhaps even as a closer?
Crazier things have happened -- though Verlander has never come out of the bullpen in an illustrious career that counts 306 starts, between the regular season (291 starts) and postseason (15).
A lot of things would have to line up for the Tigers to move Verlander to the pen for the playoffs, but some rivals don't believe it's so farfetched, citing another previous Cy Young winner, Tim Lincecum, who made the switch for the 2012 World Series, with glorious results. Dennis Eckersley and John Smoltz were other stars that converted seamlessly to a closing role for much longer periods, bringing excellent results (in Eckersley's case, even better results than what he produced as a starter).
For his part, team president and general manager Dave Dombrowski said the Tigers haven't even discussed any such postseason possibility for Verlander; they remain focused on the current goal of making it to the postseason, which is suddenly not quite a certainty. Anyway, the Tigers have five excellent starters when all are healthy, including also two more Cy Young winners in Max Scherzer and David Price, so they will have an interesting choice plus 2013 ERA champion Anibal Sanchez -- if they make it.
The natural assumption is No. 5 starter Rick Porcello would be the primary candidate to go to the pen. However, if they have interest in beefing up the back end of the pen, and they might, Verlander might make more sense considering his high velocity, repertoire and toughness. The Tigers' pen has been by far their biggest issue this year. Veteran Joe Nathan, one of baseball's best closers during the past couple of decades, has suffered six blown saves in 32 attempts and has a surprisingly poor 5.28 ERA.
"There's no question you can't pitch five starters in the postseason. But that's a story for another day -- if we are fortunate enough to make it," Dombrowski said in a phone interview earlier this week.
There is no thought to making the switch earlier. As one rival pointed out, the Tigers currently have issues in the rotation, with Sanchez now on the disabled list. Ultimately, the pen is surely the bigger issue, anyway. In addition to Nathan's woes, Joakim Soria, who had been a nice pickup, is on the DL; Jim Johnson had a rough first outing in Detroit; and low-risk signee ($1 million) Joel Hanrahan isn't expected to make it back this year.
In other words, the Tigers have a lot of good relief names, but just as many question marks.
Verlander told the Tigers media he hopes to return to start Saturday following a couple of side sessions where he tested his shoulder that flared up recently, which led to him being sidelined for a rare time. Verlander hasn't been close to himself this year, with a 10-11 record and 4.76 ERA, numbers that pale compared to the rest of Detroit's vaunted rotation. Of course, Verlander's physical condition is another factor that could affect such a call.
"We haven't even talked about the postseason ... we're just trying to make the postseason," Dombrowski said.
Like usual, Verlander might have a lot to say about whether that happens. And if it does, the Tigers might have an interesting call to make.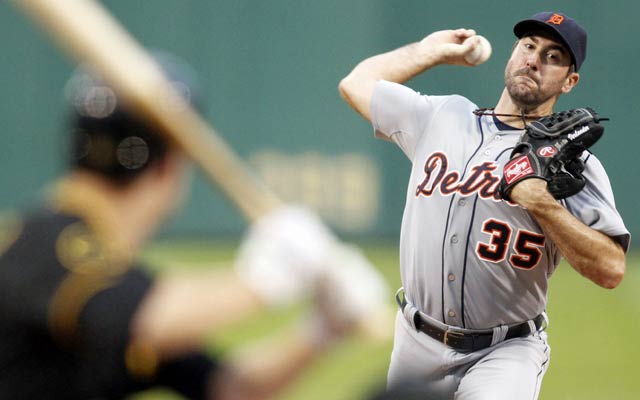 Where might the Orioles third baseman land?

Kinsler will slot in at second base for the Angels

The Marlins got a better return for Ozuna than Stanton or Gordon
The two teams are going about things in very different ways

The Marlins are indeed in teardown mode under new ownership

The Marlins still have more attractive pieces