Courage test: Rays source says 'talking and willing' to trade Price
Rays ace David Price is still on the table. Execs believe Cardinals may have made a pretty big offer.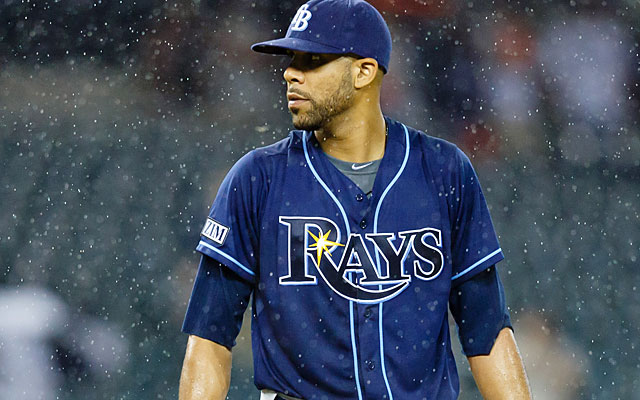 More MLB: Deadline news | Power Rankings | Latest news & notes | Fantasy news
Rays GM Andrew Friedman is going to make the most interesting call of the next two days: Whether or not to trade David Price.
Colleagues suggest Friedman has the guts to deal Price when the team has rallied from nowhere to the cusp of the AL pennant race. A few even suggest that he may prefer to pull the trigger.
However, it will take some kind of courage to send away the team's best player when the team is playing its best baseball.
"We are talking and willing. [We'll] see if any teams have the desire," one Rays-connected source said.
The latest rumor is a doozy. It has the Cardinals perhaps offering top hitting prospect Oscar Taveras and young pitcher Shelby Miller plus their competitive balance pick, as mentioned by Bob Nightengale of USA Today.
While Nightengale didn't say definitively that that proposal had been made, he suggested it was at least possible. Nightengale wrote, "[The Rays] know they could receive a tantalizing package from the St. Louis Cardinals that could include [Taveras] and [Miller] and the first-round pick."
Anyway, rival executives believed it had some merit. They also believed something like that could be tempting for Friedman and the Rays front office.
The issue for any team that sells when it's seemingly at least on the fringe of the race is sending a negative message about the rest of the season. The 1997 White Sox are still famous for the "White Flag" trade, when they traded several of their veteran players while only 2 1/2 games out of the division lead.
The Rays are four games out. But rivals believe Friedman has it in him to do what he believes is in the long-term best interest of the team, even if that means trading Price.
The Rays can deal with the fans' response in Tampa, but it might be tougher to explain to the players in a clubhouse that helped lead them from 18 games under .500 to 52-54.
As for the Cardinals, people familiar with their thinking say that while Taveras has been listed as their top prospect, Cardinals management would be willing to deal him in the right conditions. Miller is a talented player who seems to have frustrated his Cardinals bosses at times, so that isn't a shocker, either.
Any trade of Price at this time would be the real surprise. But Friedman's breathren believe if anyone's willing to do it, it is him.
Fowler suffered a knee injury at Chicago's Guaranteed Rate Field

The lefty starter is coming off a terrible season

After acquiring Ian Kinsler and Zack Cozart in recent days, the Angels are trending upward
Cozart's coming off a big season as the Reds' shortstop

The veteran slugger spent the last eight seasons with Cleveland

The Padres may be poised for an active winter