Court ruling gives A's small amount of hope in San Jose
A court ruling on San Jose's lawsuit against MLB -- in an attempt to land the A's with a new stadium -- was mostly against San Jose Friday. There was one slight area of hope, though.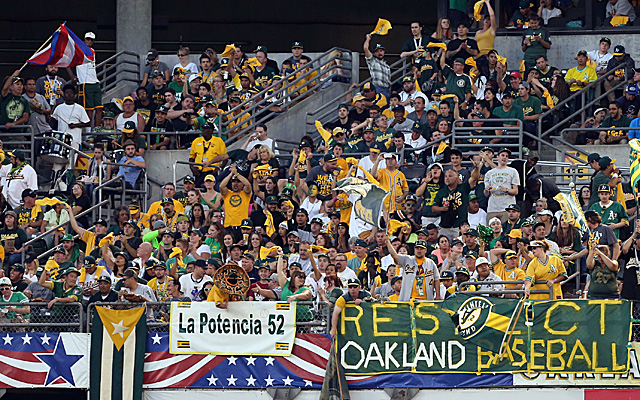 A's offseason: Gray has broken thumb | Parker needs MRI | Crisp option will be picked up
The Oakland Athletics have been trying to get permission from Major League Baseball for over four years to build a new stadium in San Jose, not Oakland. The Giants are against the move as San Jose is technically part of their territory. And MLB has been dragging its feet in doing anything about it.
Meantime, the city of San Jose has a potential stadium site being held which they are trying to sell to the A's, but haven't been allowed to do so. Selig established a committee to study the issue in March of 2009 and very little has happened since.
In turn, the city of San Jose filed a lawsuit against Major League Baseball. Friday, federal judge Ronald Whyte dismissed the federal and state antitrust claims by the city, saying MLB is, in fact, allowed to dictate whether or not the A's can move to San Jose.
However, there is some hope, even if a really, really small amount of hope. Judge Whyte did not throw out the interference complaint in the city of San Jose's lawsuit, meaning the judge ruled that MLB should have made a decision in a timely fashion and hasn't come close to doing so.
"The city was justified in assuming that MLB would make a decision within a reasonable time, which it has not," Whyte wrote (via AP). "Regardless of whether MLB ultimately approves or denies the relocation request -- and the court has concluded that it is within MLB's authority to decide either way -- the A's were recently forced by MLB's delay to extend the Option Agreement for another year, or lose the option. As a result of MLB's delay, the A's incurred an additional $25,000 expense to renew the option, and the city is left waiting another year to sell the land set aside for the stadium in question."
Thus, there could eventually be a trial where commissioner Bud Selig and other baseball officials would have to be questioned under oath. MLB would also be forced to hand over all documents relating to its handling of the A's stadium situation, possibly including those the league might deem confidential.
From there, allow a lawyer to surmise what's going to go down. Here is Wendy Thurm of Fangraphs.com:
My guess is that San Jose will try to proceed on two tracks: ask the Ninth Circuit Court of Appeals to hear an appeal on the antitrust claims immediately and start issuing subpoenas for documents and depositions. MLB will resist both an immediate appeal and San Jose's effort to dig deep on the league's decision-making process.

To me, Judge Whyte's order screams "settlement" -- in the sense that neither side got what it wanted and there might be just enough to get the two sides talking about a resolution. If that's the court's intent -- and I could be wrong on that -- we'll see him give San Jose wide latitude on documents it can subpoena and witnesses it can question under oath, all with the idea that MLB would rather resolve the matter than have to reveal its inner workings in discovery.

There are ways for MLB to protects itself even with discovery. Courts issue protective orders when confidential business information is at issue. But this is not just a private business dispute but one that involves city land and funds. It will be interesting to see whether Judge Whyte permits MLB to cloak its documents and witnesses in secrecy.

Is this a victory for MLB? Yes, but not a complete one. The door is open ever so slightly for San Jose and the A's.
Let's hope she's correct and things start to progress. The A's play in a dump of a stadium right now -- even Selig himself has said as much -- and the proposed San Jose stadium is set to be privately financed. The Giants have plenty of fans and the A's moving to San Jose won't impact that in the immediate future. Hell, Oakland's right across the Bay from San Francisco anyway. Still, the MLB has ruled that San Jose and its suburbs are in the Giants territory and that rule presently means no team can move there. Maybe MLB can arrange some sort of payment? It has to do something.
C'mon, Bud. Get this thing solved already.
The lefty starter is coming off a terrible season

After acquiring Ian Kinsler and Zack Cozart in recent days, the Angels are trending upward

Cozart's coming off a big season as the Reds' shortstop
The veteran slugger spent the last eight seasons with Cleveland

The Padres may be poised for an active winter

Yes, Bryce Harper is going to make a lot of money next winter