Craig Kimbrel talks WBC, wild-card playoff, Chipper, Justin Upton
On Thursday, Braves closer Craig Kimbrel took the time to answer a few questions. He discusses the WBC, the one-game wild-card playoff format, playing without Chipper Jones this year and the new (potential, at the time of the interview) addition of Justin Upton to the Braves' outfield.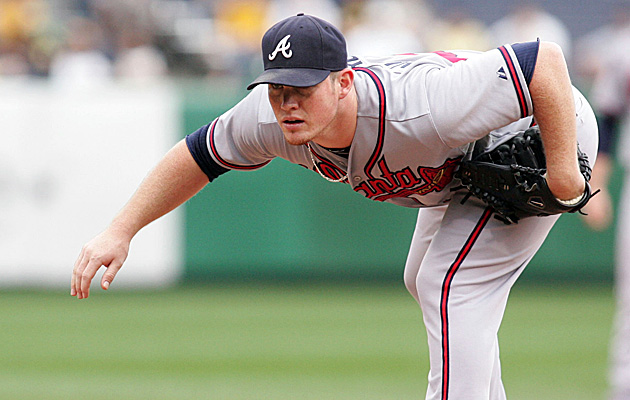 Kimbrel striking his signature pose on the mound. (US Presswire)
Braves closer Craig Kimbrel has established himself as the elite closer in baseball after saving 42 games in 45 chances with a 1.01 ERA, 0.65 WHIP and 116 strikeouts in just 62 2/3 innings last season. He finished fifth in the Cy Young voting and made his second All-Star game. And he's only 24.
This March, Kimbrel will join Team USA to compete in the World Baseball Classic. All games will be broadcast on MLB Network (full schedule here). Pool play will begin on March 2, but the U.S. squad doesn't play until 9 p.m. on March 8 against Mexico at Chase Field in Phoenix.
On Thursday, Kimbrel and I talked on the phone and he discussed the WBC, the one-game wild-card playoff format, playing without Chipper Jones this year and the new (potential, at the time of the interview) addition of Justin Upton to the Braves' outfield.
Matt Snyder: Being a first-timer for the World Baseball Classic, are you gonna approach this season any differently in terms of how you prepare yourself?
Craig Kimbrel: Of course. I have to be ready to go a month earlier. Around March 1 every year is about the time I prepare myself for the season. Around March 1, I'm out there, ready to go and ready for the spring season. But this year, with the World Baseball Classic, there's definitely a different approach with having to throw in front of big crowds. It's not something we're used to doing in spring training. I'm looking forward to it. I love being out there in the exciting situations late in the game. I think that the WBC is only going to help me be more ready to go at the start of the year.
MS: Do you think that being a closer, or in any short-relief role, better lends itself for taking part in the World Baseball Classic?
CK: Oh, it definitely does. We don't have to put in as long of work. It doesn't take us as long as starters to get to where we need to be. And a lot of times as a starter, they count their innings -- like how many they're gonna pitch in a certain year -- and things like that. It makes it more beneficial [in the WBC] to be in the bullpen. We'll probably get five or six innings extra in the World Baseball Classic, whereas a starter might get quite a bit more. It's definitely easier for a reliever, I feel like, to be able to participate in the WBC than it would be a starter.
MS: I don't think this would happen, but what if they hypothetically did something like used only relievers in the WBC because it lends itself better to being able to take part and still prepare for the regular season? Do you think it would be weird for you to start the game and pitch only the first inning? Would that get you out of your comfort level at all?
CK: I guess it would. I'm used to watching the game a little bit and seeing how it progresses before I even think about pitching. You have to have a starter to go out there and establish things. I don't think the whole "just relievers" thing would work. If they did do it, it would be a little different, but it's still pitching and going out there and getting outs.
MS: What most made you wanna take part in this?
CK: Just having the chance to represent my country. The last two WBCs, the U.S. hasn't gone out and done what we feel like we should do and I feel like I could help Team USA win at the back end of games. The mindset going in is not just to participate and just say "I played." It's to go in and win. I feel like that's the mindset of our team, just hearing from the guys who are playing. We wanna win, not just participate.
MS: Shifting to the Braves, after going through the one-game playoff and seeing the weird way that it unfolded -- infield fly rule and everything -- heading into this year, do you feel like there's an additional pressure now to win the division because one game can be so fluky?
CK: Yeah, of course. Your goal every year is to win the division. Whenever you put yourself in a situation like we did last year, where we had a obviously good year, but didn't win the division, so we had to play the one-game playoff. It's a little different. It's something that I feel like everyone's going to have to get used to, but it's a part of baseball now. There's nothing we can do about it but go out and play. And, like you said, we win the division and we don't have to worry about it.
MS: Are you OK with that format, the one-game playoff?
CK: I think it's fun for baseball. It makes baseball interesting. It's fun for the fans and makes that one game that much more exciting. It's not my choice to play that one game, but it's something we have to do now and there's nothing we can really do about it at the moment.
MS: When you walk into the locker room this year, you're gonna look around and not see Chipper Jones. What's that going to be like?
CK: It's definitely gonna be different. He's been the face of the franchise forever. There's definitely going to be a different feel headed into the spring -- not to have that voice of leadership that he had last year in the clubhouse. It's gonna be different, but it's also gonna be time for different guys to step up, guys to take responsibility of our team and go out there and play. It will definitely be a transition period, but I don't think it's anything that we can't handle.
MS: Have you heard anything about Justin Upton this morning and, if so, any thoughts on that?
CK: Yeah, I heard that we made a trade for him. I don't know all the logistics of it, but if he does join our team, it's definitely going to help our outfield. We'll have one of the more powerful and better defending outfields in Major League Baseball and with that group of guys it's gonna be a dangerous combination.
For more baseball news, rumors and analysis, follow @EyeOnBaseball on Twitter, subscribe to the RSS feed and "like" us on Facebook. Also, individually interact with us on Twitter: @MattSnyder27, @daynperry and @mikeaxisa.

The Indians may be seeking a left-handed hitter in return

NBC Sports California has cut ties with the former A's slugger after a string of inappropriate...

Pineda figures to miss most of the 2018 season after undergoing Tommy John surgery
Keep tabs on the top 50 free agents right here

Your one-stop shop for all things MLB Winter Meetings-related

The Angels knew about the first-degree sprain and still wanted to sign the potential ace, of...